A bicycle tour from Montreal to Boston, through the hills and valleys of Quebec, Vermont and Massachusetts.
Vermont has always had a special, nostalgic place in my heart. I was born and Connecticut and lived there until around kindergarten, and during that time my parents owned a cabin on a small lake called Sadawga. My memories from our weekend trips to that cabin are fuzzy at best, but nevertheless Lake Sadawga had always been a place I had hoped to return to one day.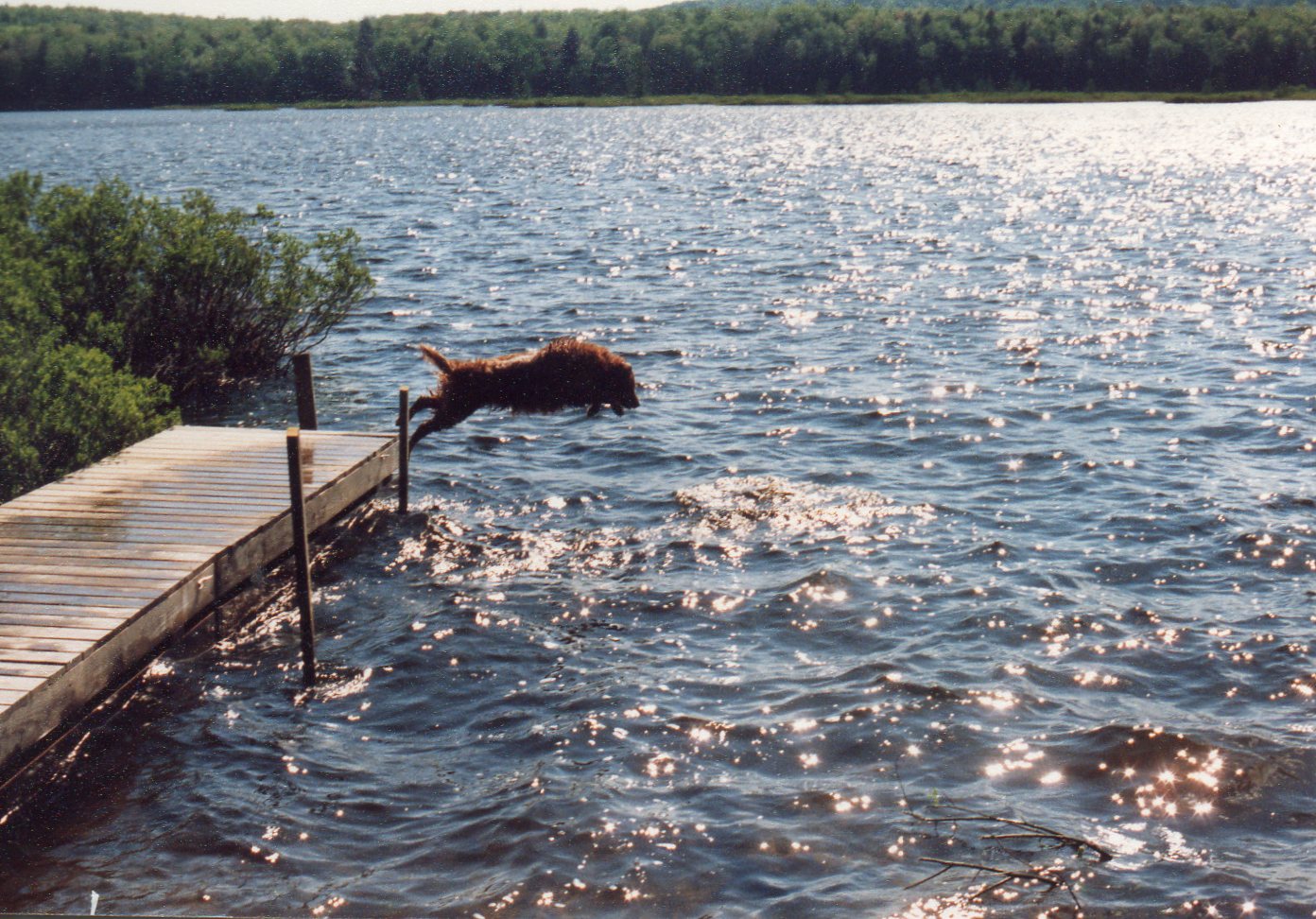 The thought of going back to Lake Sadawga hardly crossed my mind until my sister's wedding in June of 2014. During the reception I had the opportunity to catch up with one of my Dad's old army buddies, who I knew from childhood as Uncle Randy. Randy still owned the cabin two doors down from ours on Lake Sadawga, and I spent a little time talking to him about my upcoming GAP/C&O Tour as well as memories of summers vacations at the cabin on Lake Sadawga.
As it turned out, Randy is a bit of a cyclist himself, and he told me some great stories about his adventures cycling around Vermont with his wife and his friends. I joked about how much I'd love to bike through Vermont myself one day, and see Lake Sadawga again. Without a bit of hesitation, Randy said
"Well, come on up! Crash at the cabin any time you want!"
My immediate reply was "Be careful! I might just take you up on that offer!"
Now, it's often that you meet old family friends at things like weddings and graduations, and of course a lot of offers like this are thrown around. But Randy wasn't just being kind or accommodating — he was more than happy to offer his cabin up without asking anything in return.
Over the course of the following year, after completing the Pittsburgh-DC trip and getting my first taste of touring, I was eager to get out on the road again. I knew I wanted to plan a tour which would incorporate the cabin in Vermont, and as soon as I looked at the basic route from Montreal to Boston I knew I was on to something.
There was one catch: I've lived the past 7 years of my life in Chicago, which has the topography of my favorite maple syrup-centric breakfast food (it's really, really flat). Looking at the terrain maps of Vermont was a bit intimidating to say the least. Other cyclists will probably chuckle at how big of a deal I'm making out of a few small New England mountains, but to me they looked like a force to be reckoned with.
After stressing about it for a bit, I talked with my cycling friend Matt (who is no stranger to mountains — he did a solo tour through Iceland and Western Europe in his early 20's) and we agreed that it was worth doing. We set a date, bought plane tickets, and there was no going back after that.
---
Day 1 — Getting there
Chicago, Illinois to Montreal, Quebec
Friday, August 21st
As this was my first time flying to a tour destination with a bike, a lot of planning and preparation went into the initial travel.
I tried to keep gear to a minimum as much as possible, but it tends to add up quickly. Over the summer I added a front rack to my Kona Honkey Tonk, and picked up some Ortlieb Front-Roller Classic panniers. Ortleib panniers are more or less the "industry standard" for touring, and for good reason. They are extremely well constructed, easy to attach and detach, waterproof and nearly indestructible. Having the front set in addition to the rear panniers gave me much more storage room and made it a lot easier to access things on the go.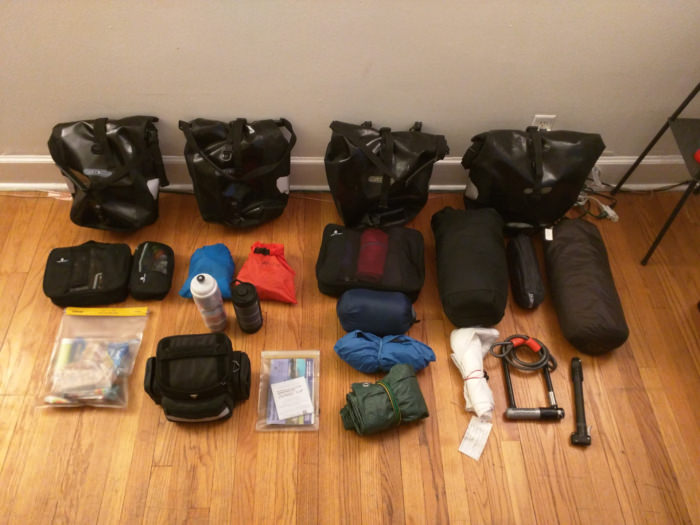 After getting all of my gear put together and packed up, I was ready to hit the road.
First thing first, getting there. fortunately Chicago's Midway Airport is pretty easily accessible via public transportation.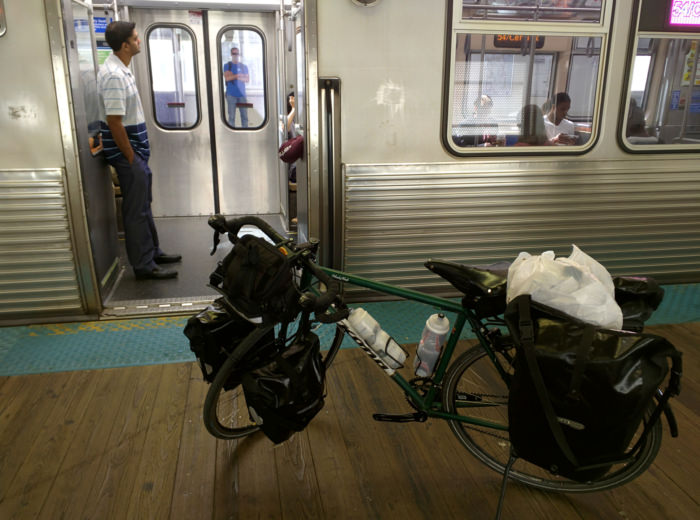 At the airport, packing up the bike for the flight turned out to be a lot easier than I had feared. All I had to do was turn the handlebars sideways, take off the pedals and secure everything with zip-ties. Then I put the whole thing in giant plastic CTC Bike Bag, and it was good to go.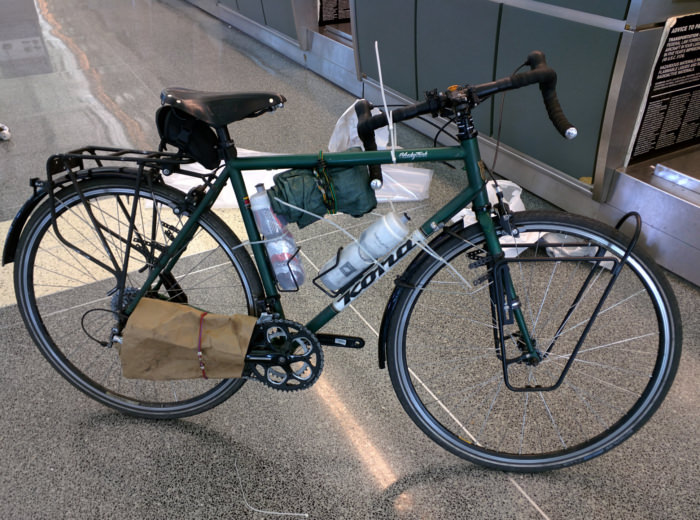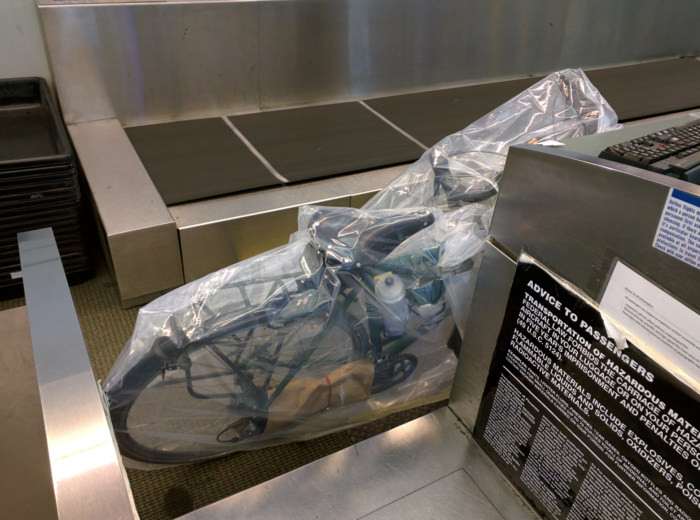 We flew Porter, a small Canadian airline which required us to transfer through Toronto. This was probably the most stressful part of the entire trip, as we only had about 30 minutes to get through customs, get our bikes and checked bags out of baggage claim then re-check them — this time through Canadian security. Fortunately our connecting flight to Montreal was delayed about 20 minutes so we were able to get to the gate right in time.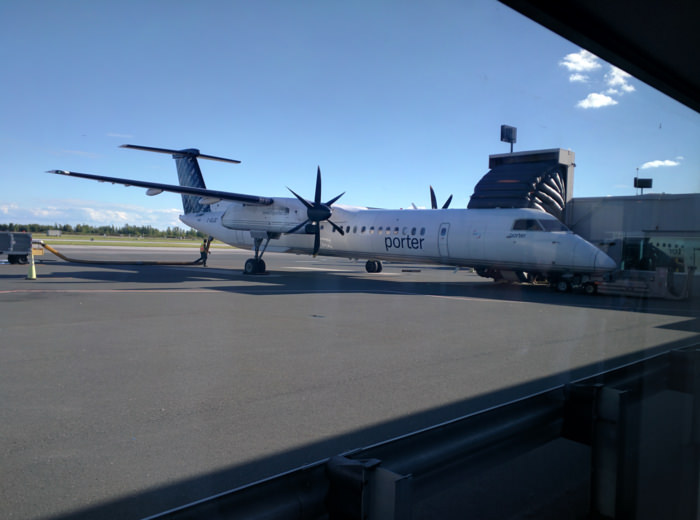 After finally arriving in Montreal, all we had to do was pick up our bikes and put them back together. Fortunately the baggage handlers at Porter took good care of the bikes so there was no damage en route.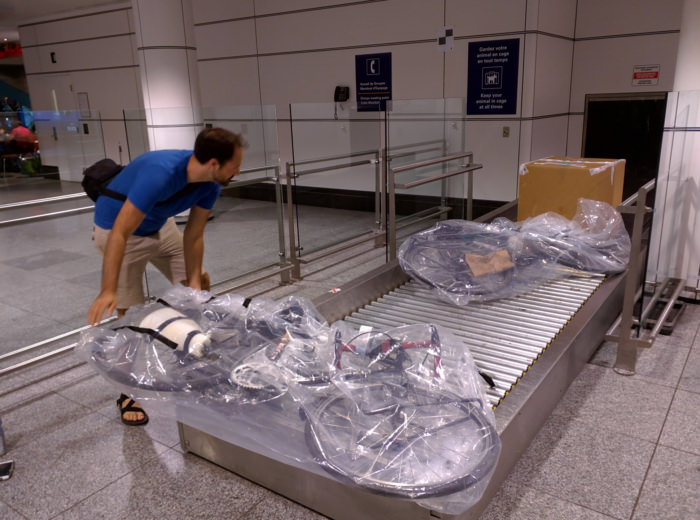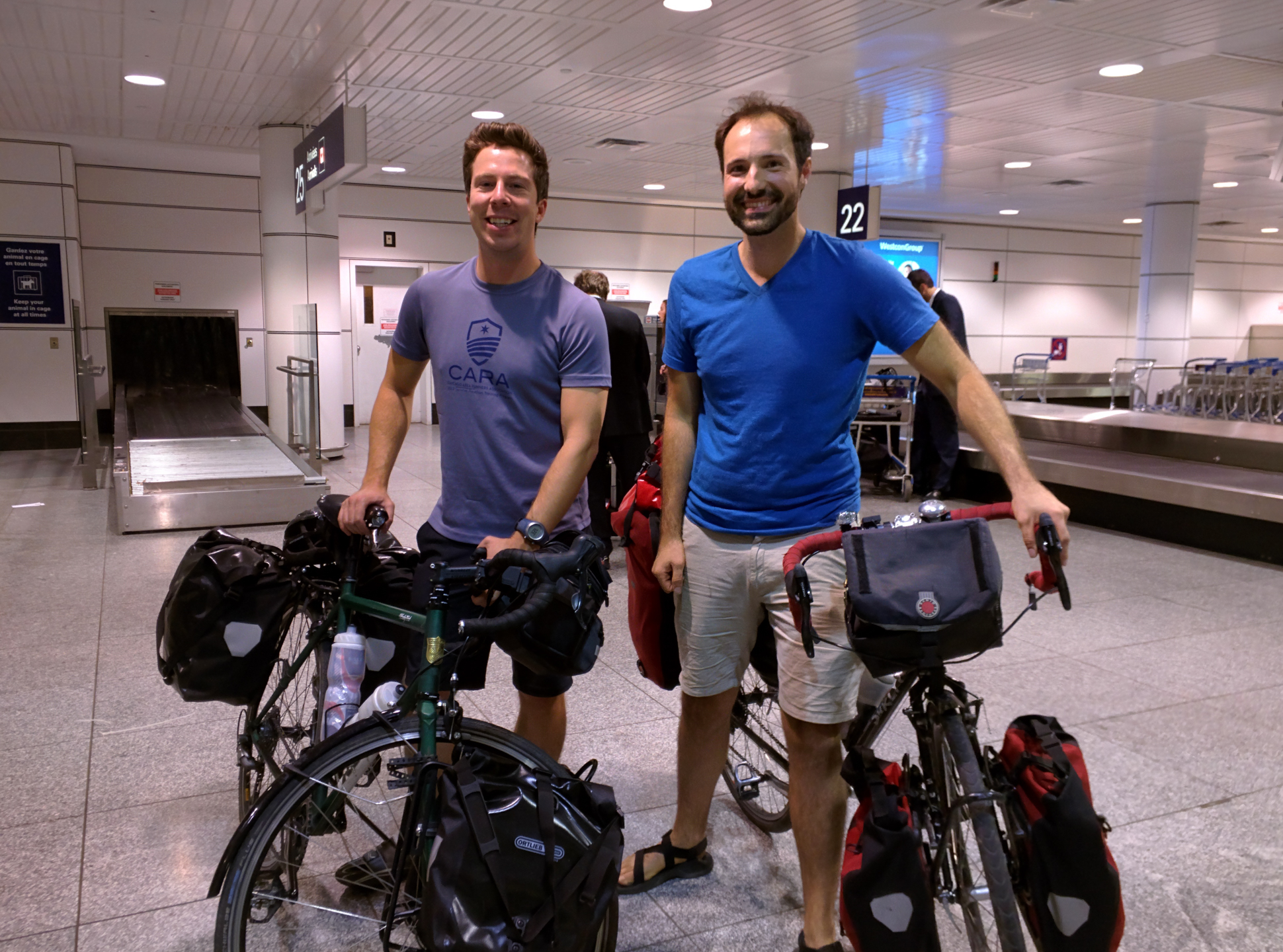 Our first ride of the trip was a short and easy one — from the Montreal Airport to our AirBnB downtown. Montreal's cycling infrastructure is excellent, so we were able to take bike paths almost the entire way.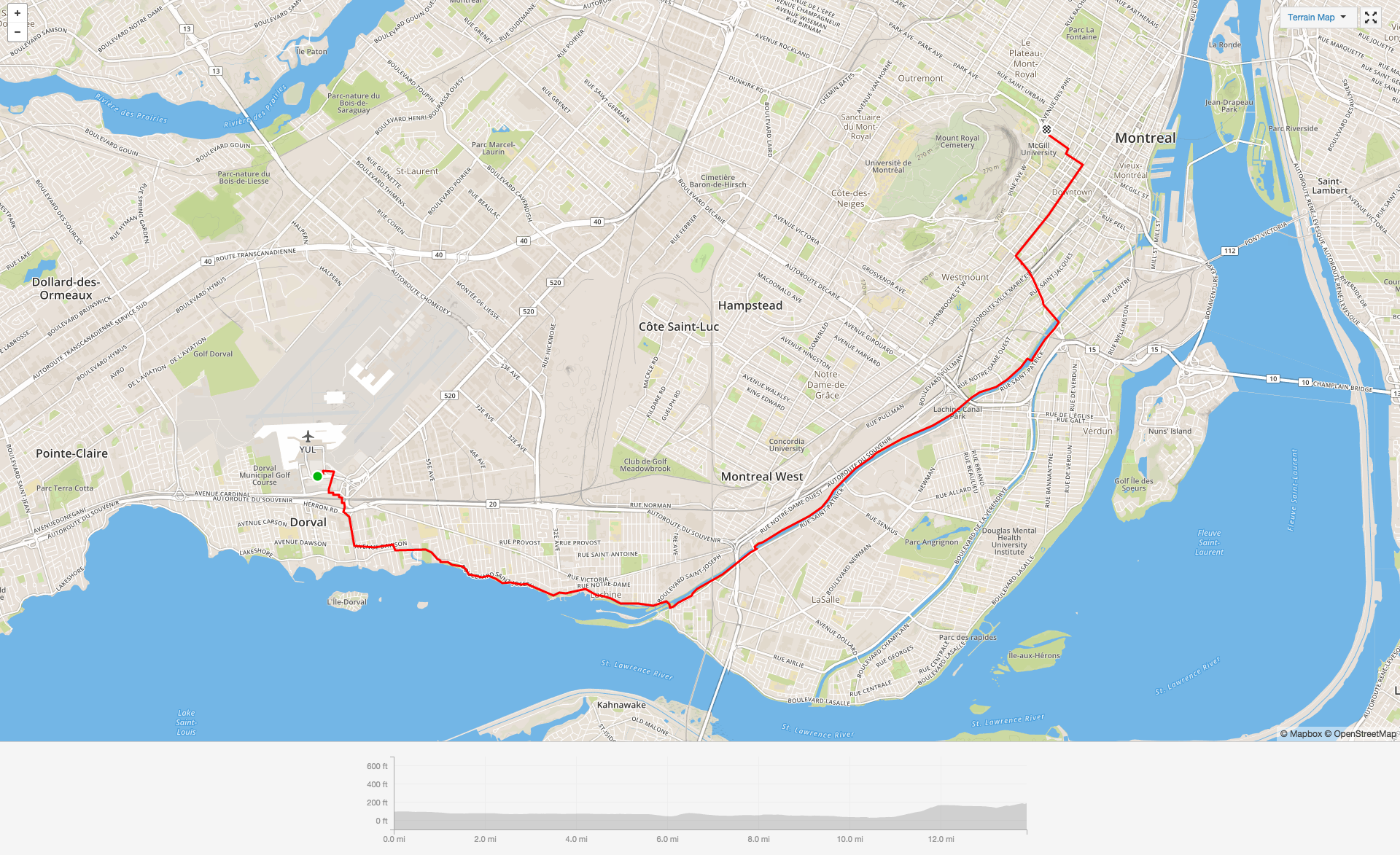 After checking into our AirBnB we ventured out into the city for a couple drinks. The area we were in was full of young people and loud night clubs with long lines. We decided to forego the Montreal clubbing experience and just walked around for a bit.
One thing that really struck me about Montreal was the huge amount of excellent street art. Almost every block has a massive mural of some sort, in many different styles. It gives the city a lot of character.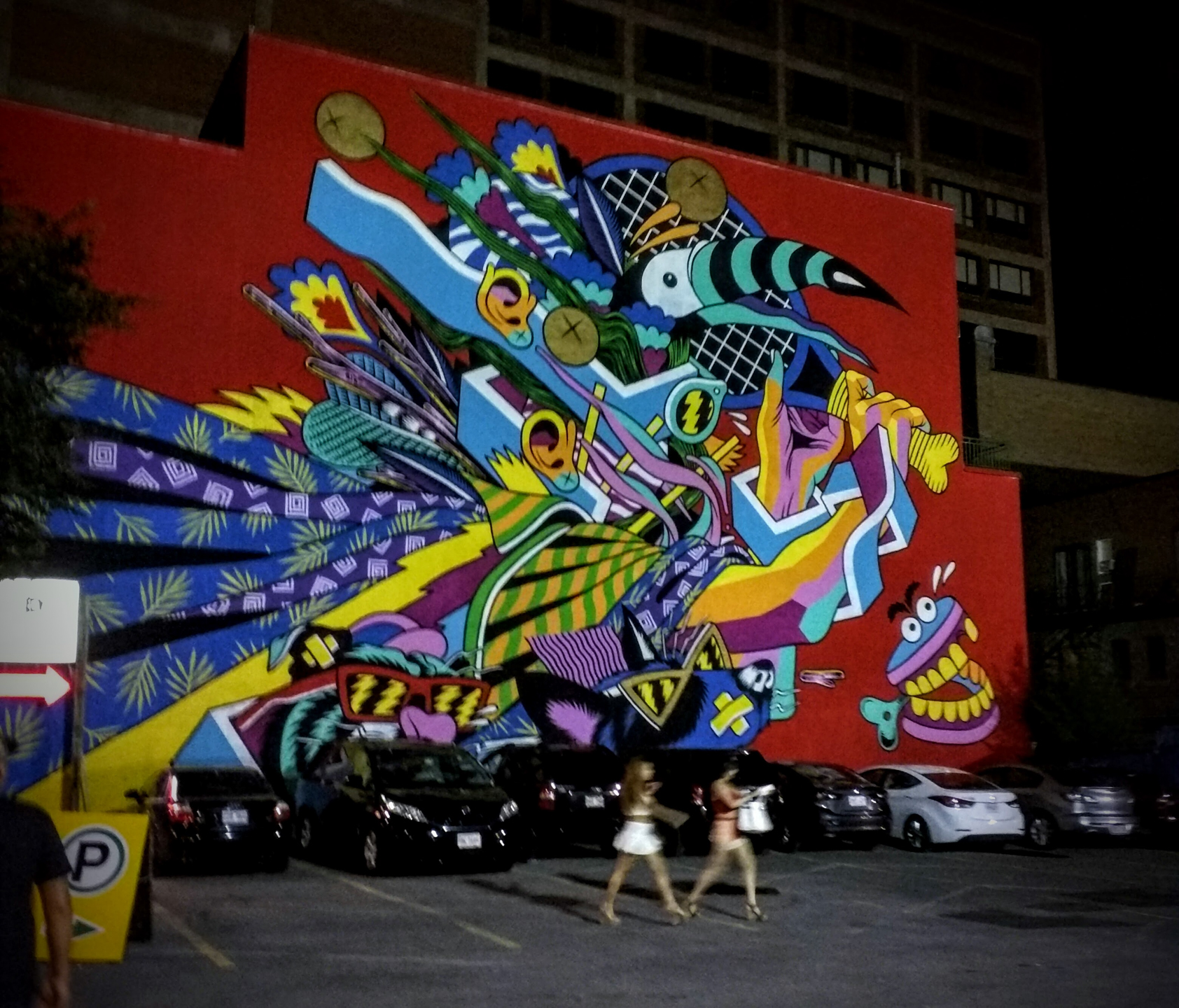 After we'd seen enough of Montreal at night we turned in to get ready for the first day of touring.
---
Day 2 — Leaving Montreal
Montreal, Quebec to Goose Point Campground, Alburg Vermont
Saturday, August 22nd
The first day's route took us out of the city and through a few small French Canadian towns along the Richelieu River.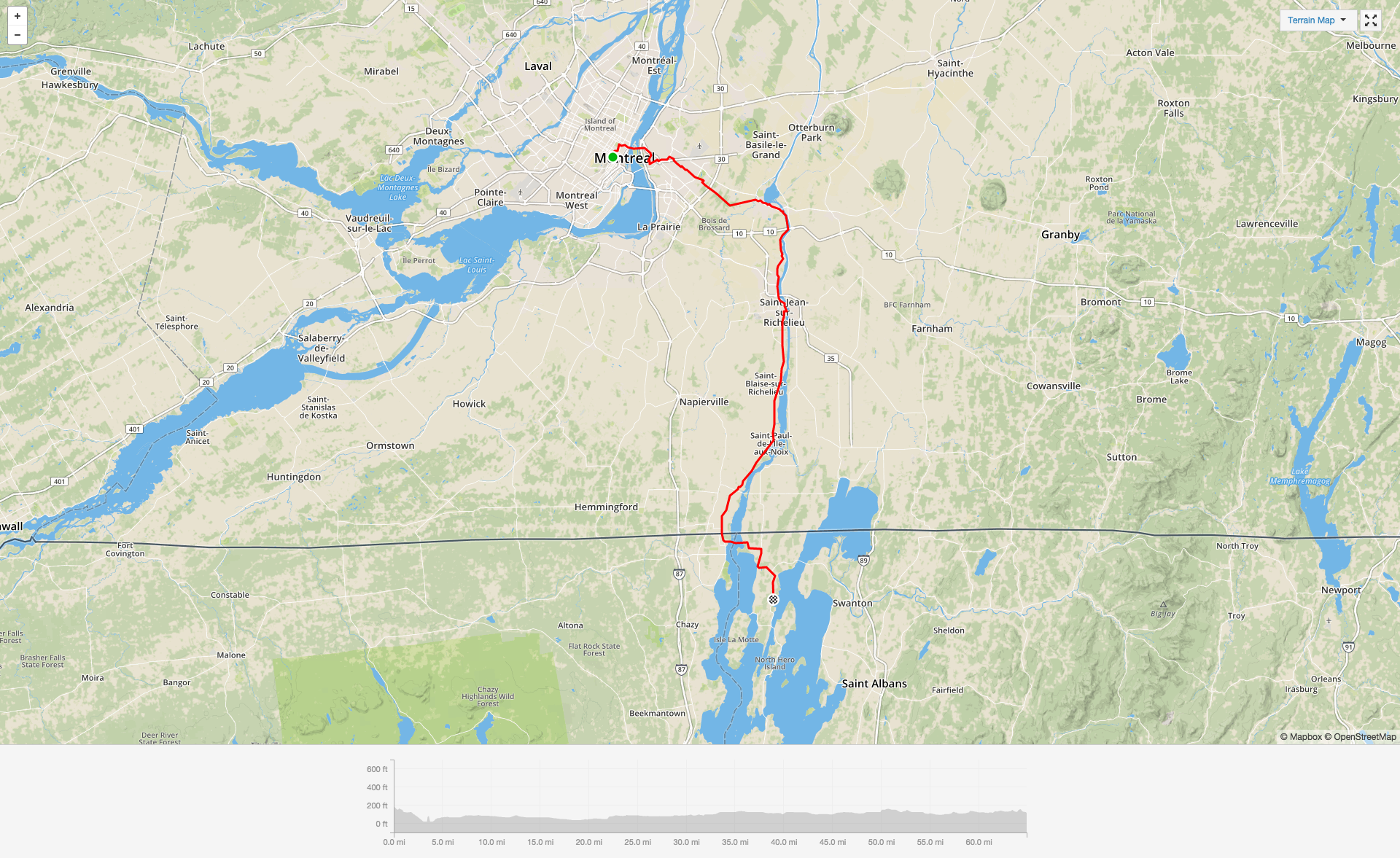 First thing first, a quick trip to the nearby grocery store to pick up some carb-heavy food for the trip.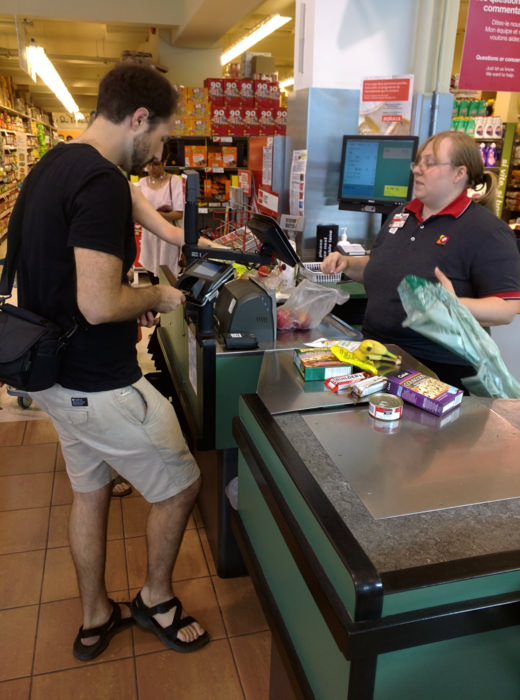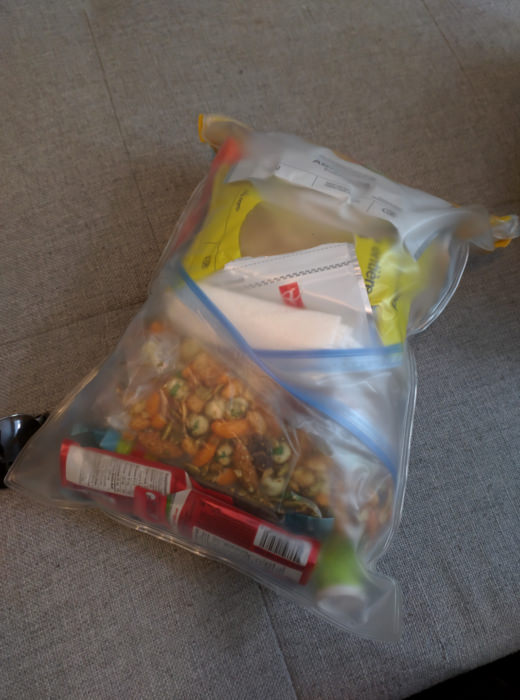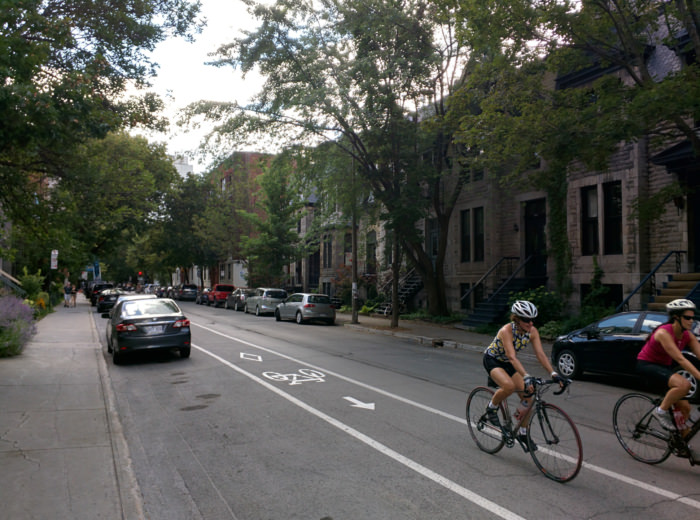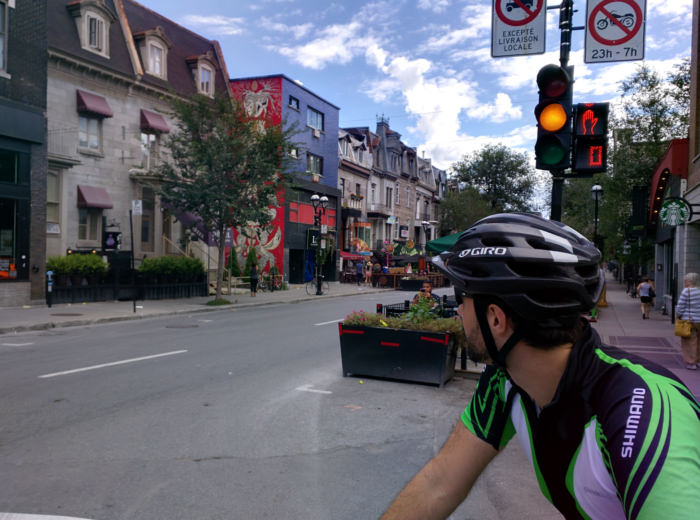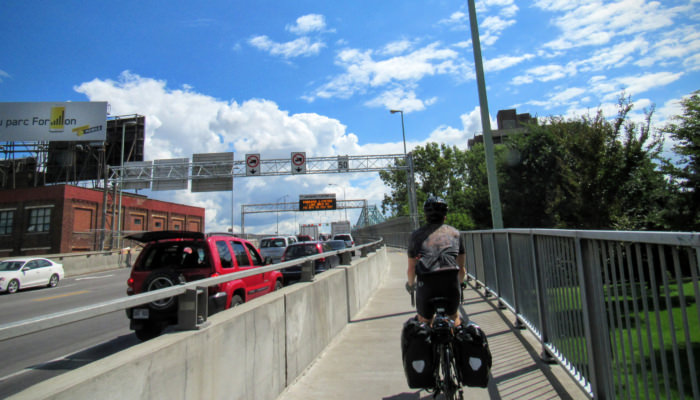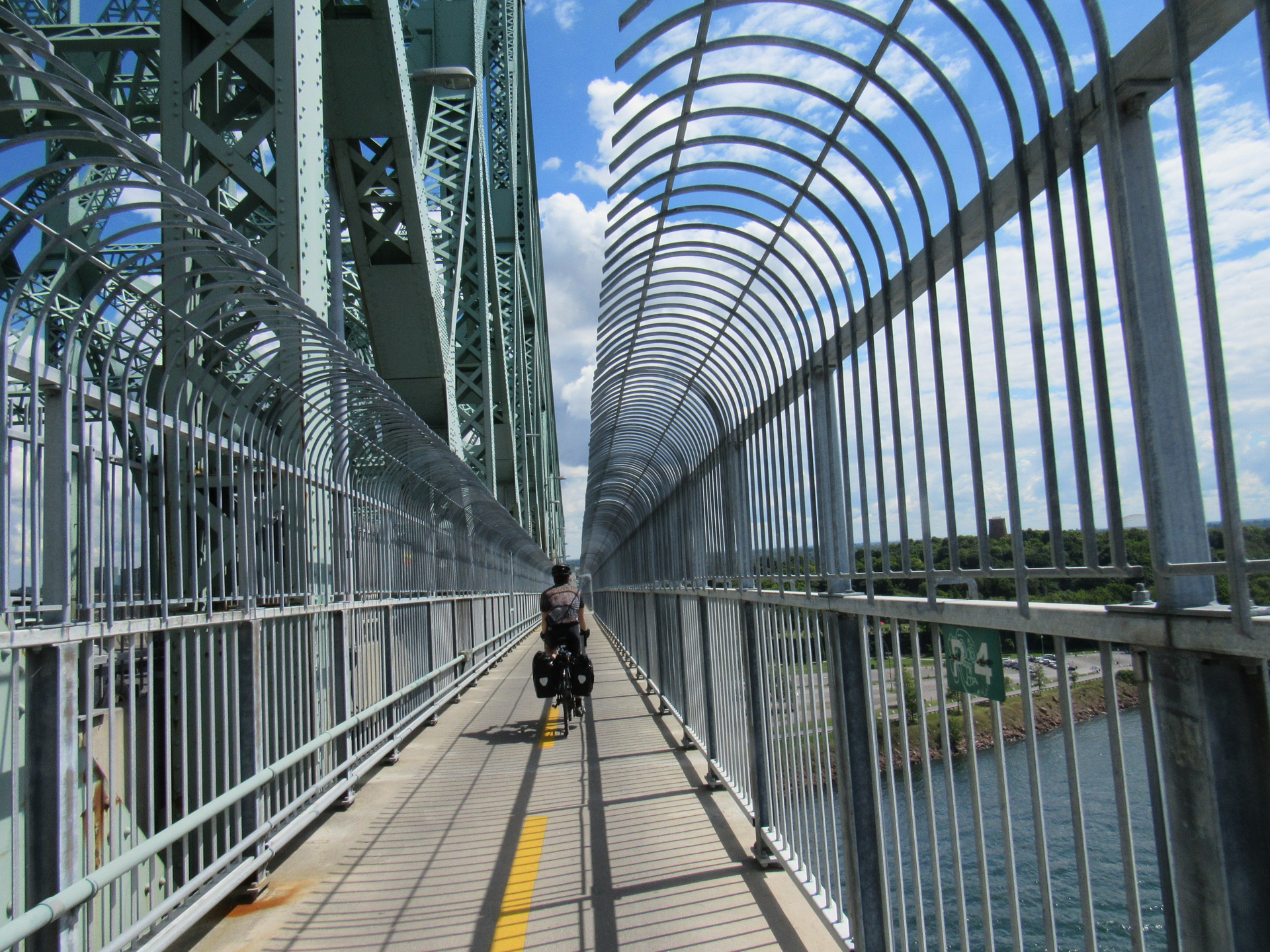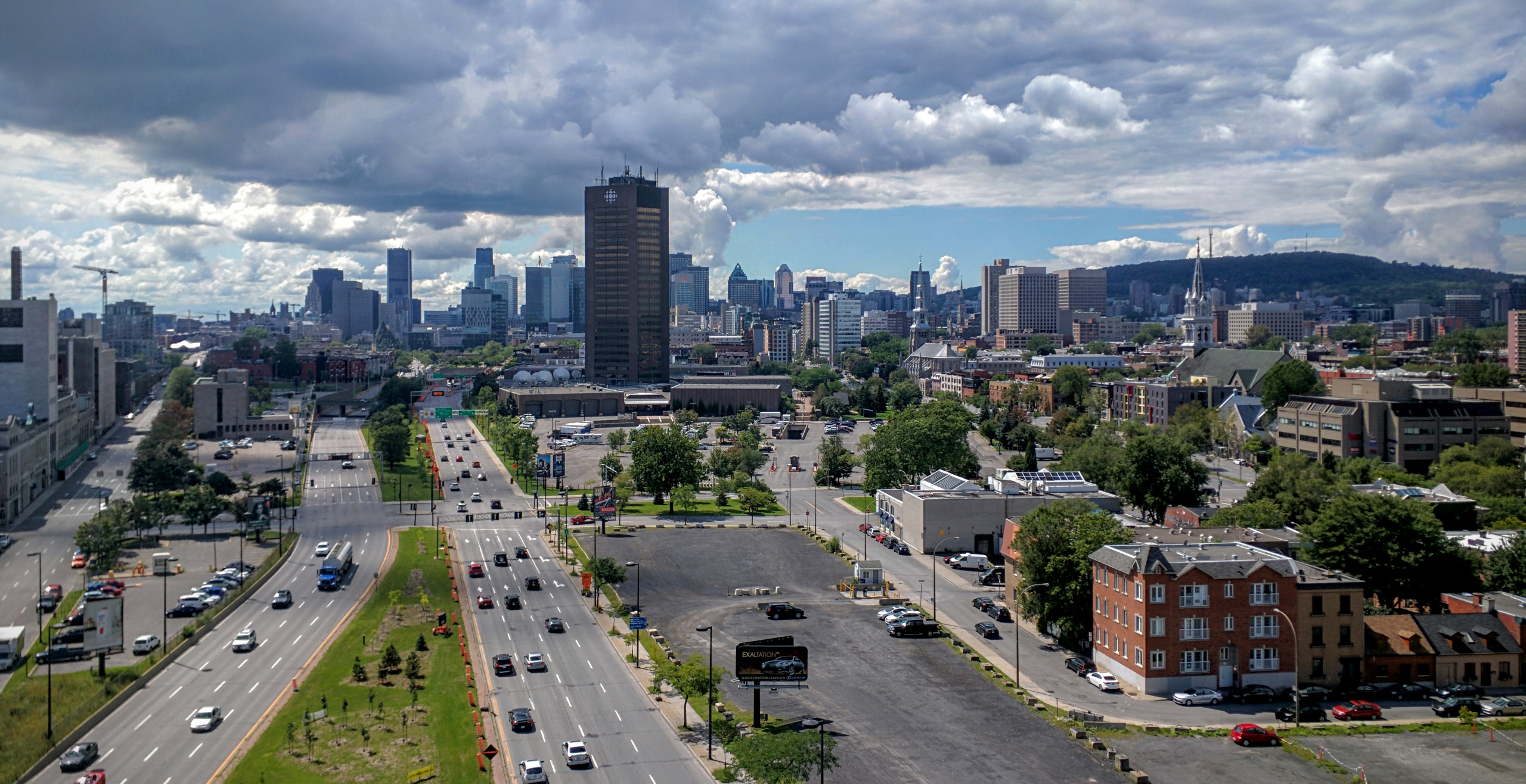 I can't say enough about how great the cycling infrastructure is around Quebec. We road the first 50+ miles of our day on almost all dedicated bike paths. One of my favorite spots was this interesting take on a bike bridge, which took us over a highway: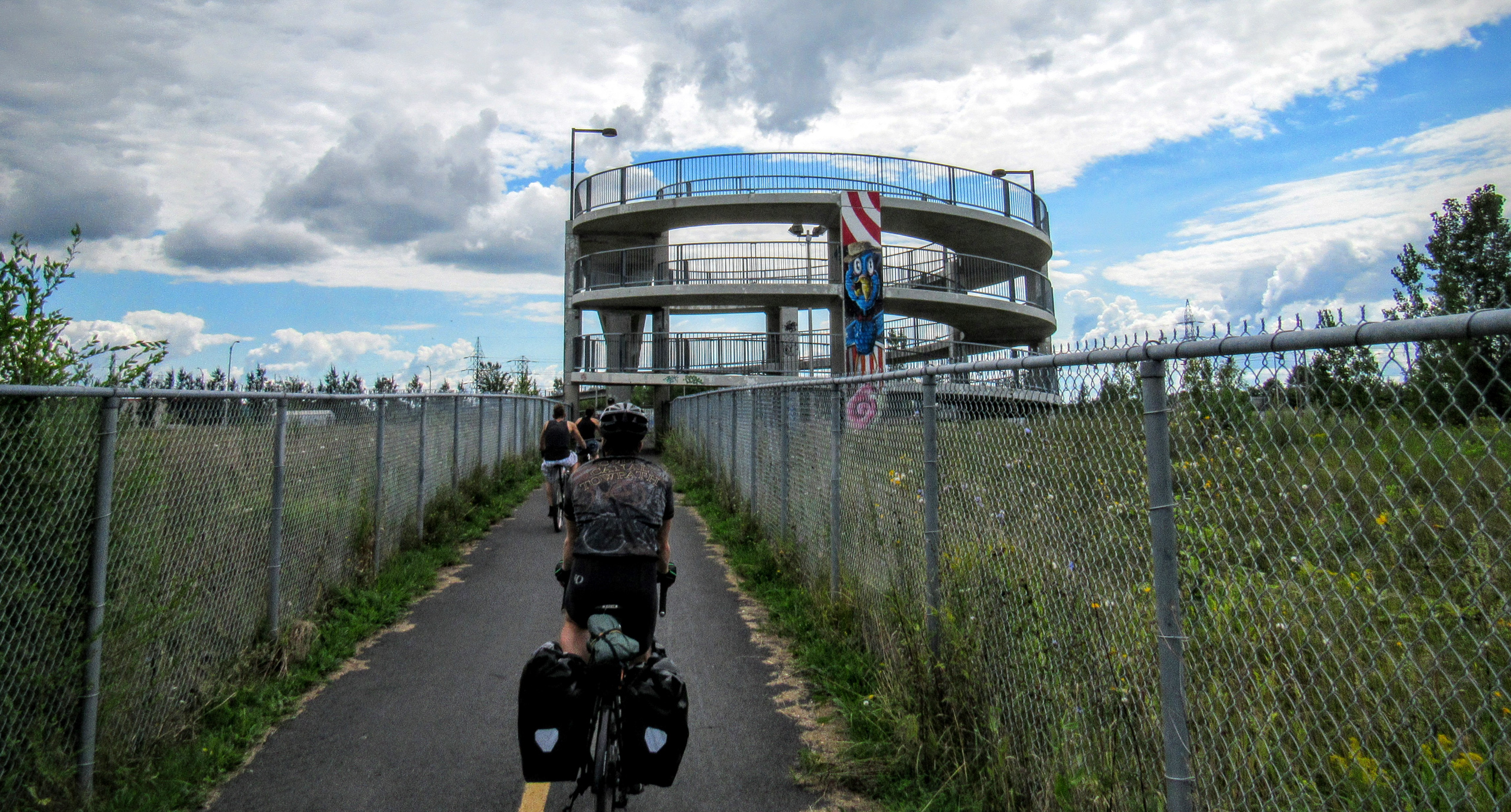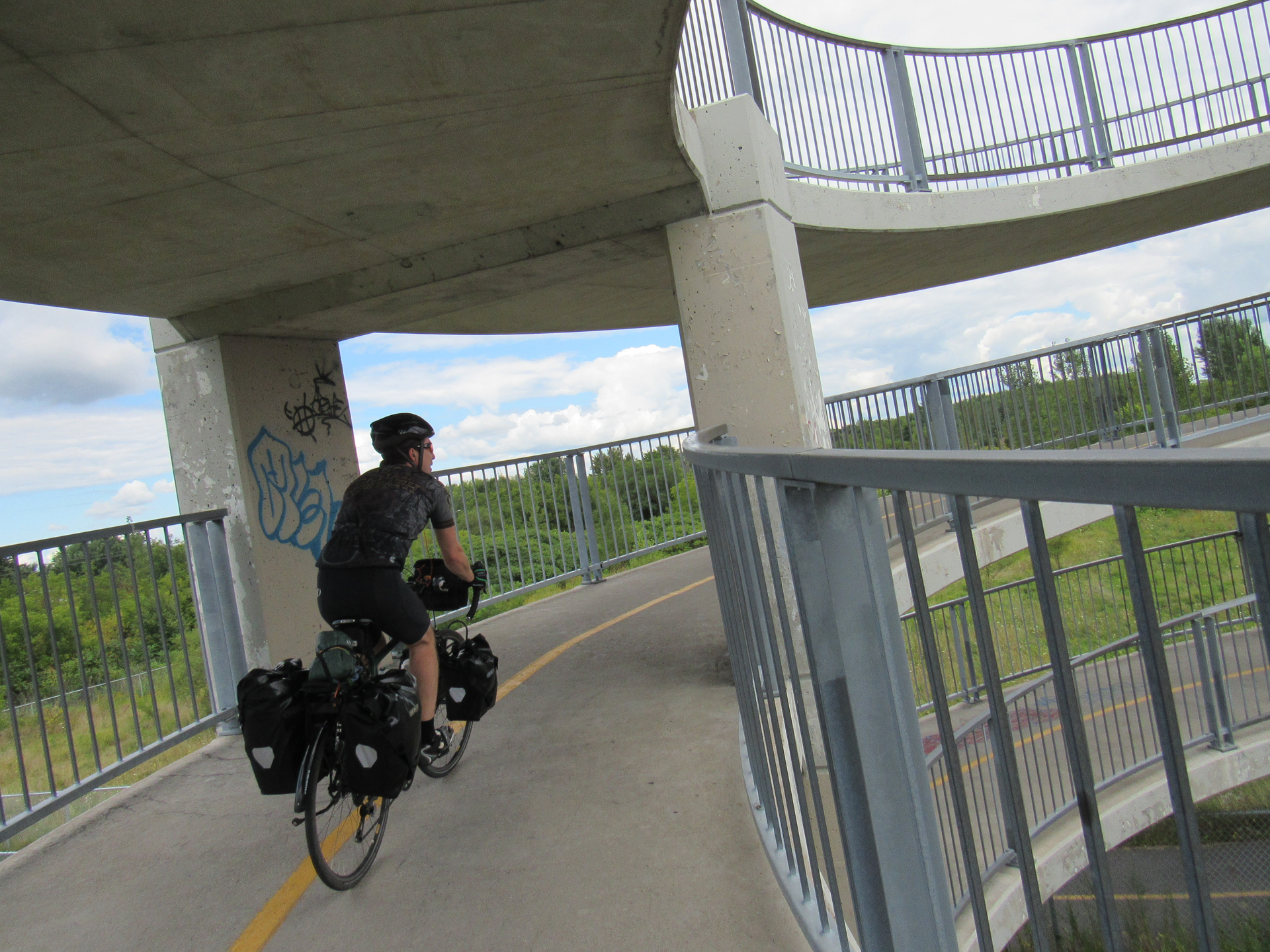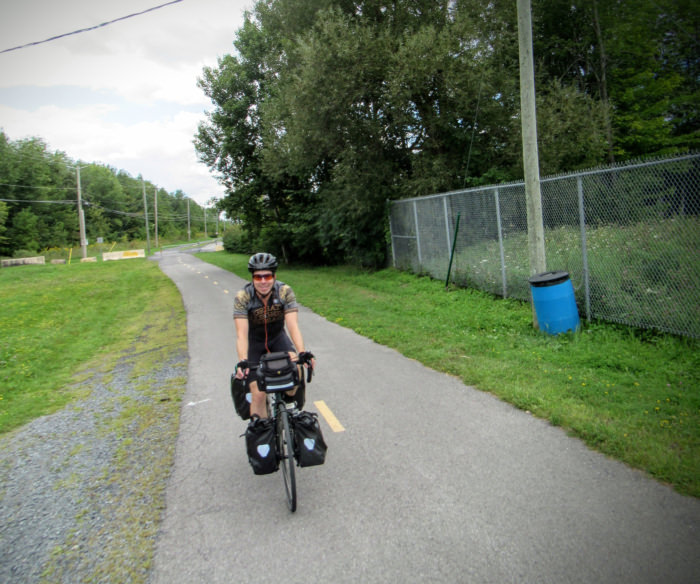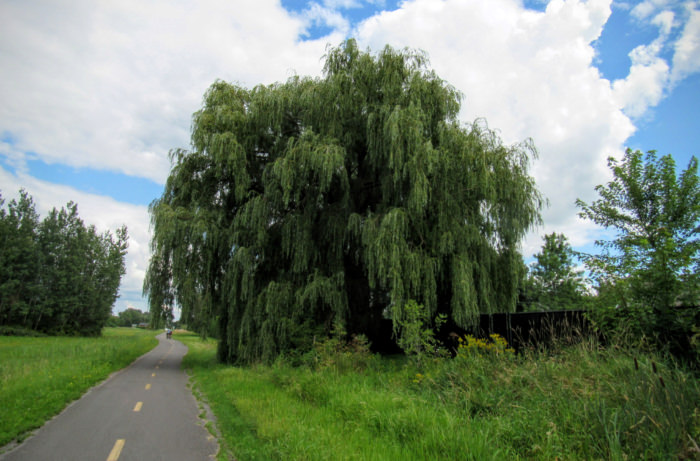 Now this is familiar — like the C&O in Maryland and the I&M in Illinois, this bike path was created from the old towpath which ran alongside this a canal. Towpaths are wonderful things.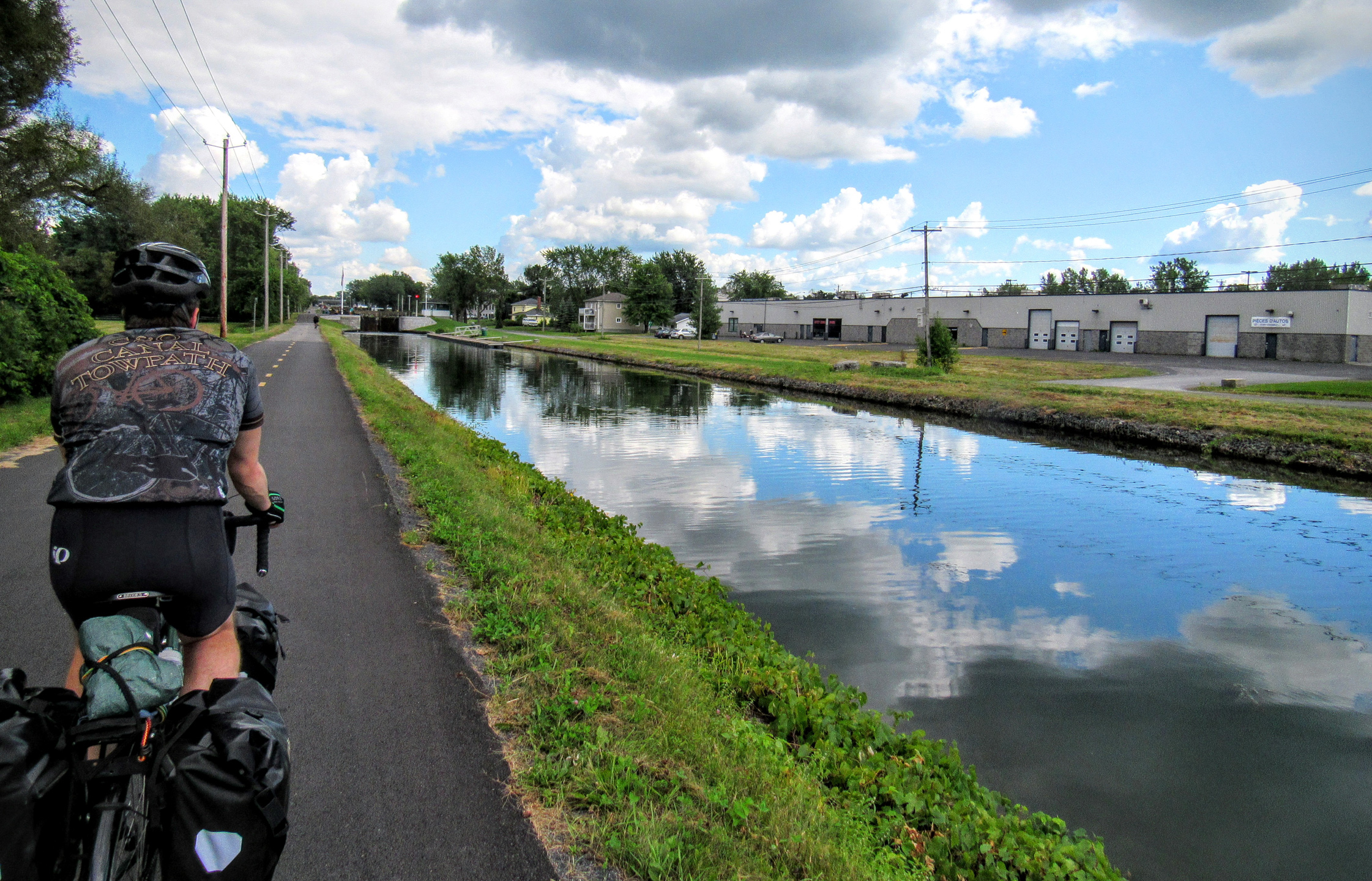 We took a break in a town called St-Jean Sur Richelieu, where we finally got to dig into some real French Canadian poutine. It did not disappoint. The waitress didn't speak a word of English, but I can't complain about what she brought out: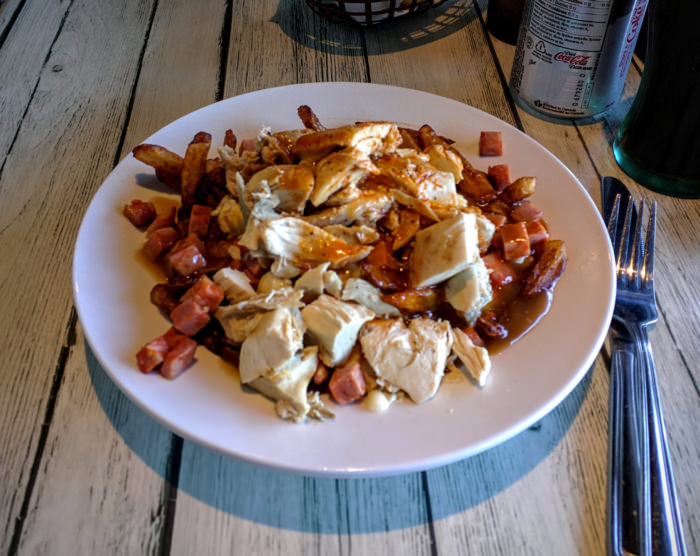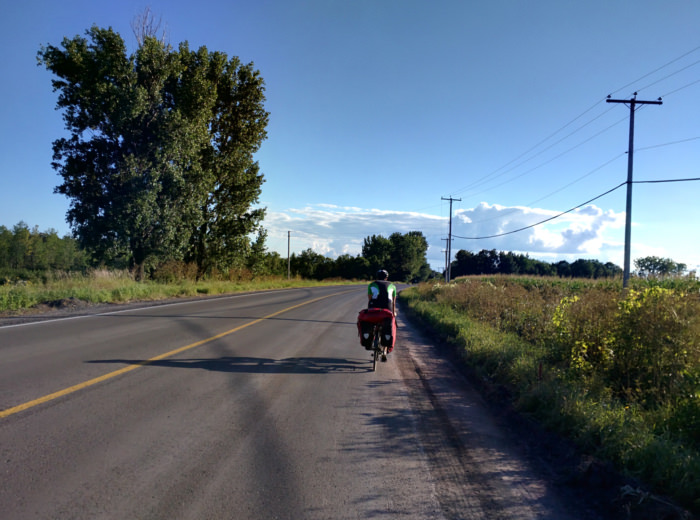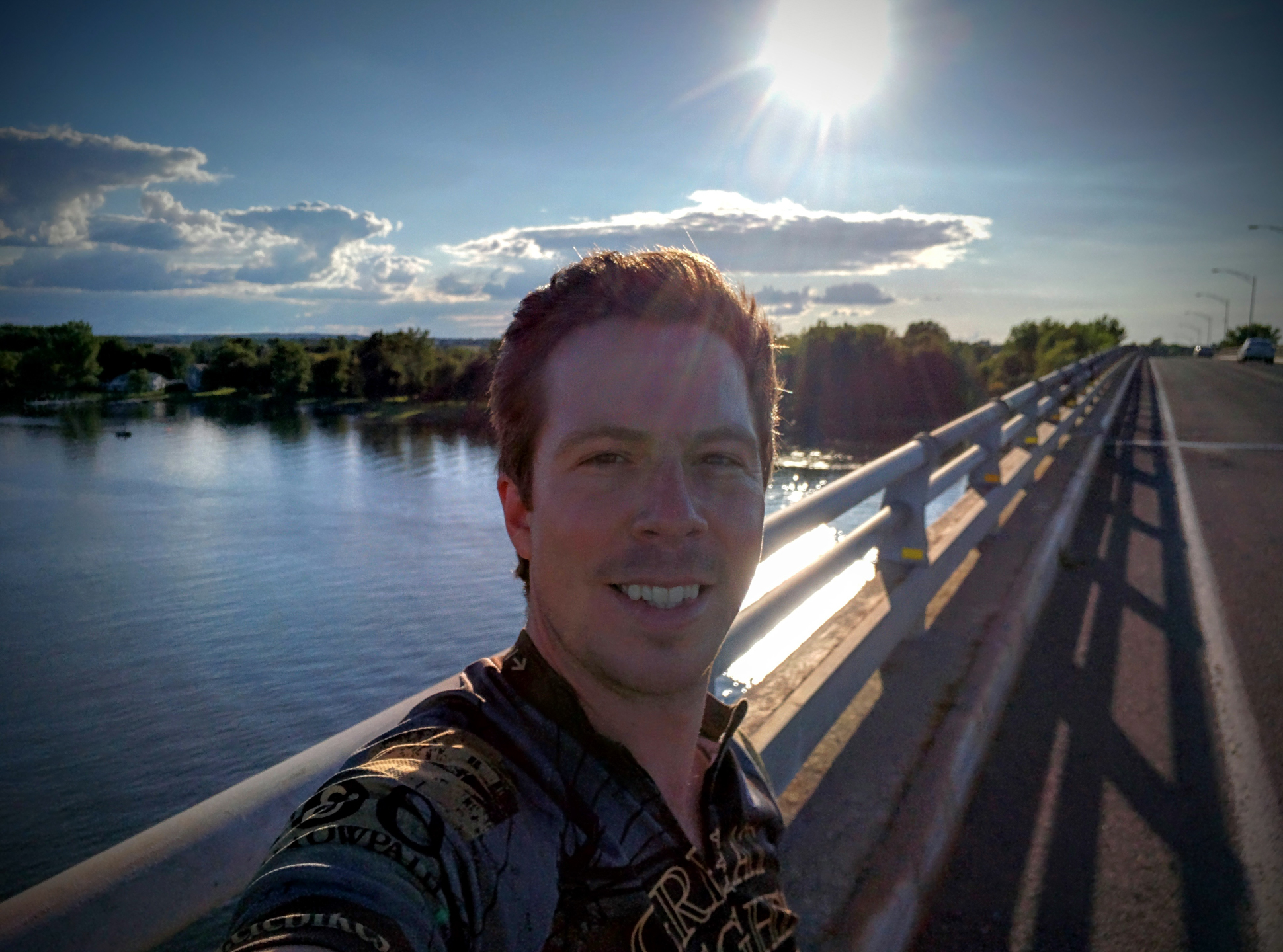 About 55 miles into the ride we made it to the Noyan/Alburg border crossing. Just in time as well, I was running dangerously low on freedom and my liberty rations were dwindling as well.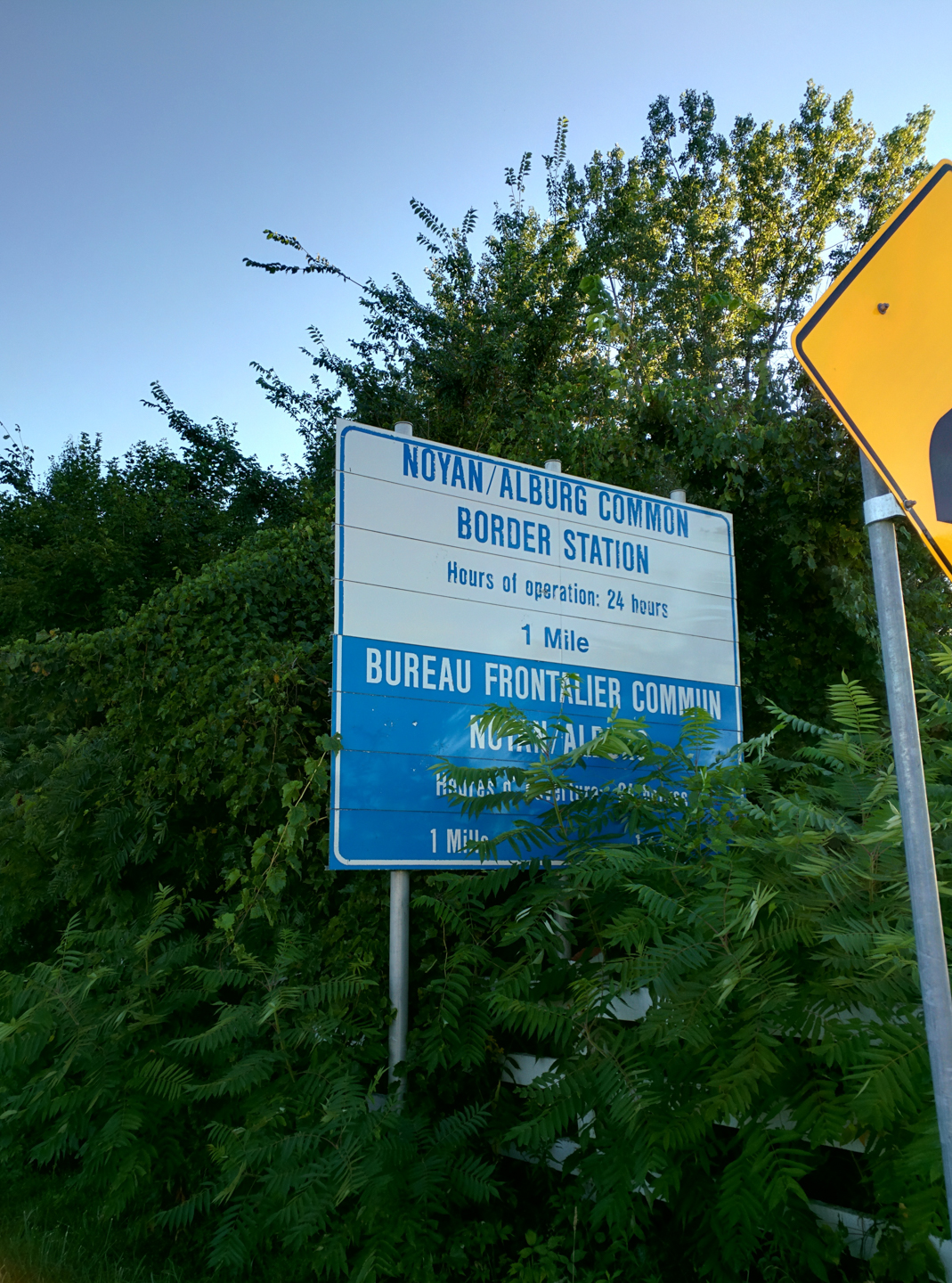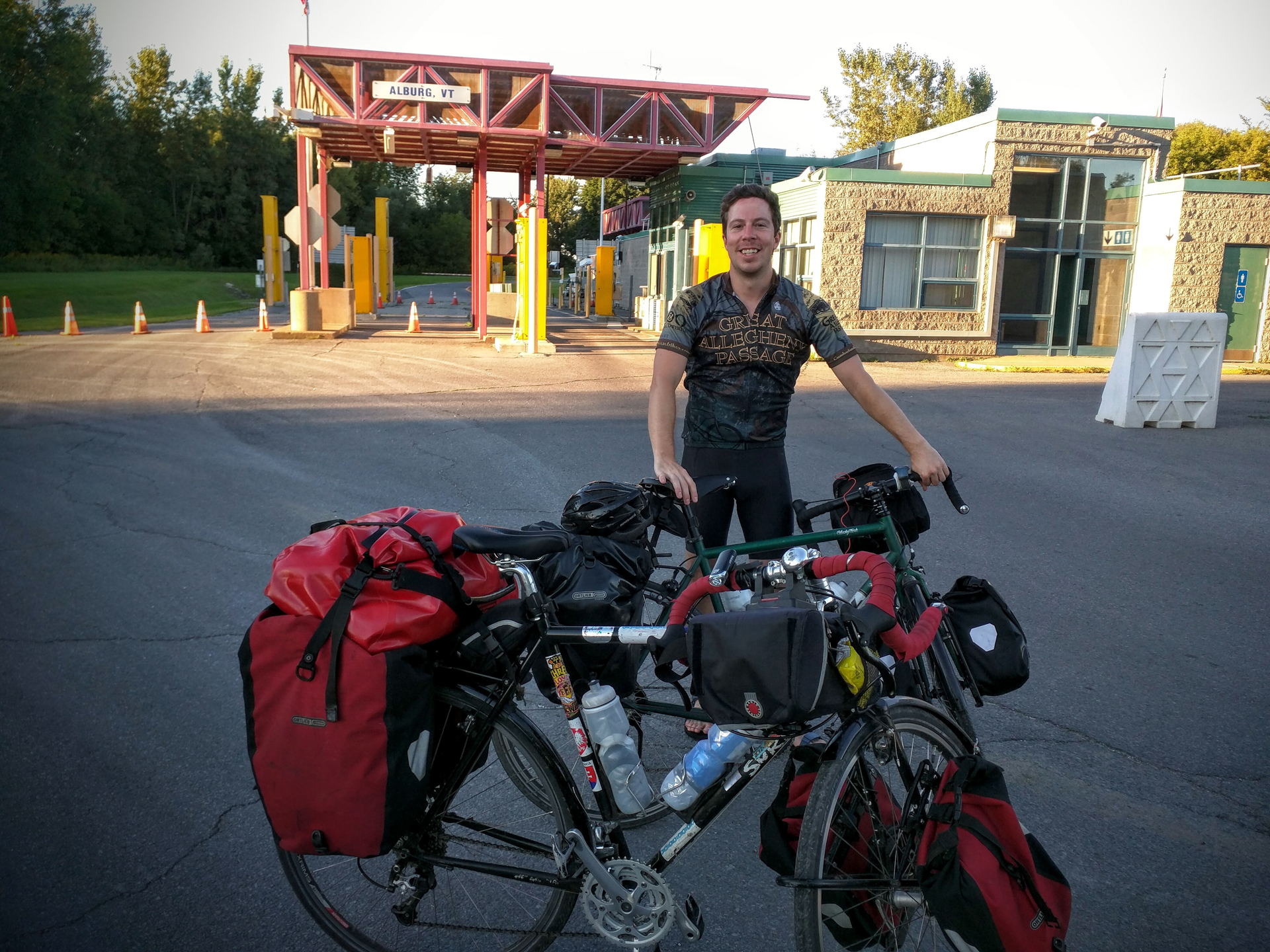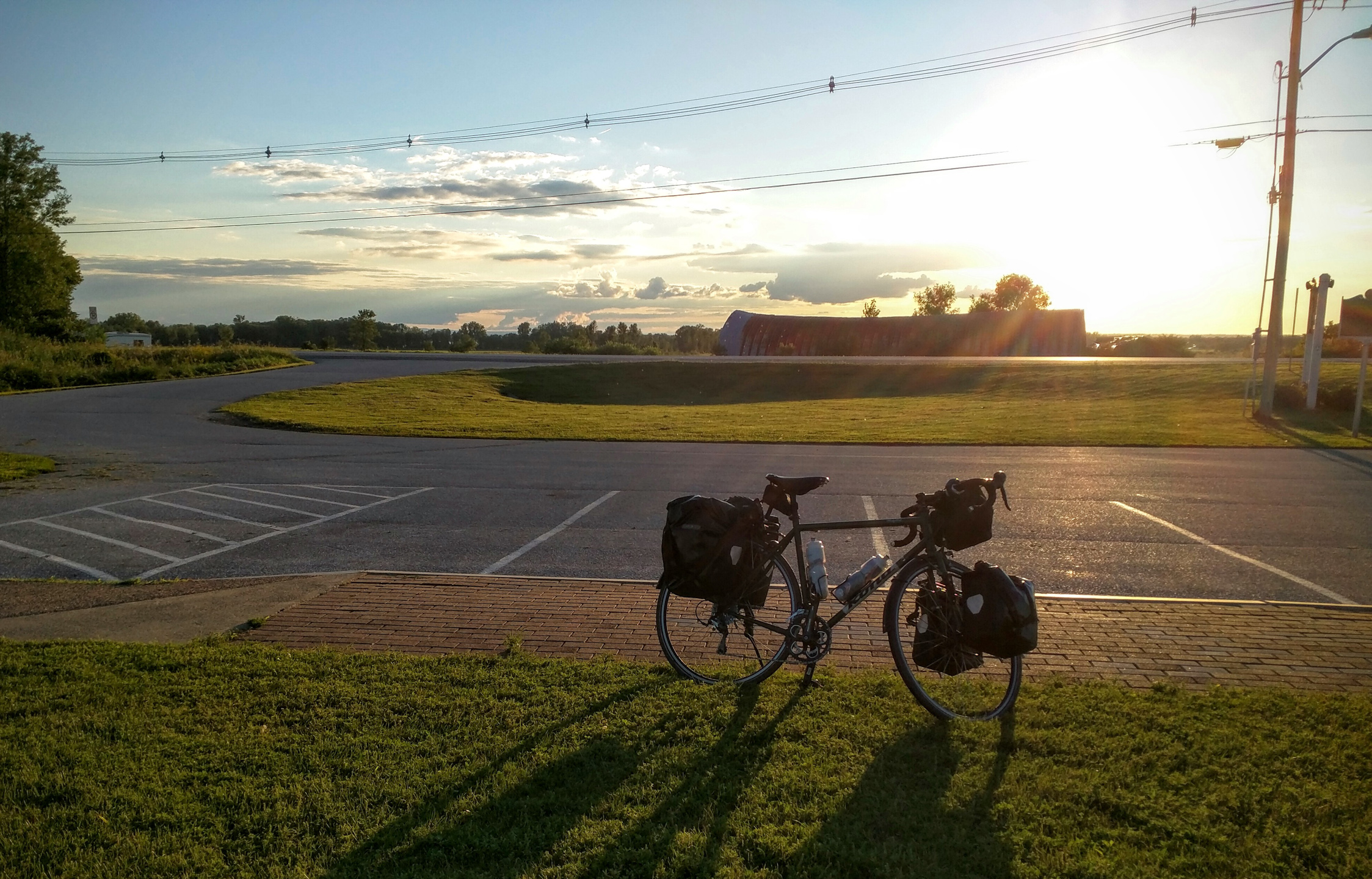 It was starting to get dark when we arrived at Goose Point Campground. They were apparently having their annual party that night, so we were serenaded by a '90s rock cover band and a lot of drunk campers until around 11:30.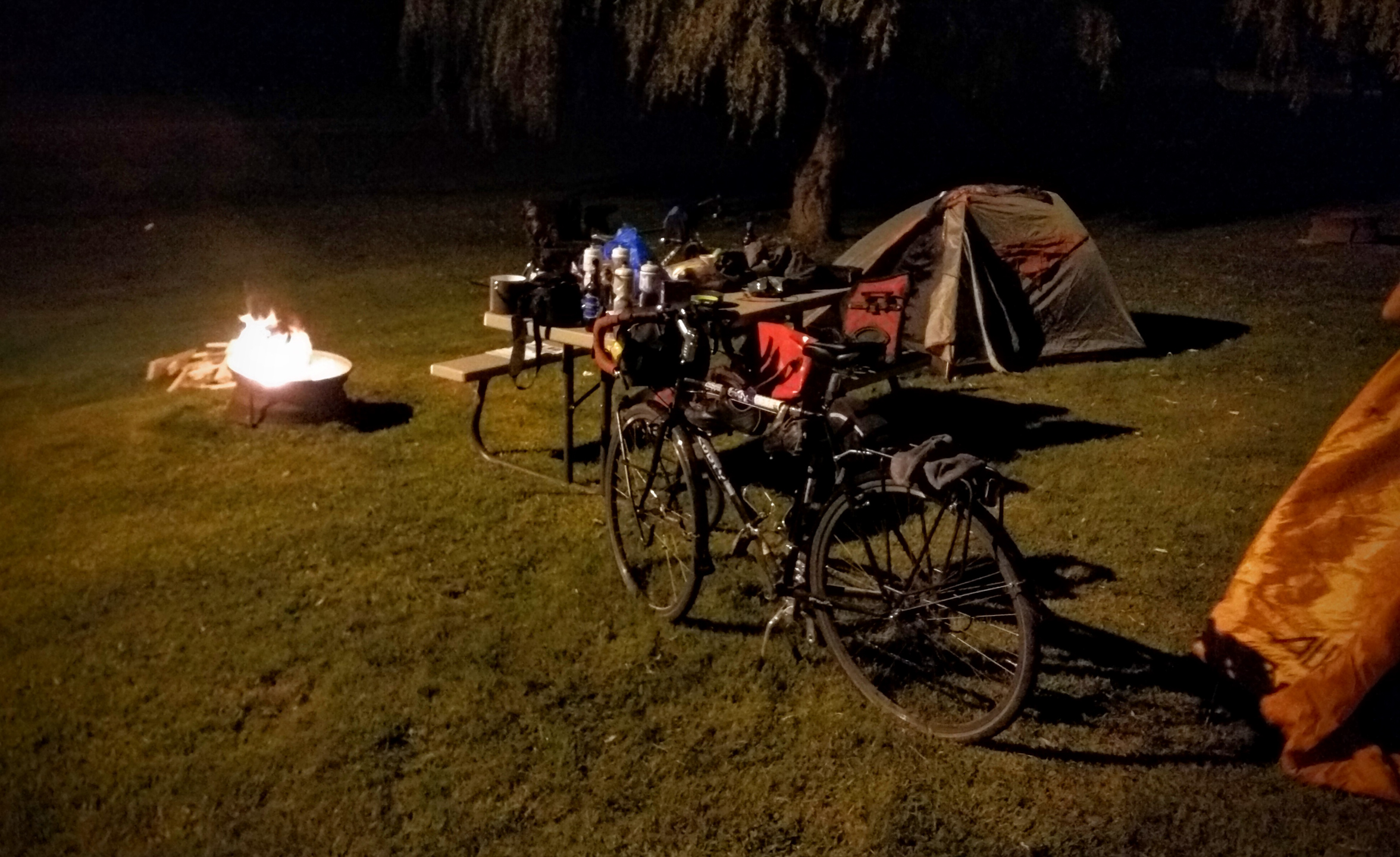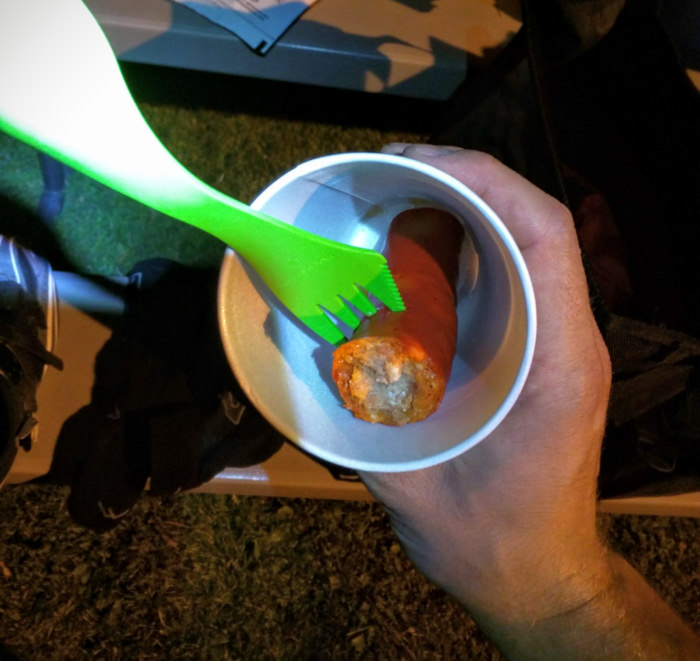 ---
Day 3 — Lake Champlain and Northern Vermont
Goose Point Campground to D.A.R. State Park
Sunday, August 23rd
This was our longest ride of the trip at 75 miles, though the flat terrain of north western Vermont meant it wasn't very tough. We followed the Lake Champlain Byway through the lake's islands and peninsulas, stopping off at the city of Burlington for a lunch and relaxation midway through the ride. We started to hit some hills towards the end of the day, but they were minor compared to what we'd be experiencing in the following days.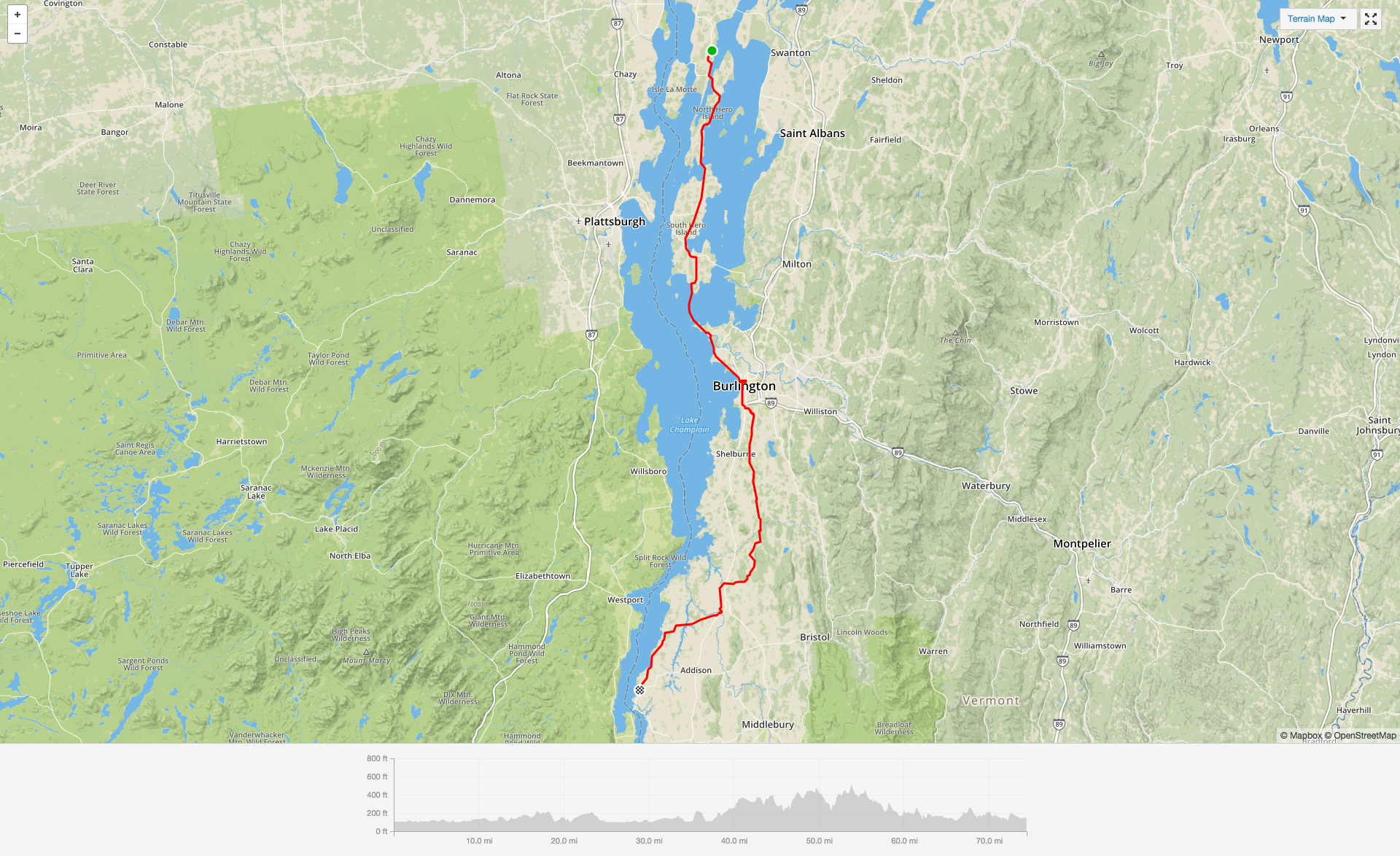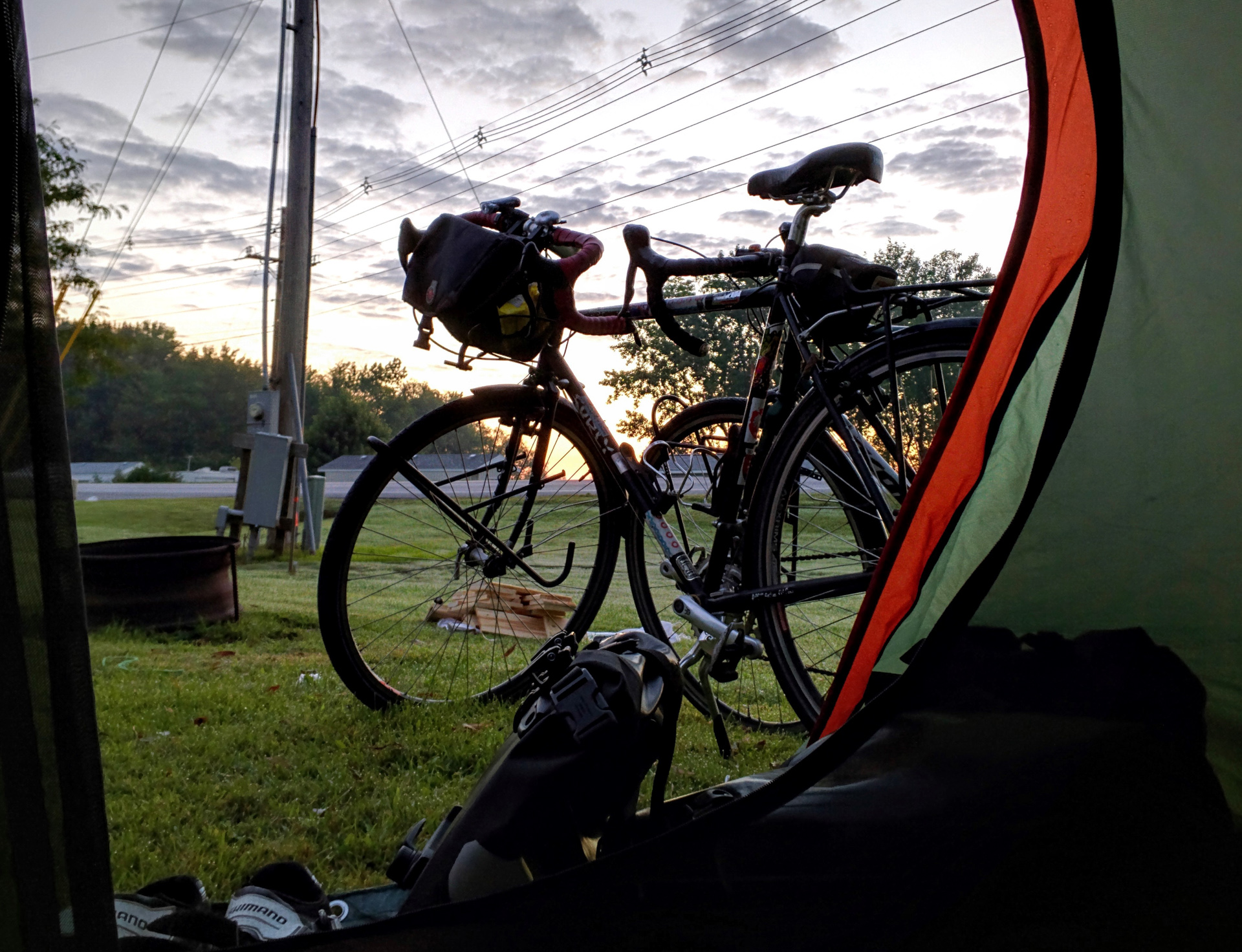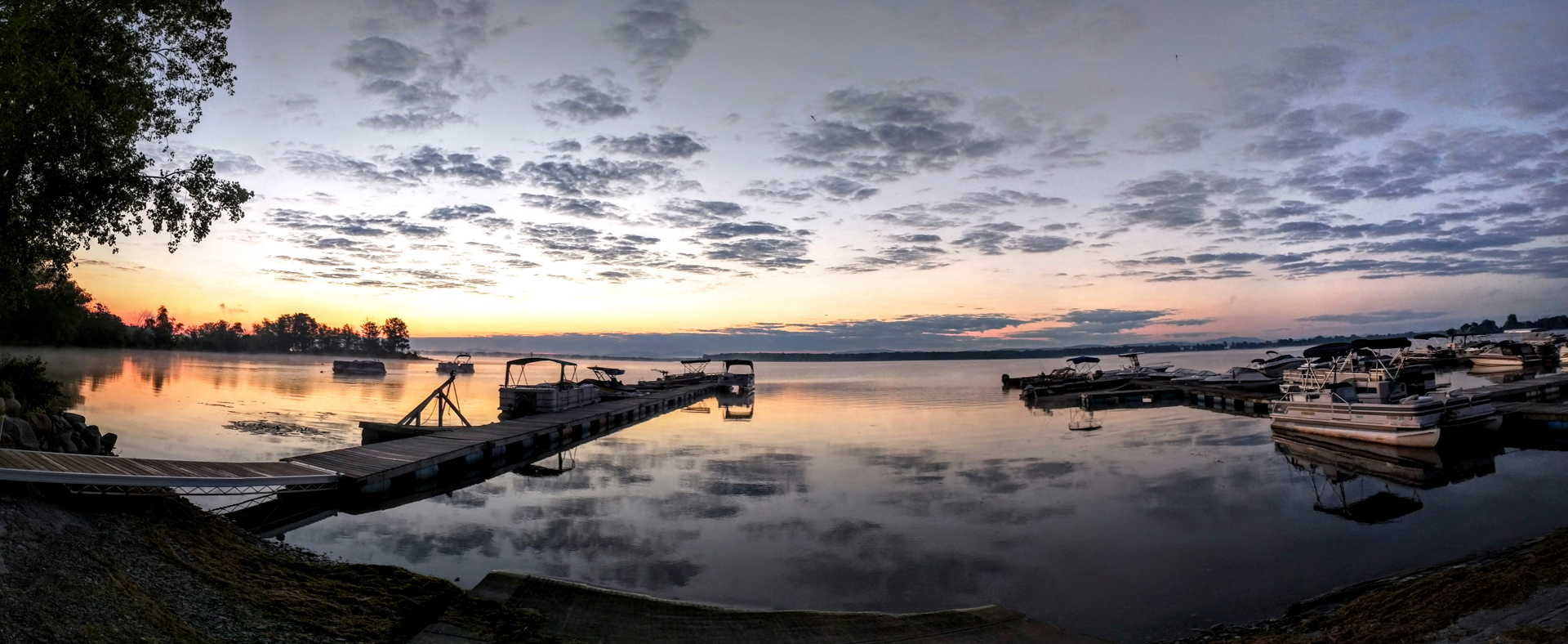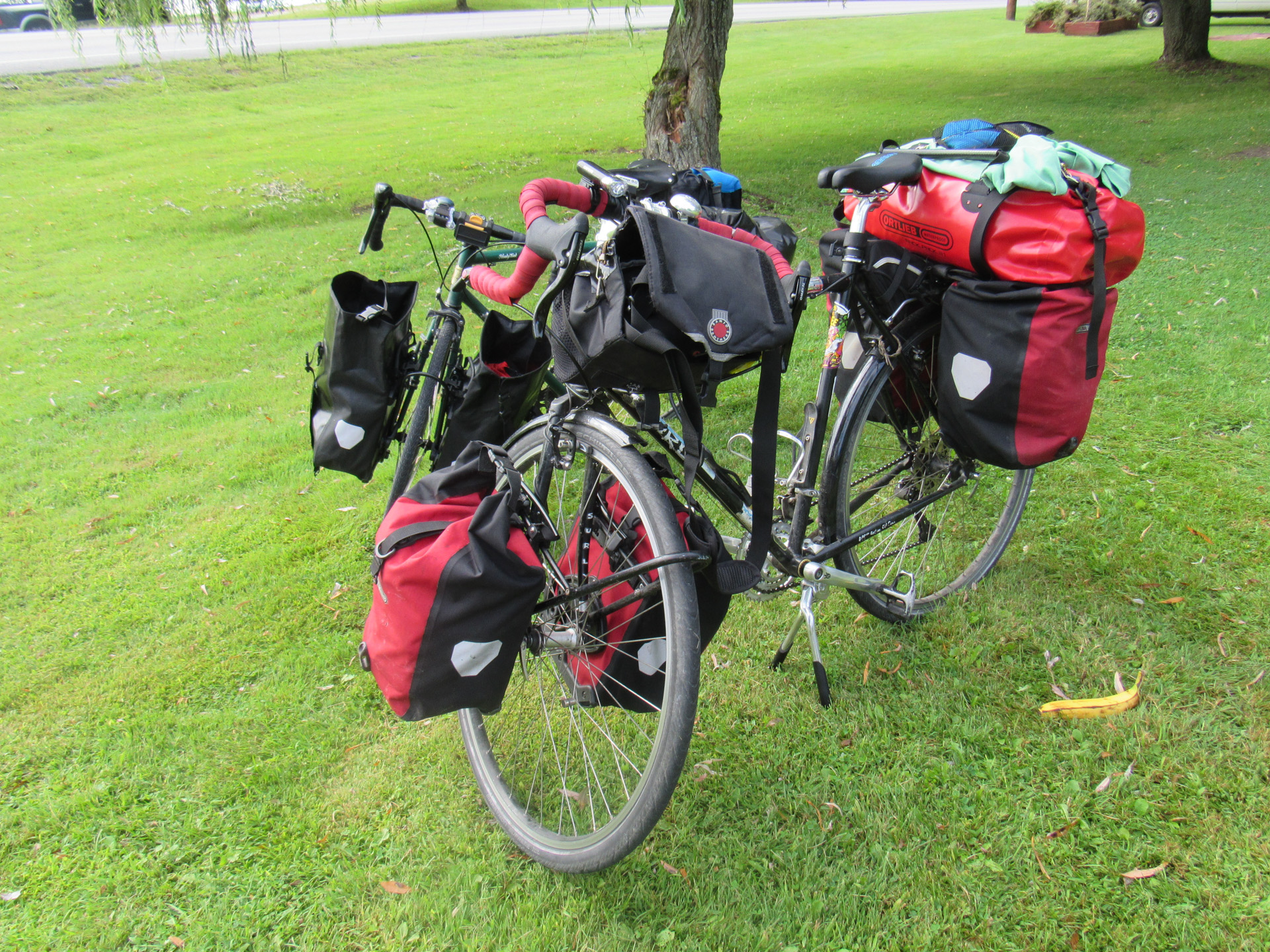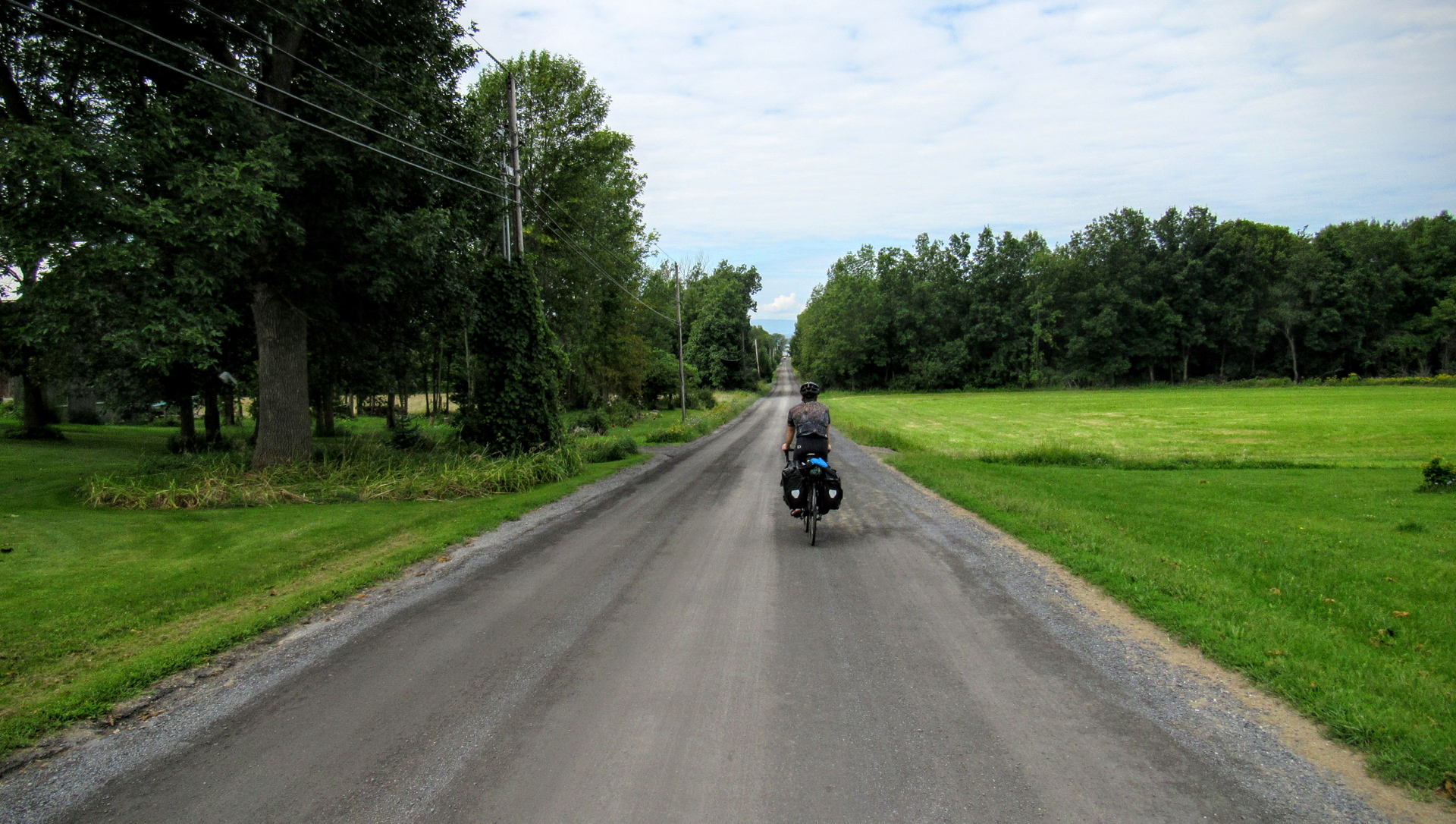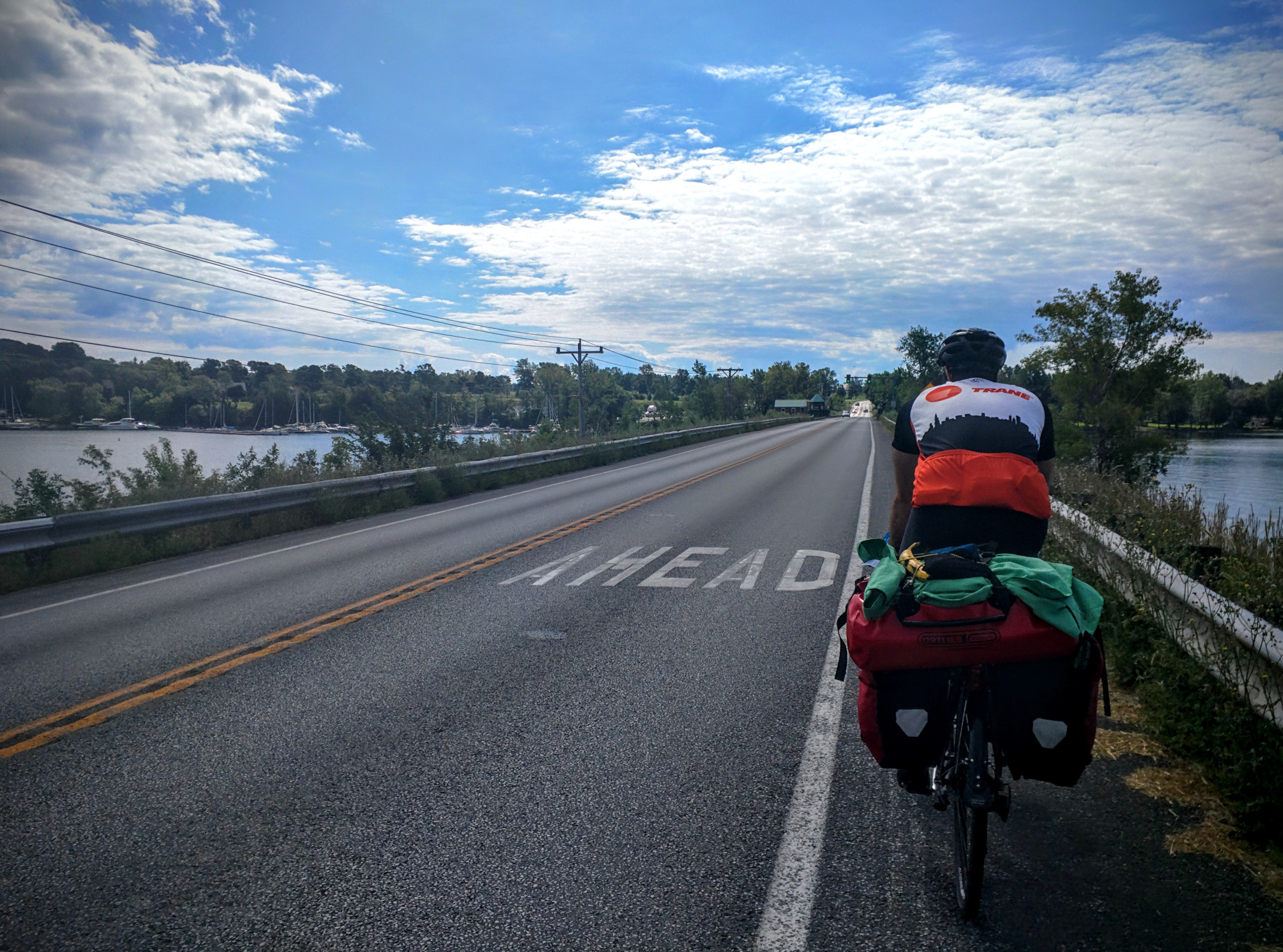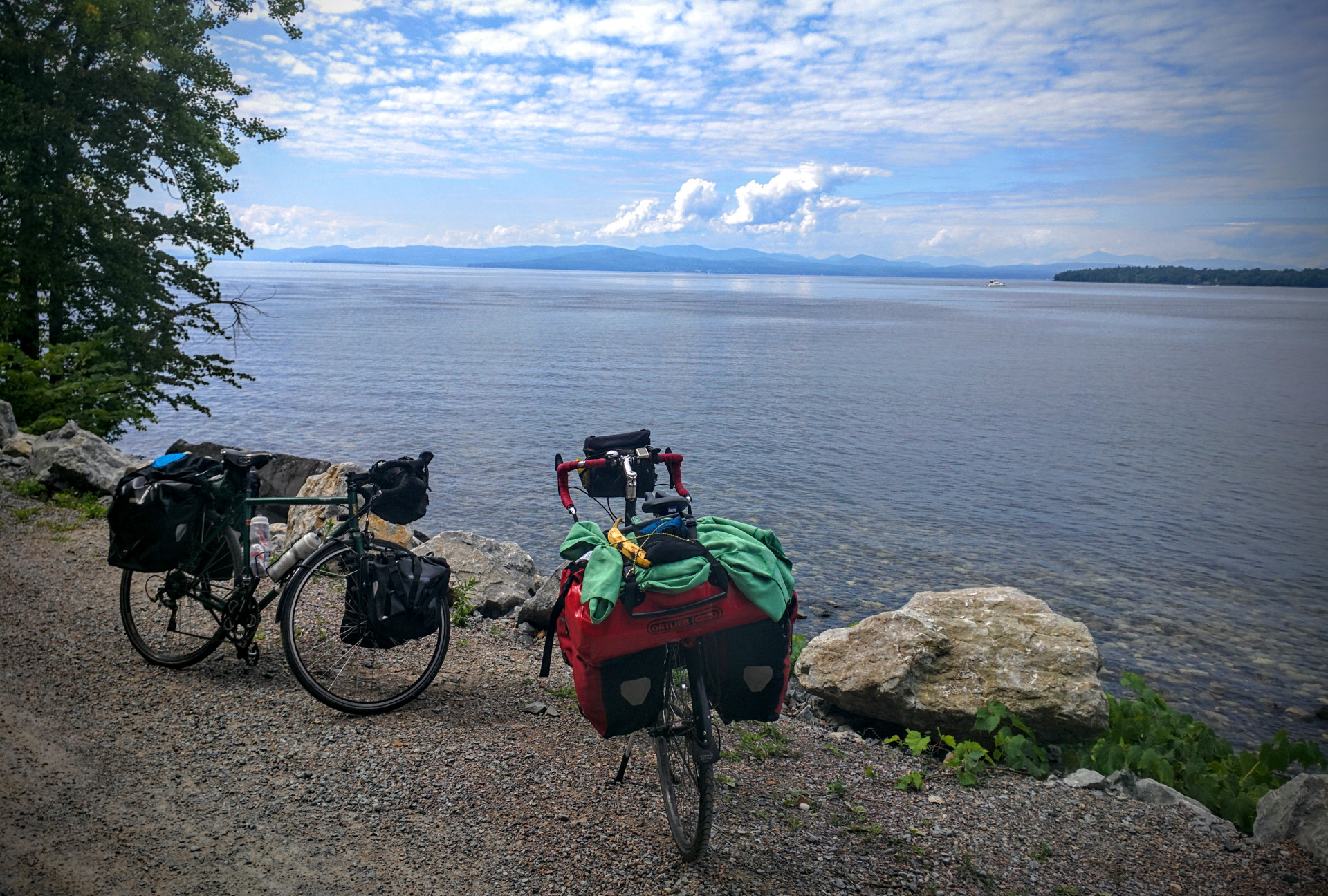 Connecting Lake Champlain's peninsulas to Burlington is a long causeway which runs across most of the lake. There's a gap between the north and south ends of the causeway, so they have pontoon boats which serve as bike ferries through the summer. We were expecting to be on the boat for a while, but the ride turned out to be no more than about five minutes.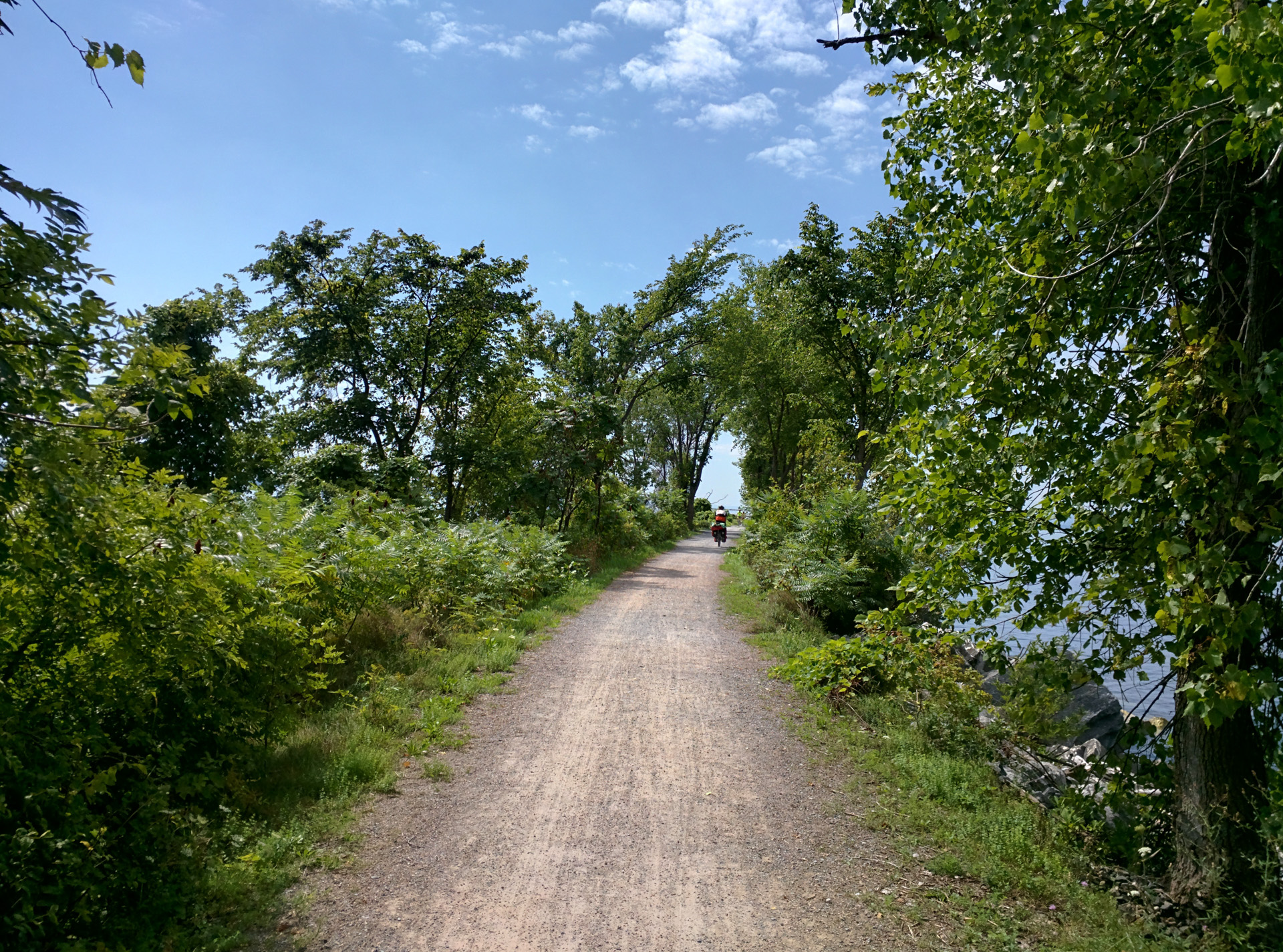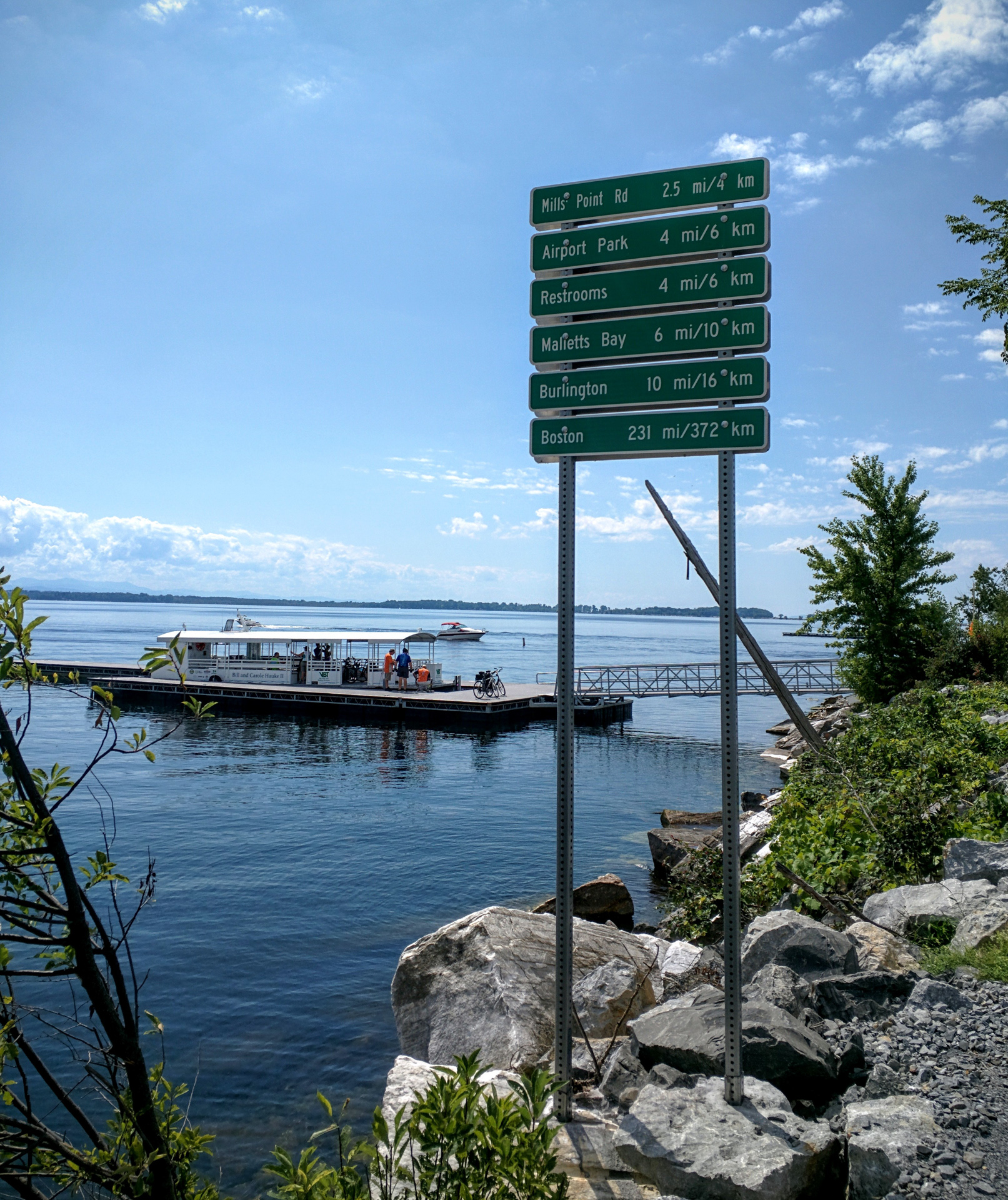 Burlington is a cool town. It was a beautiful day so the streets were full of locals and tourists.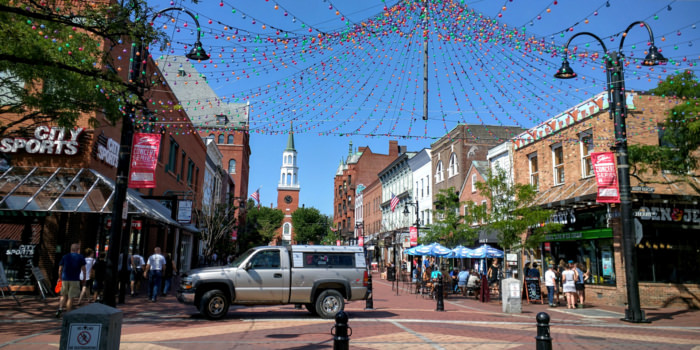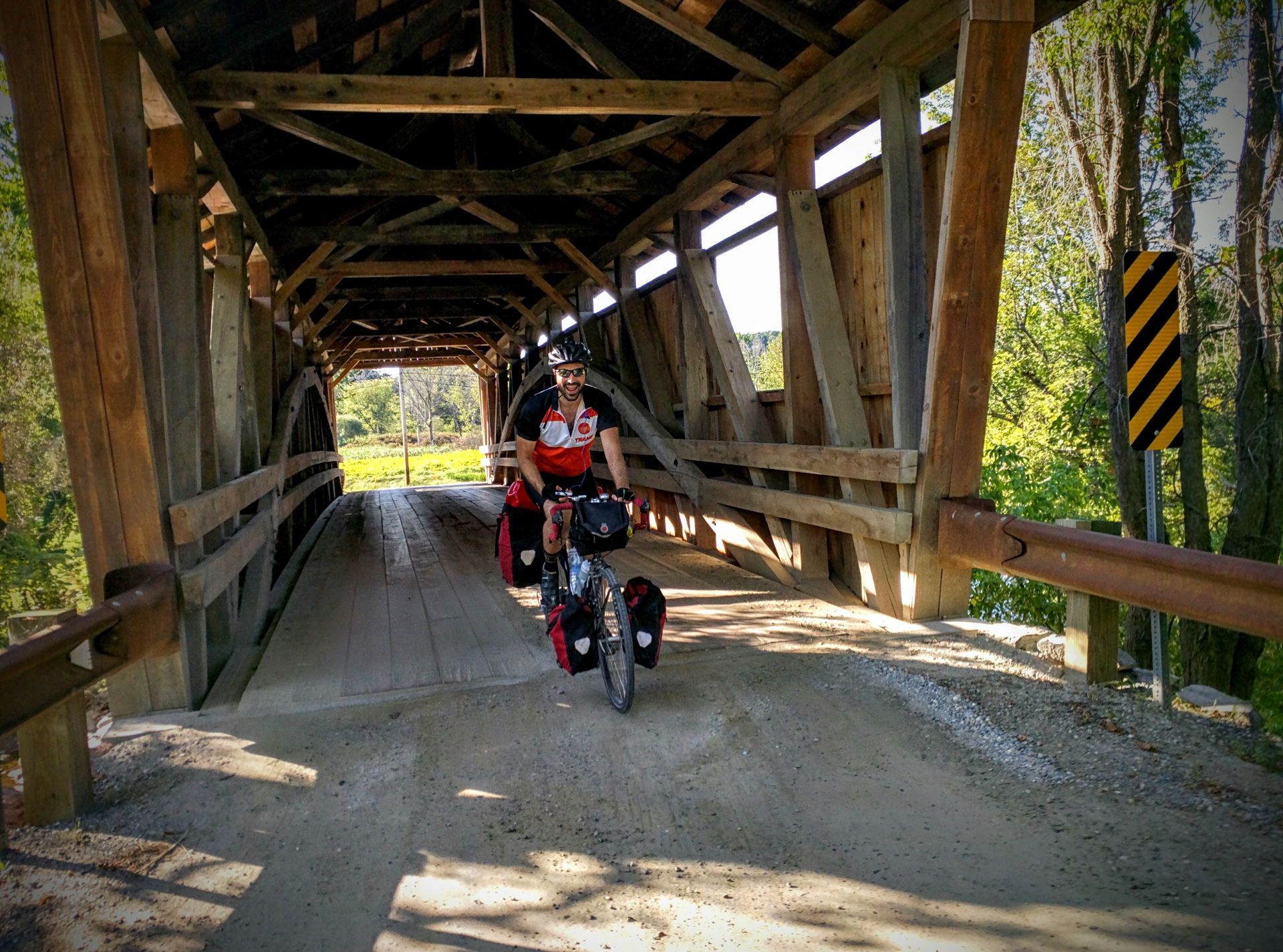 We didn't plan on riding to D.A.R. State Park in my original itinerary for the trip, but we heard good things about it in Burlington so we decided to ride the extra few miles to check it out. Of course that meant I had to make up the route on the go, which made for some questionable terrain. We spent about ten or fifteen miles on this dirt/gravel road before finding pavement again. At least there was no traffic (aside from a few horses).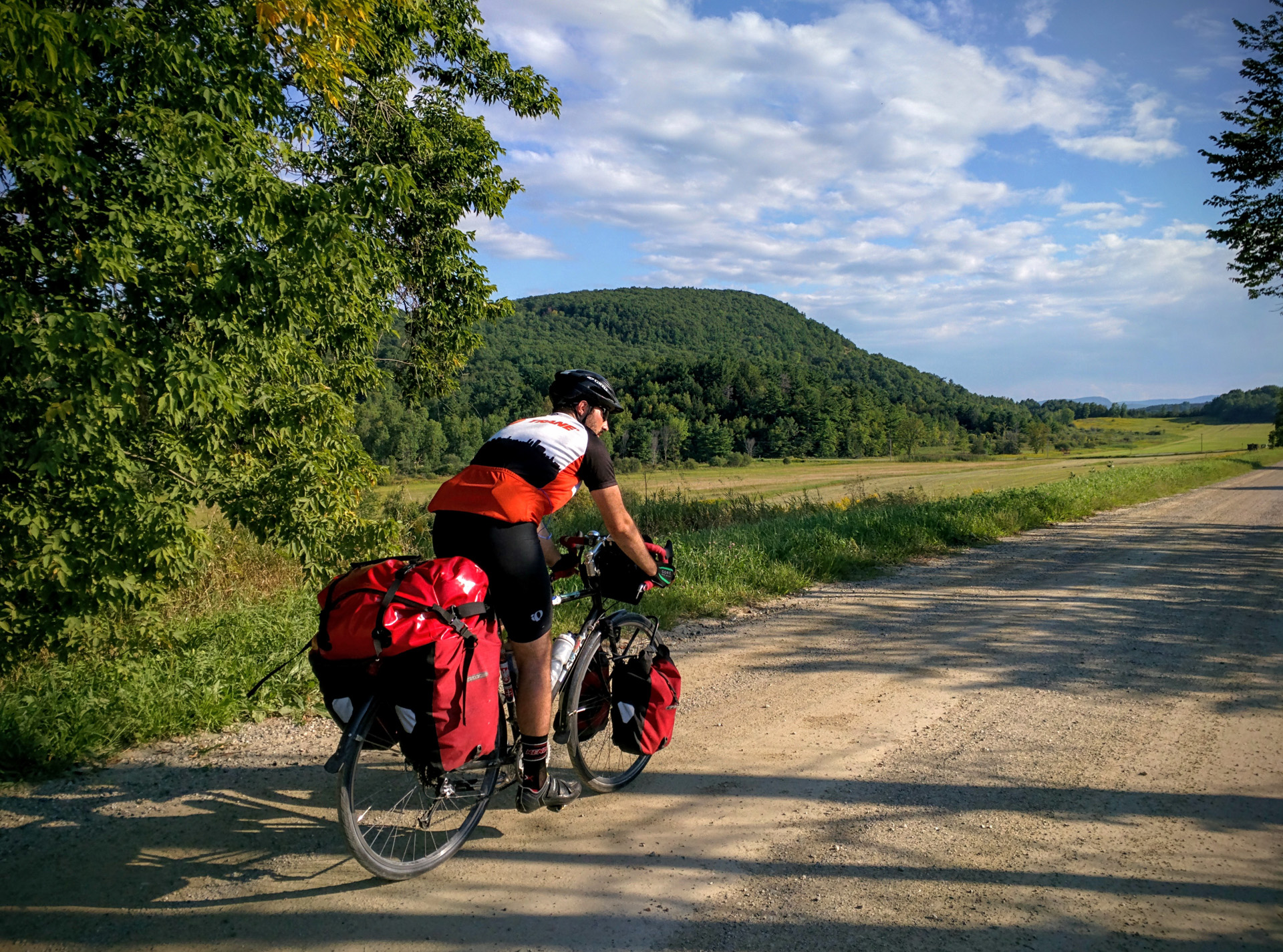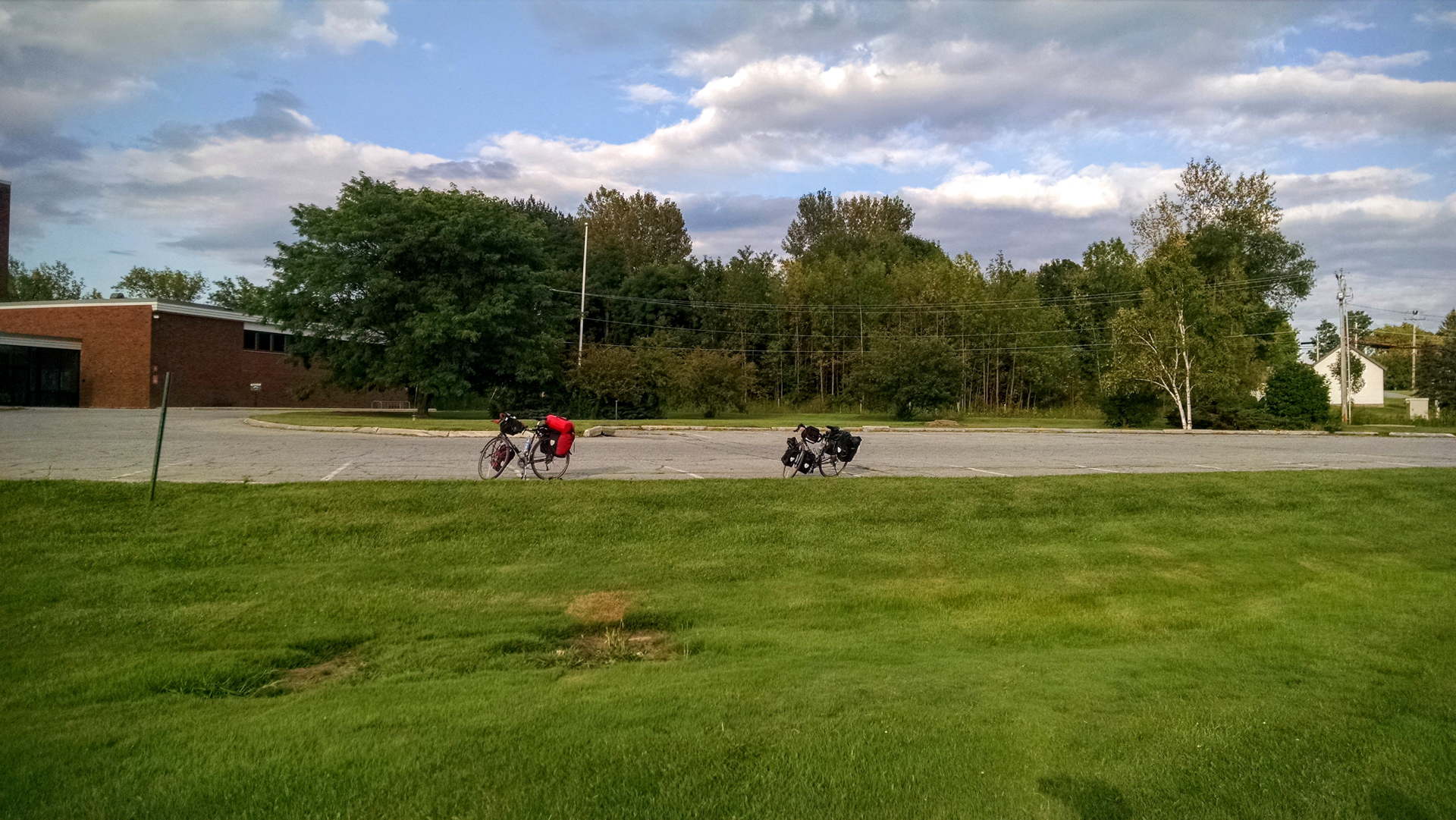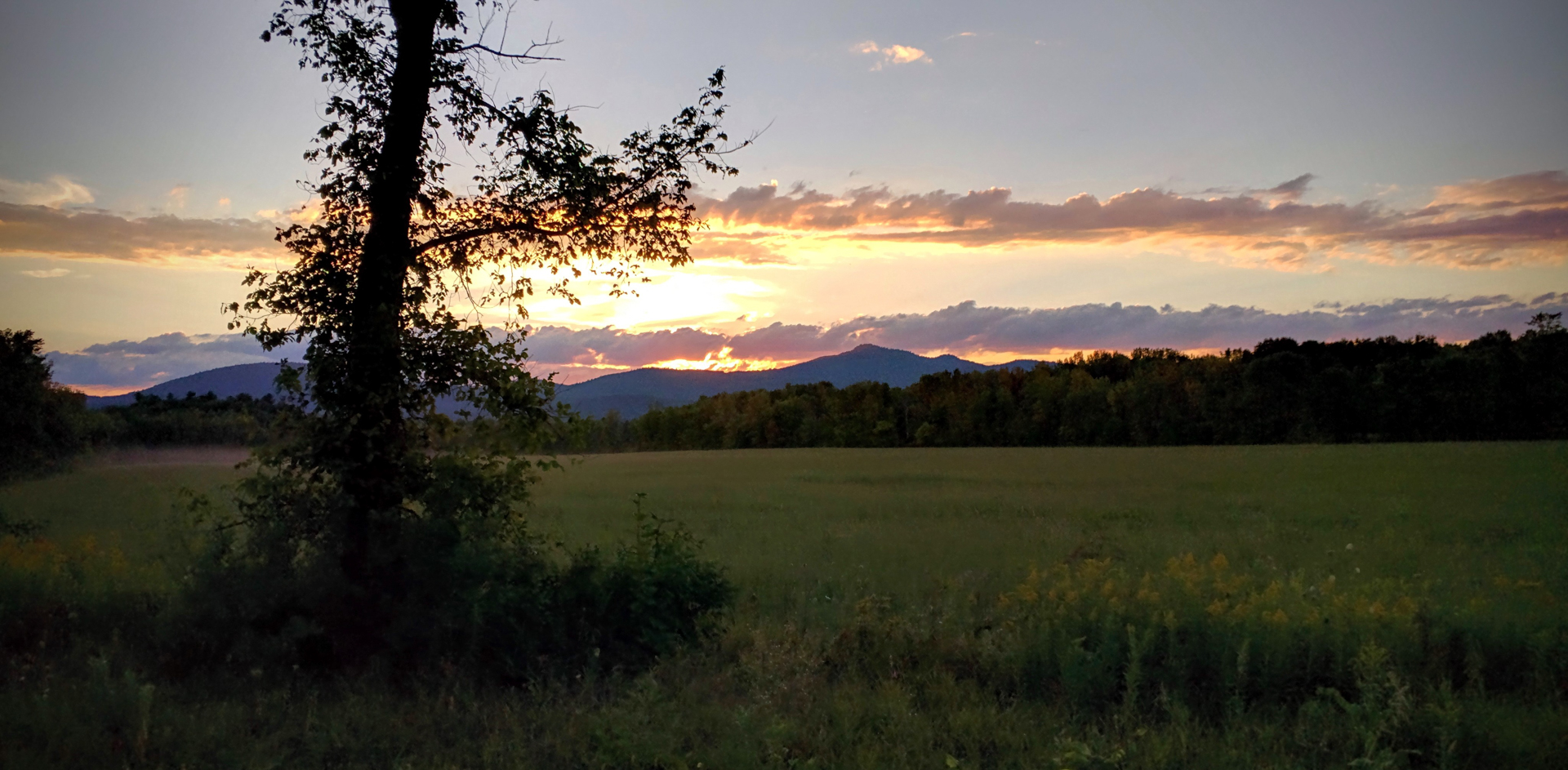 The sun was going down pretty quick by the time we made it to D.A.R., but the change of plans was worth it. We had a great camp site right by the lake.
---
Day 3 — En Route to Rutland
D.A.R. State Park to Iriquois Family Campground
Monday, August 24th
This was where things started to get a little tough. For the first few hours of the ride, we couldn't catch a break. Heading east away from the lake we ran into some tough 25mph headwinds that just wouldn't let up. Then, again as a result of my poorly revised route, we wound up on highway 22A which had constant stream of huge trucks in addition to those headwinds. Not fun. The first 20 miles were some of the toughest and most stressful miles of the trip, and we hadn't even hit the mountains yet. We ended up taking a very long break at a gas station in Shoreham which happened to have some of the best pizza I've ever tasted in my life. Things got a little better from there.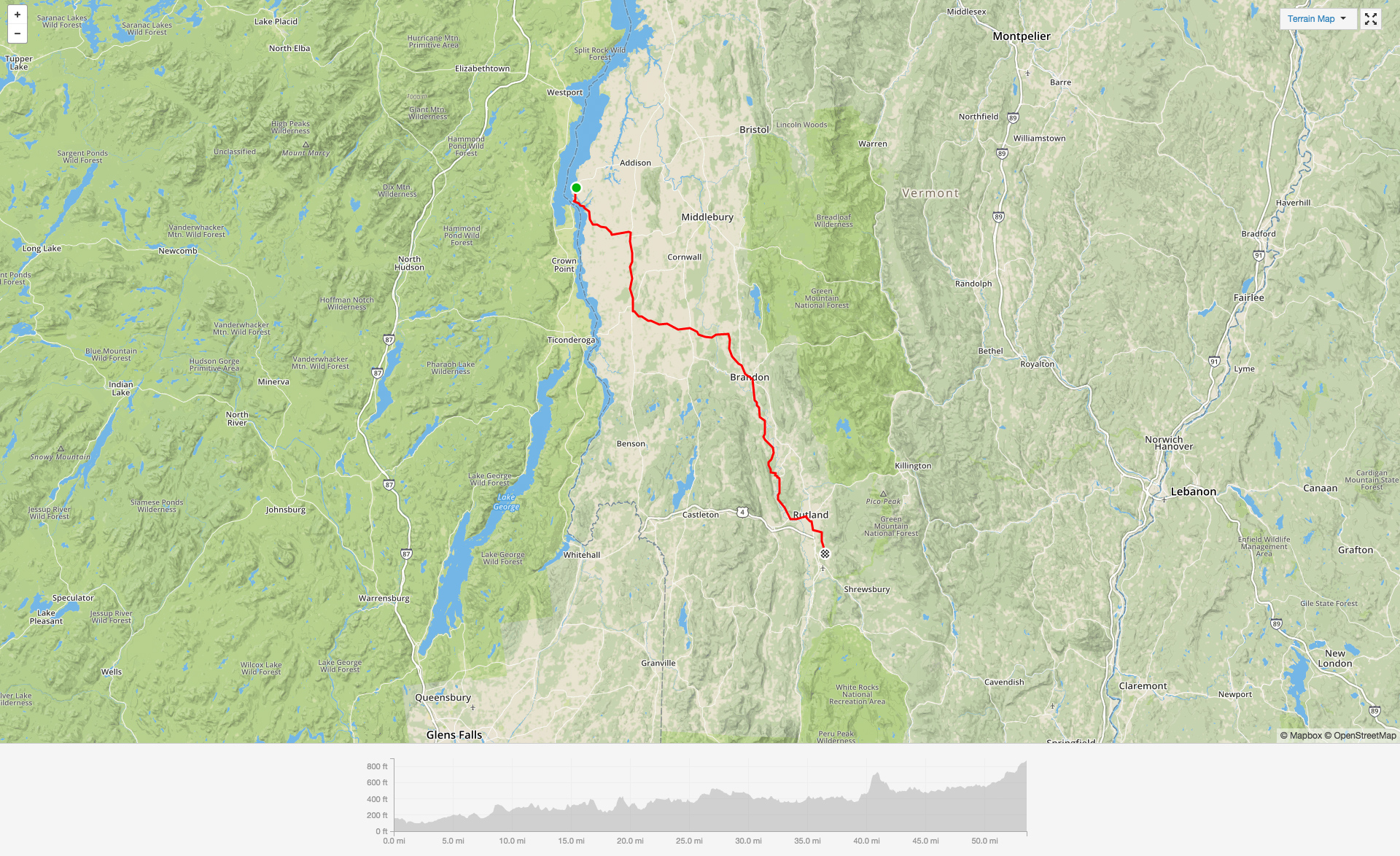 The campsites are D.A.R. are spacious and pretty private. We were only a minute away from the lake, which made for a great morning refresher.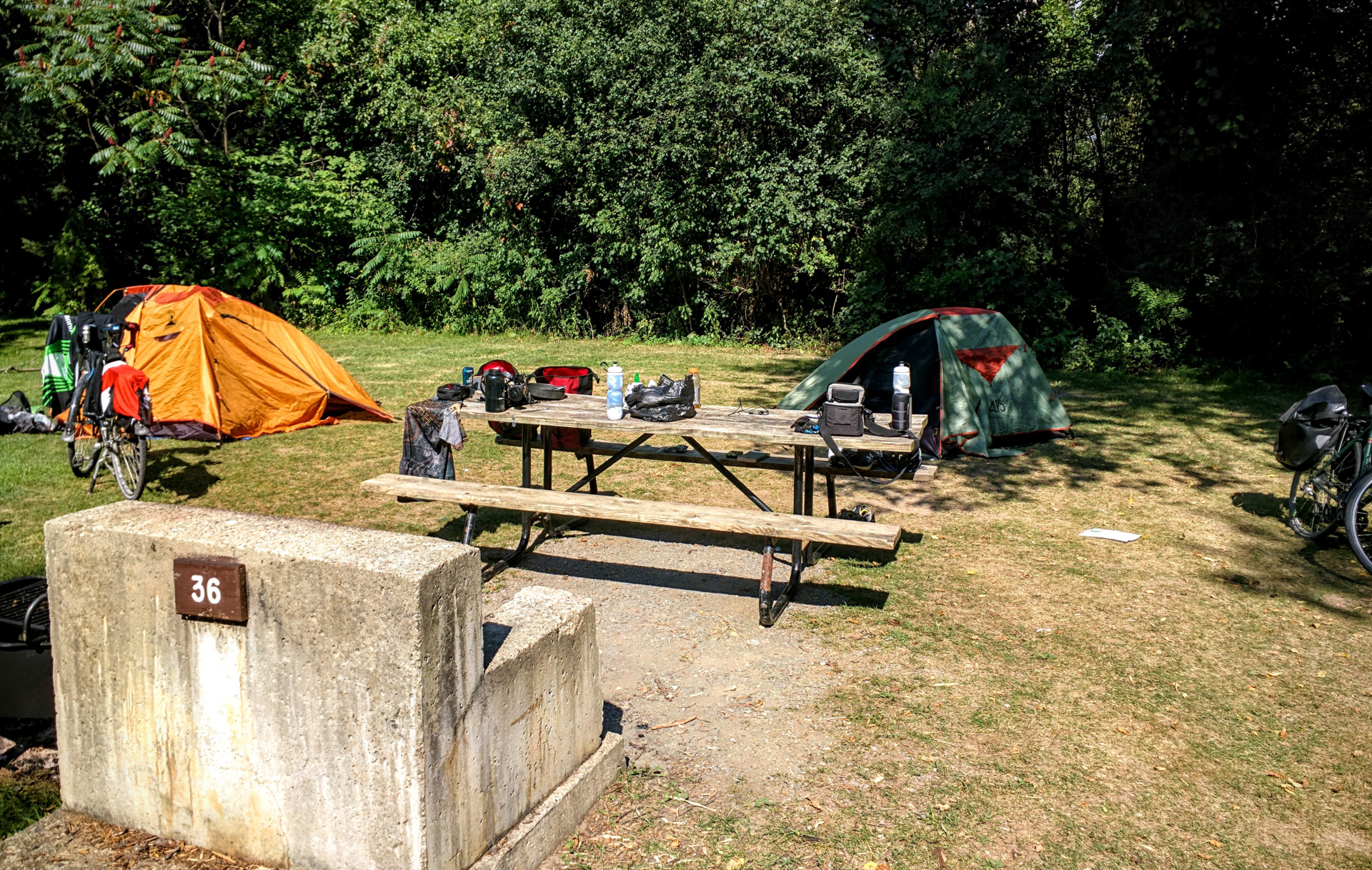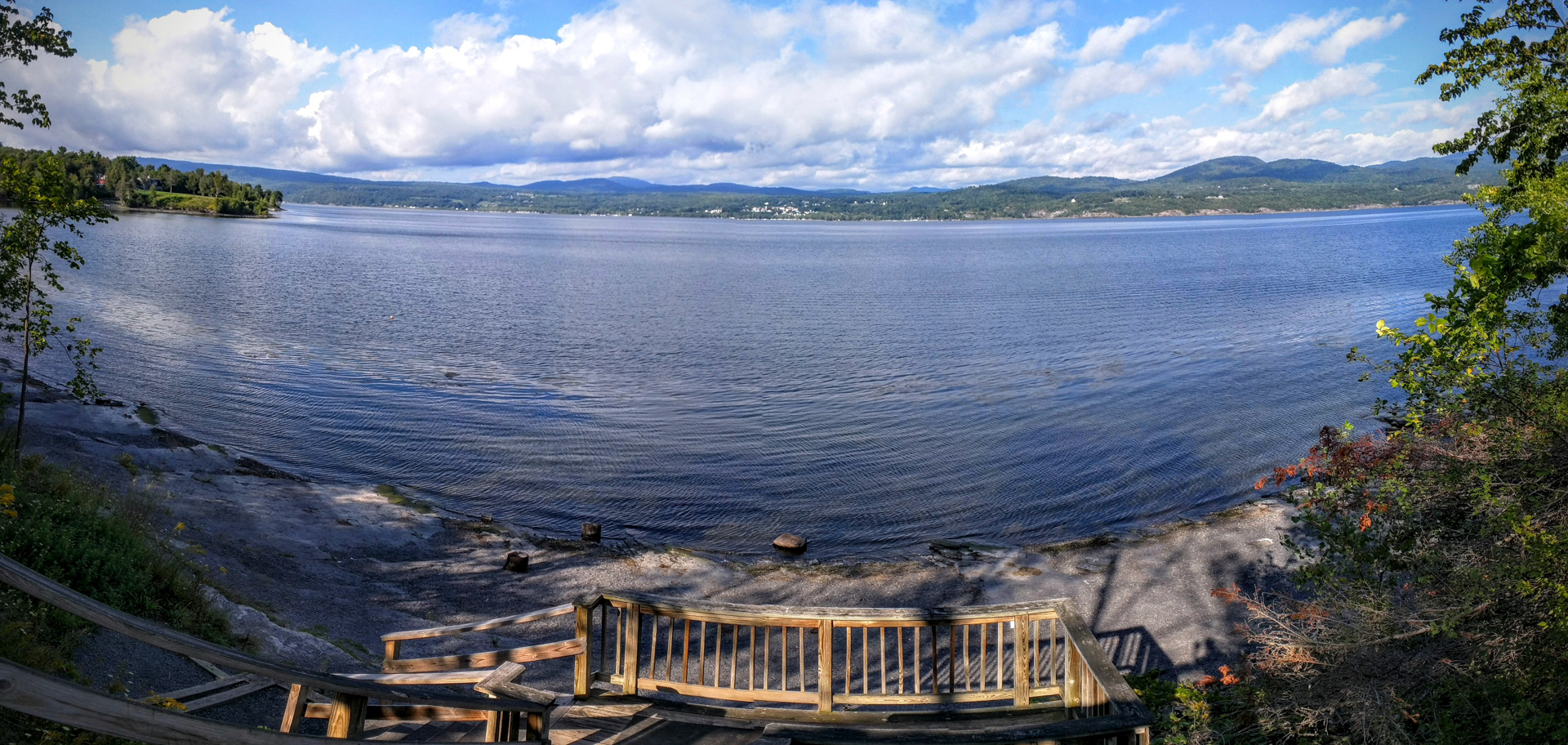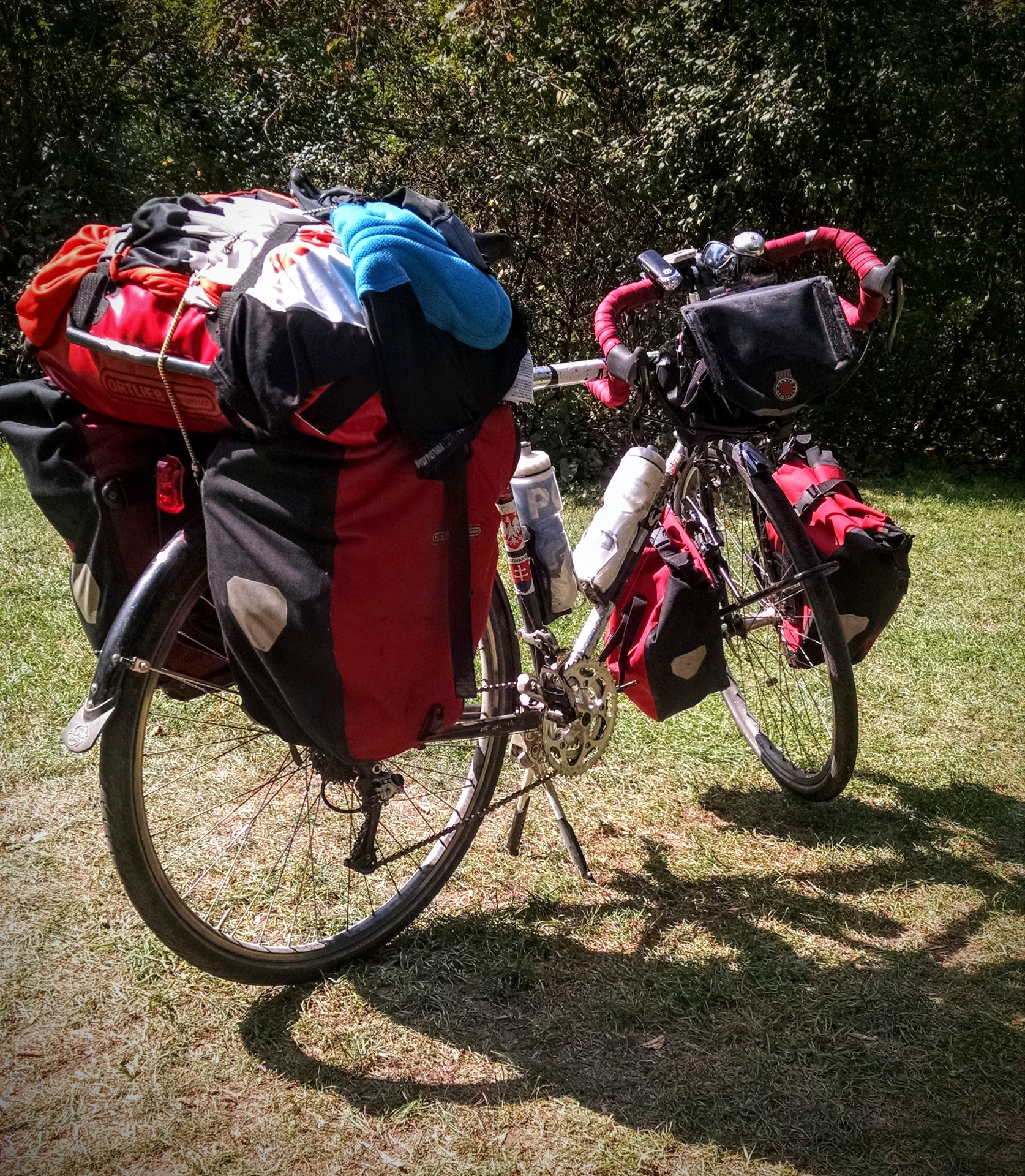 Obviously you can't tell from the photo below, but it is windy out there.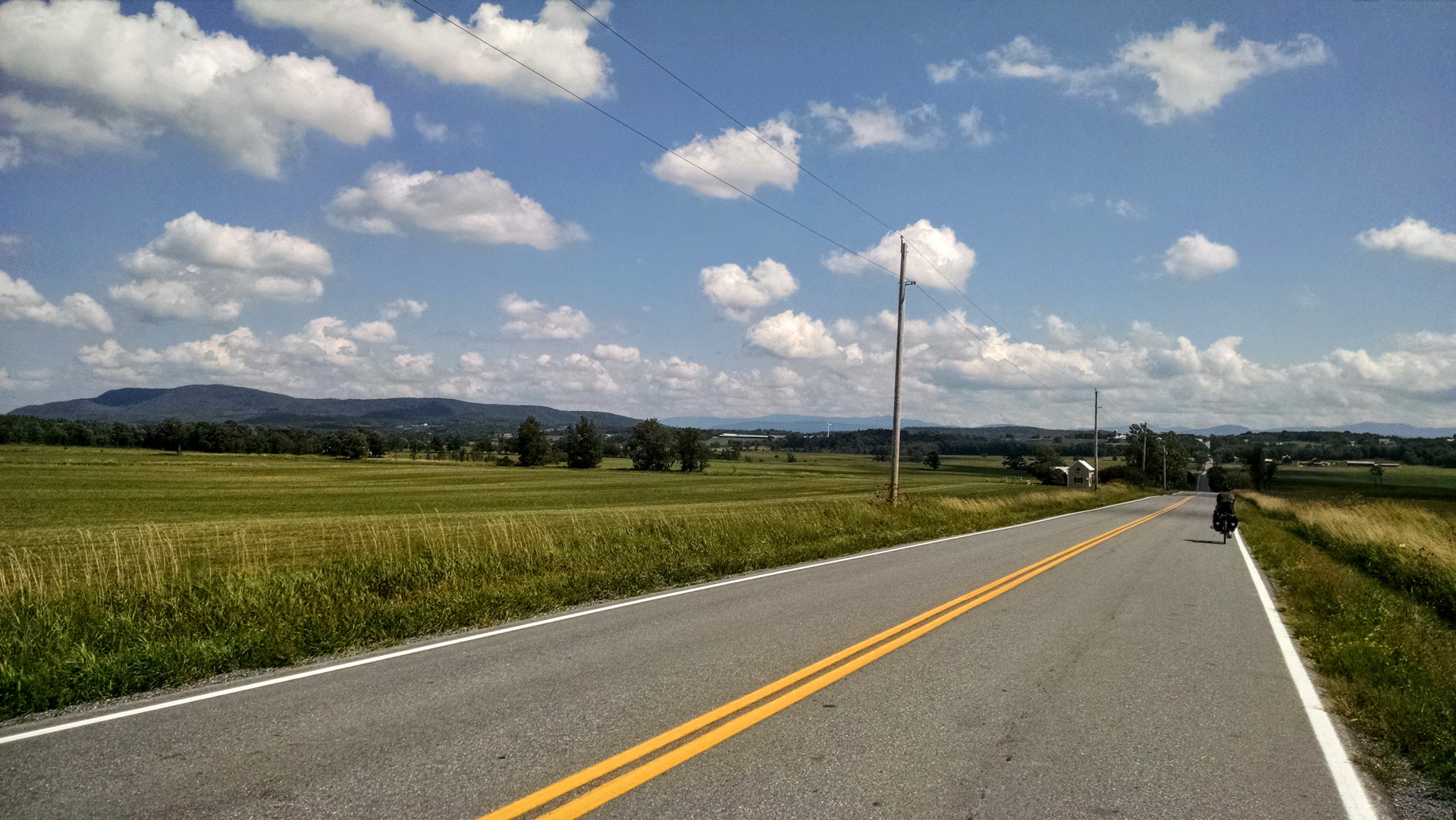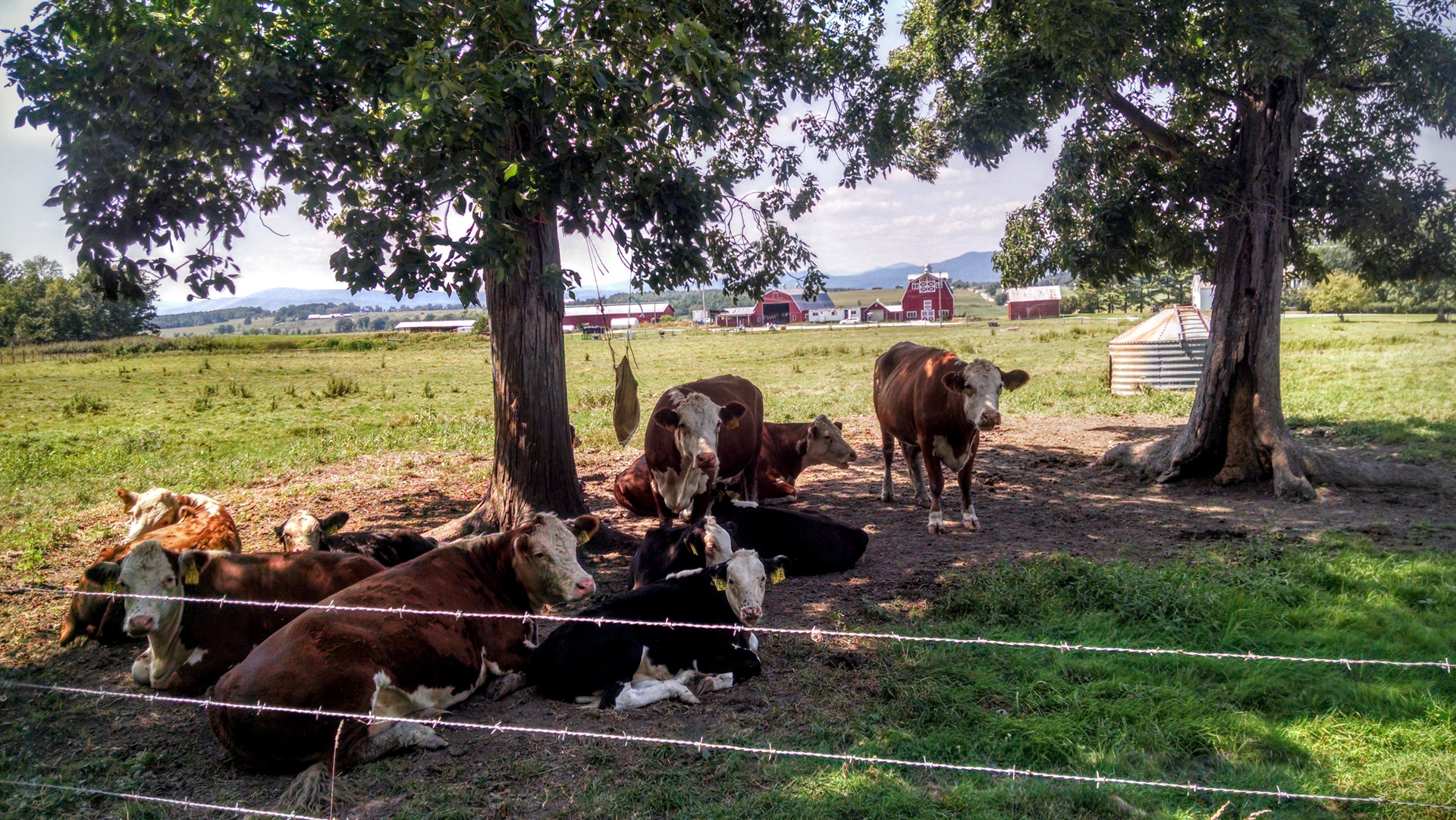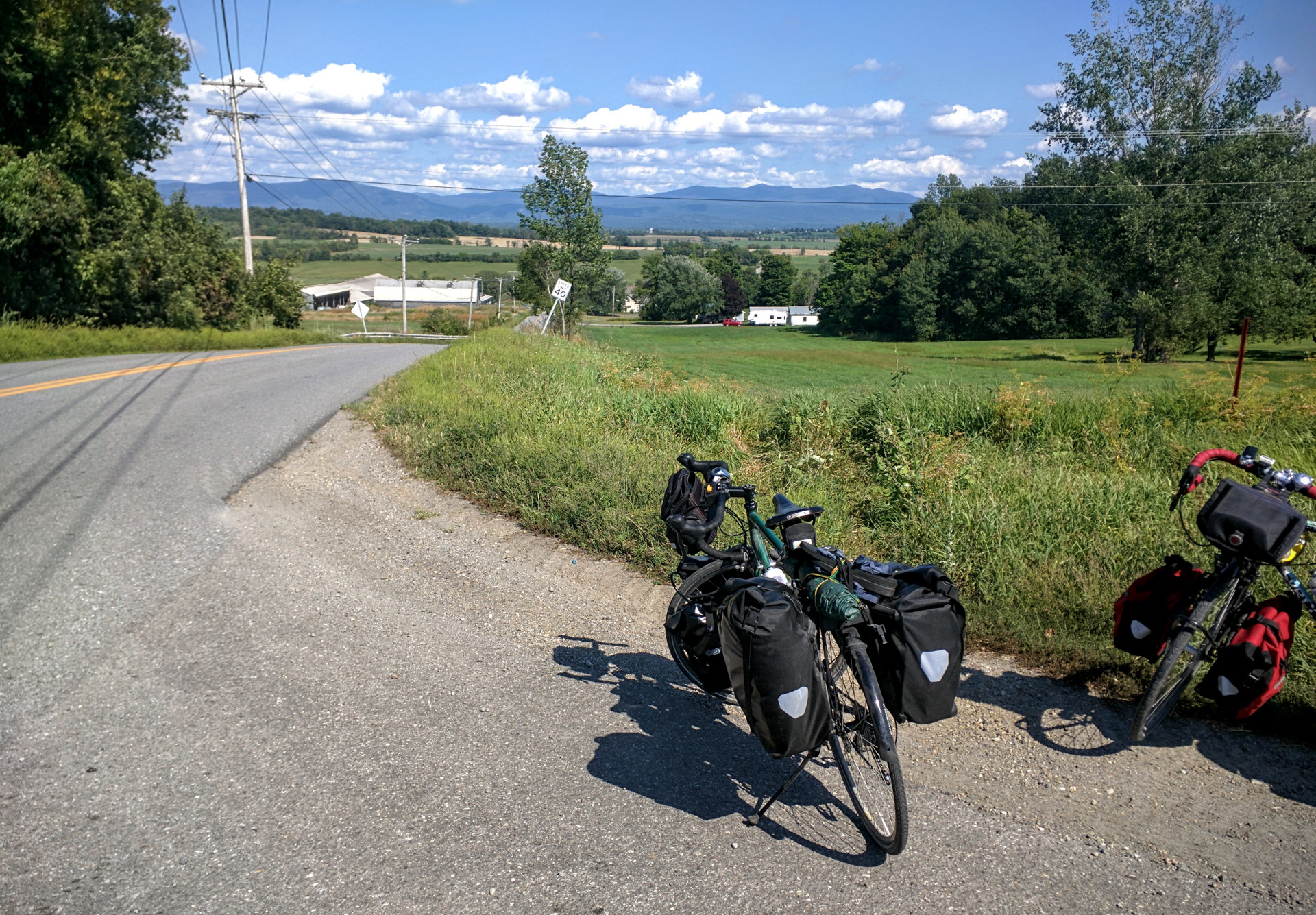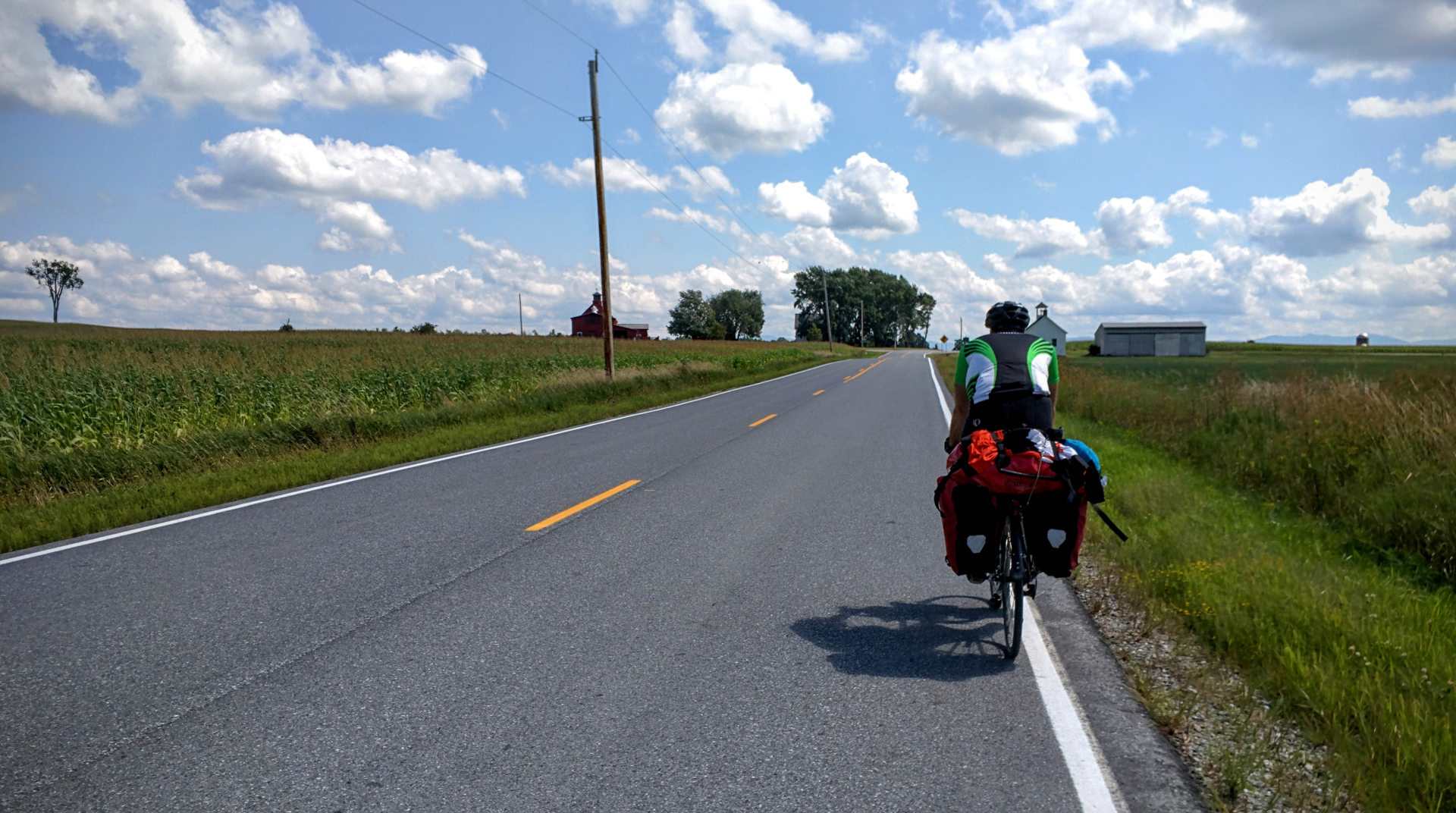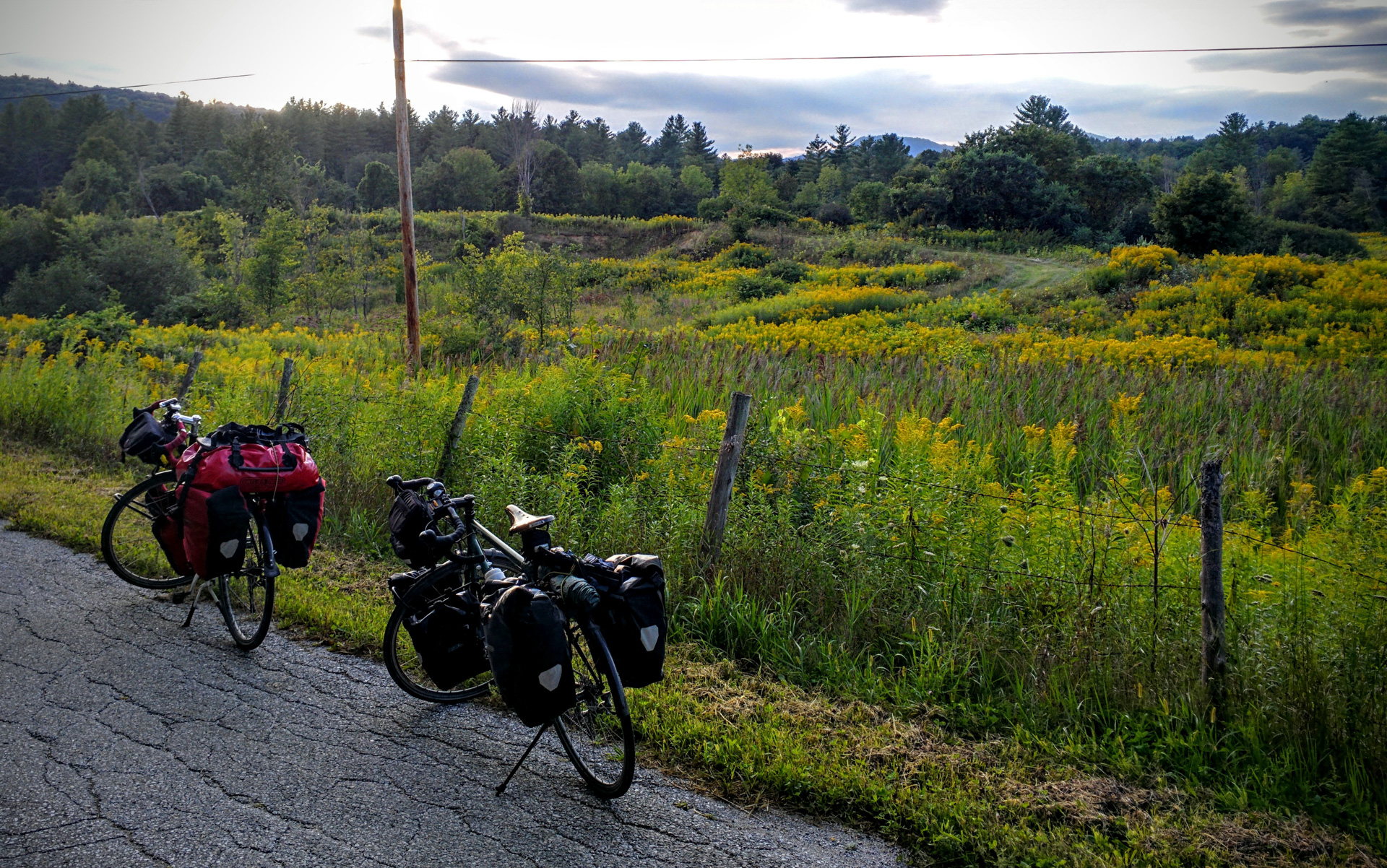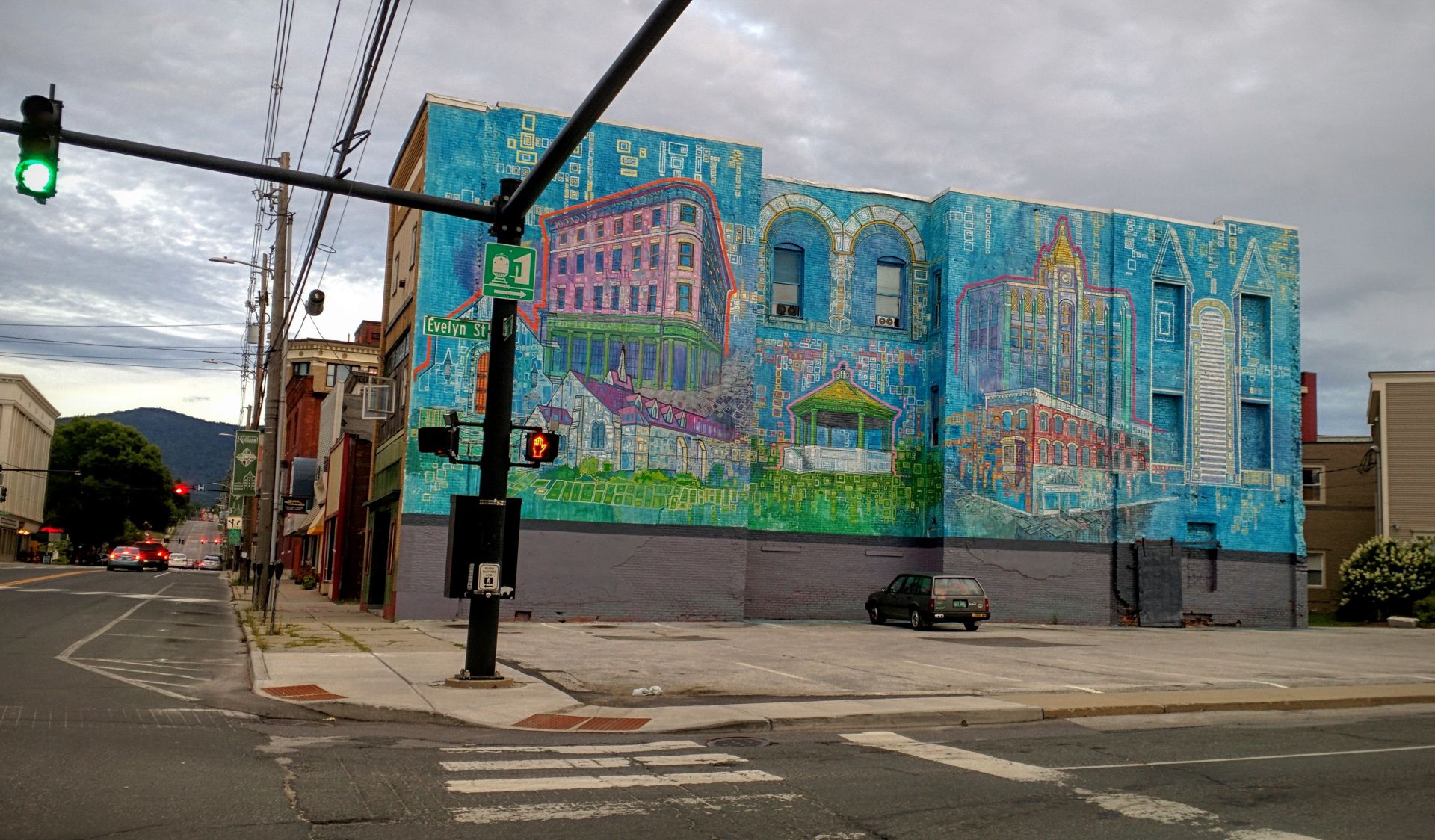 ---
Day 4 — Welcome to the Green Mountains
Iroquois Family Campground to Jamaica State Park
Tuesday, August 25th
Tuesday morning brought us the only rain we had throughout the trip. Fortunately it was light and ended by the time breakfast was ready.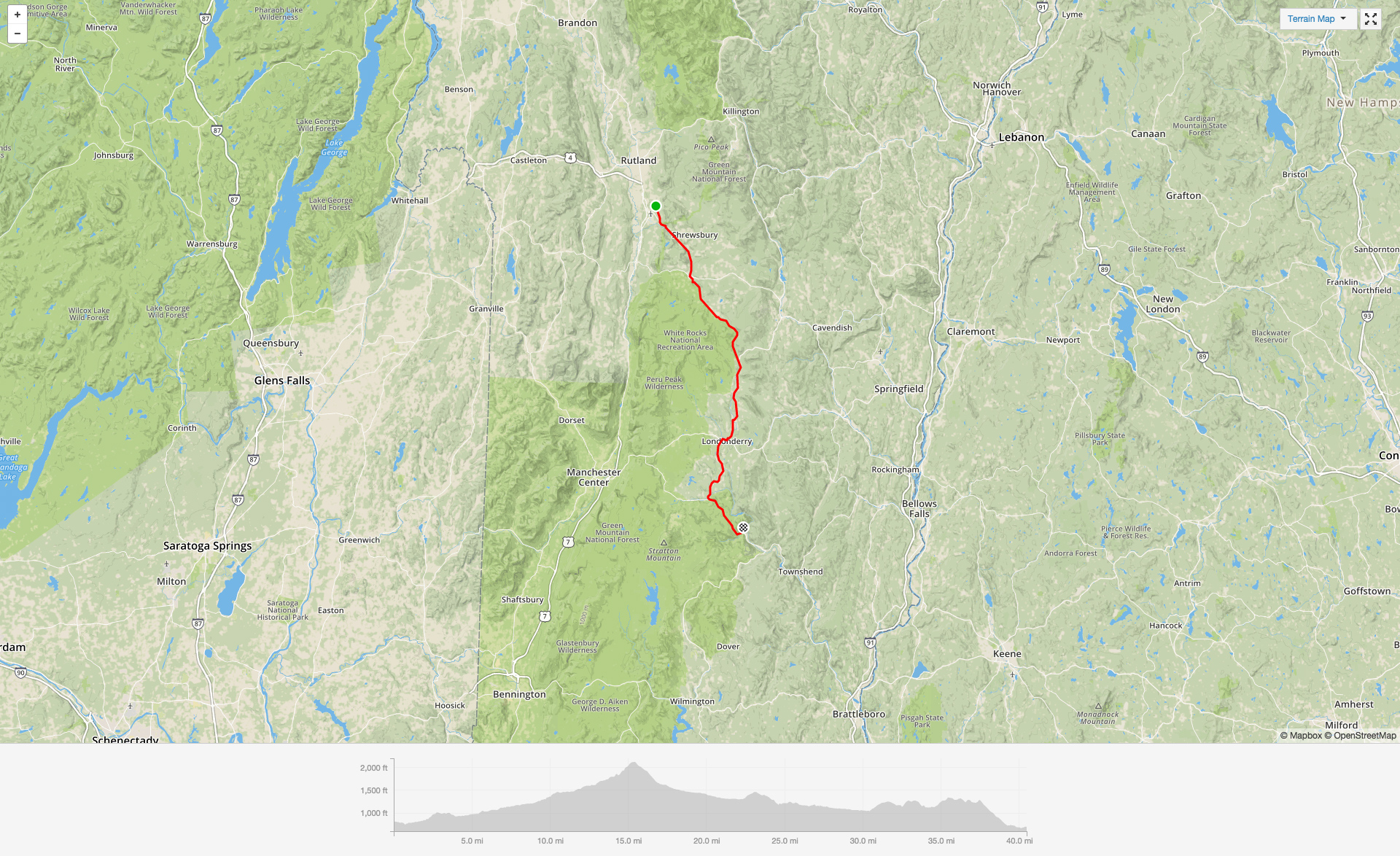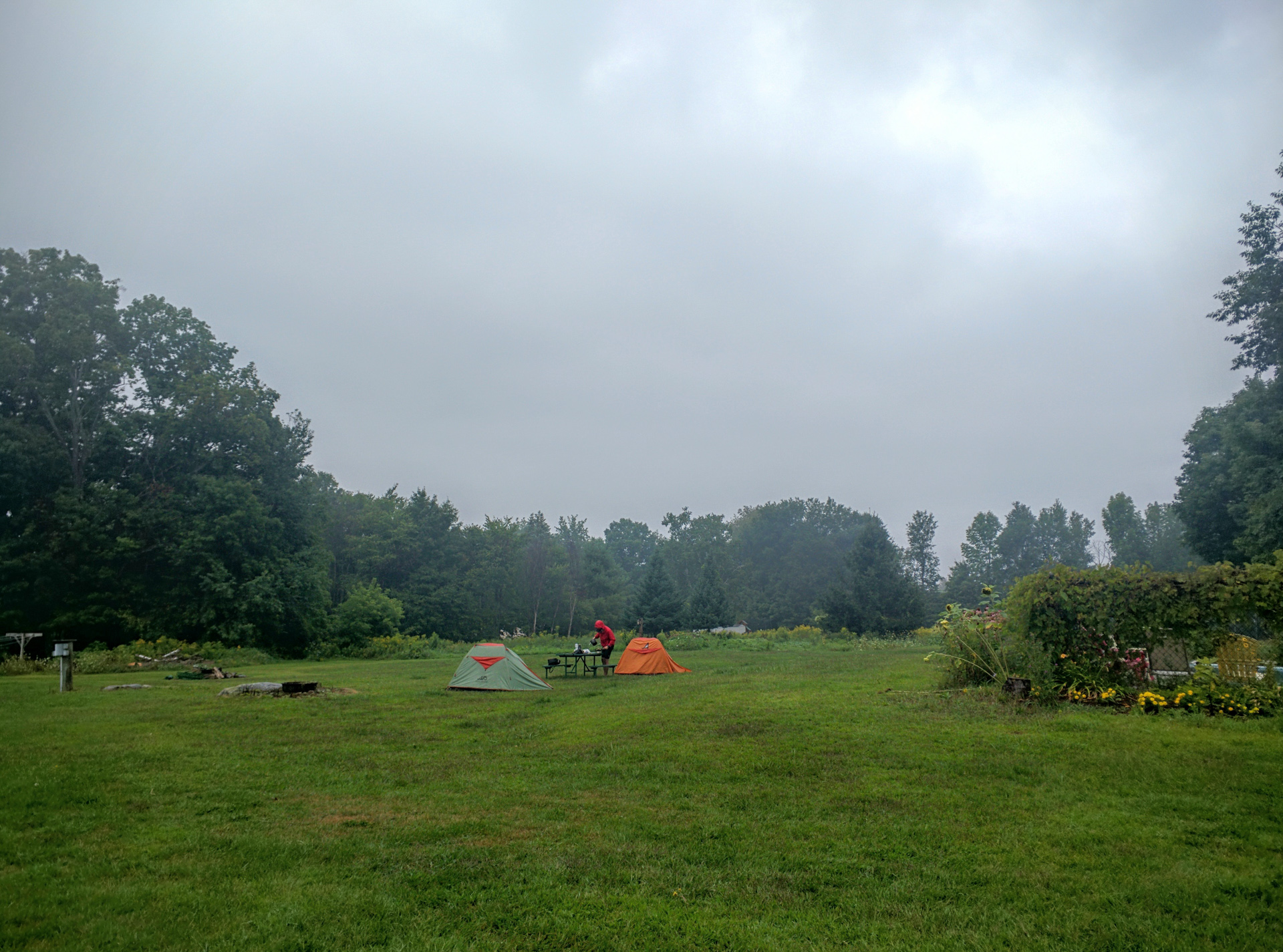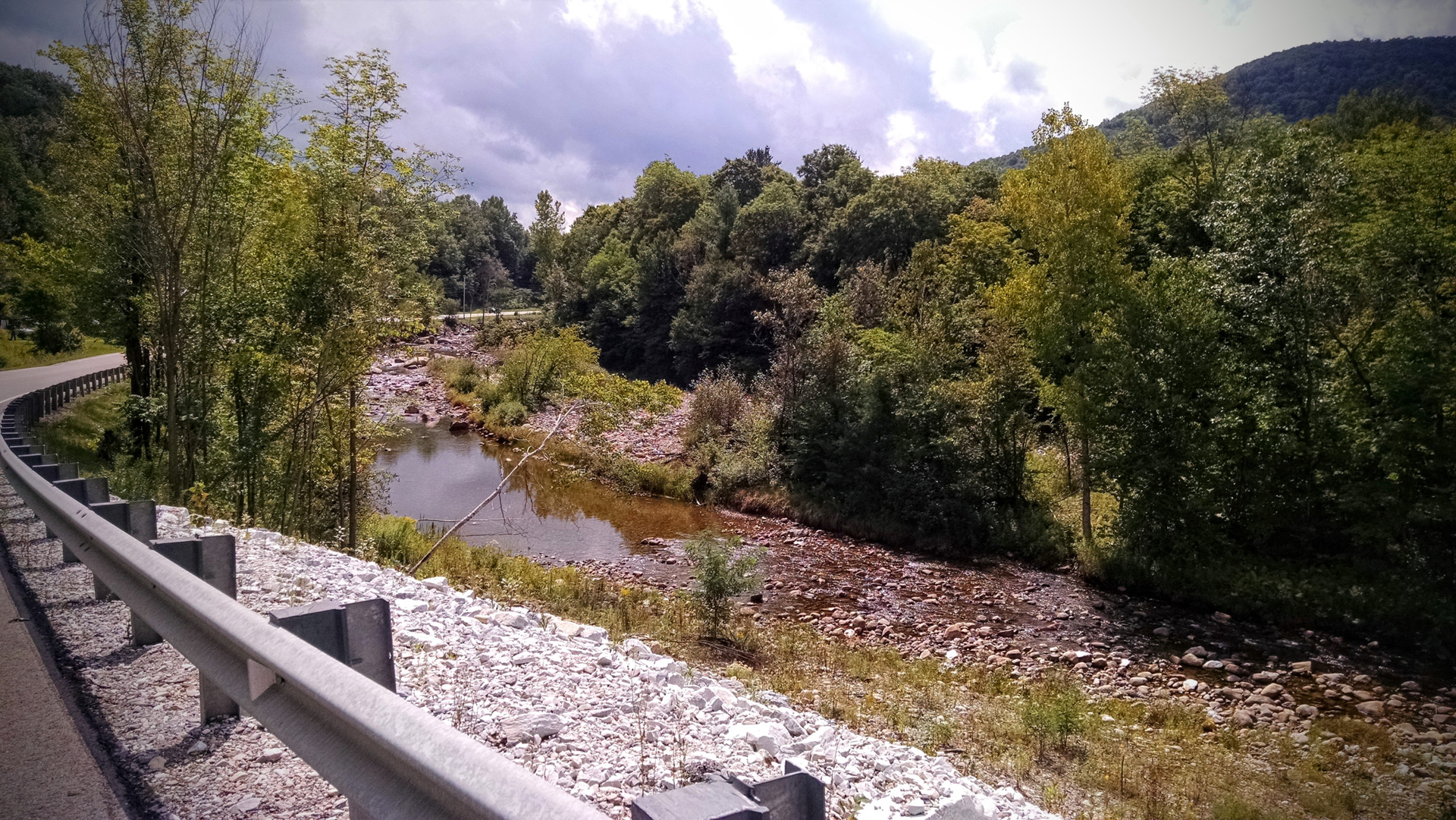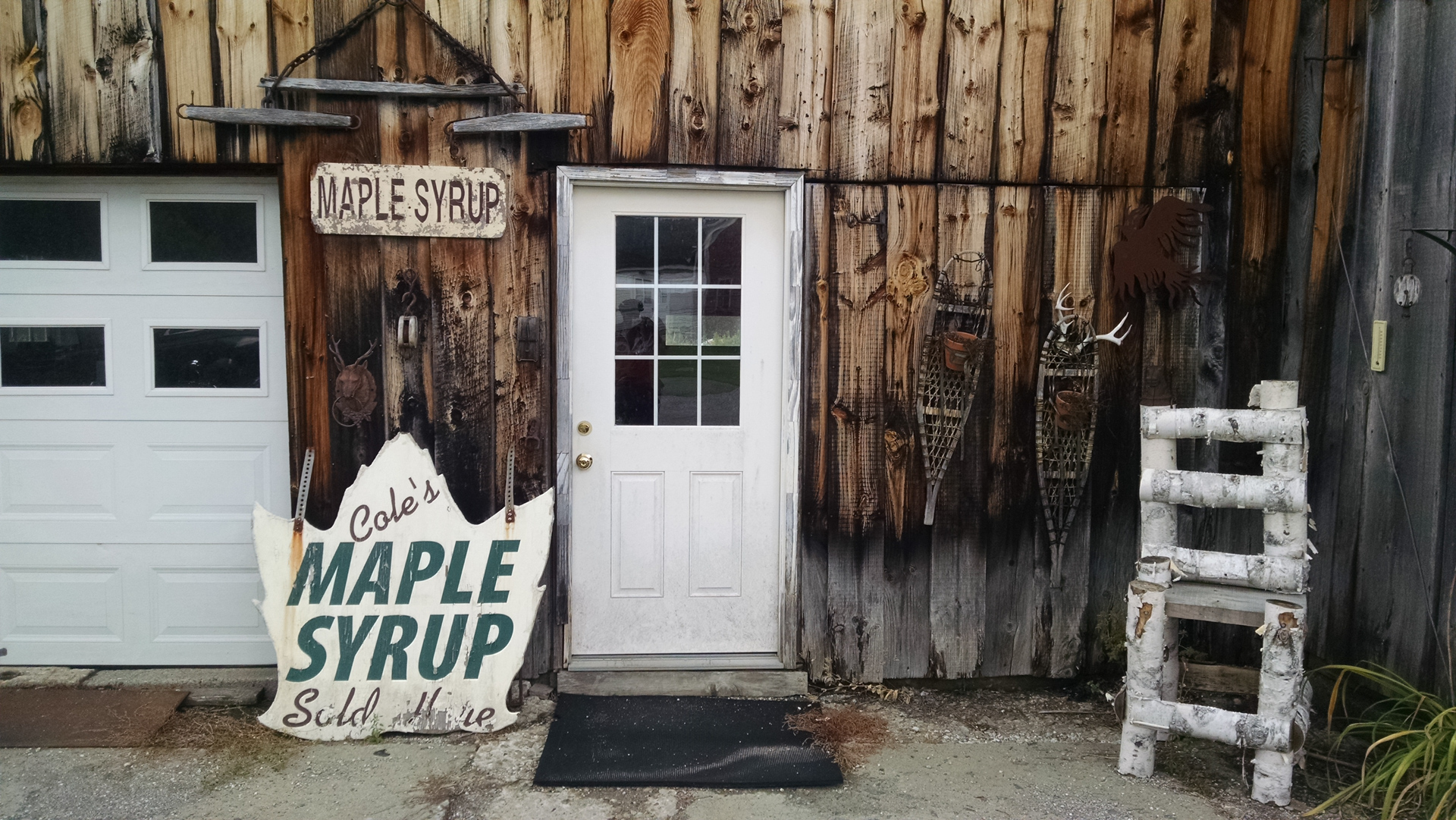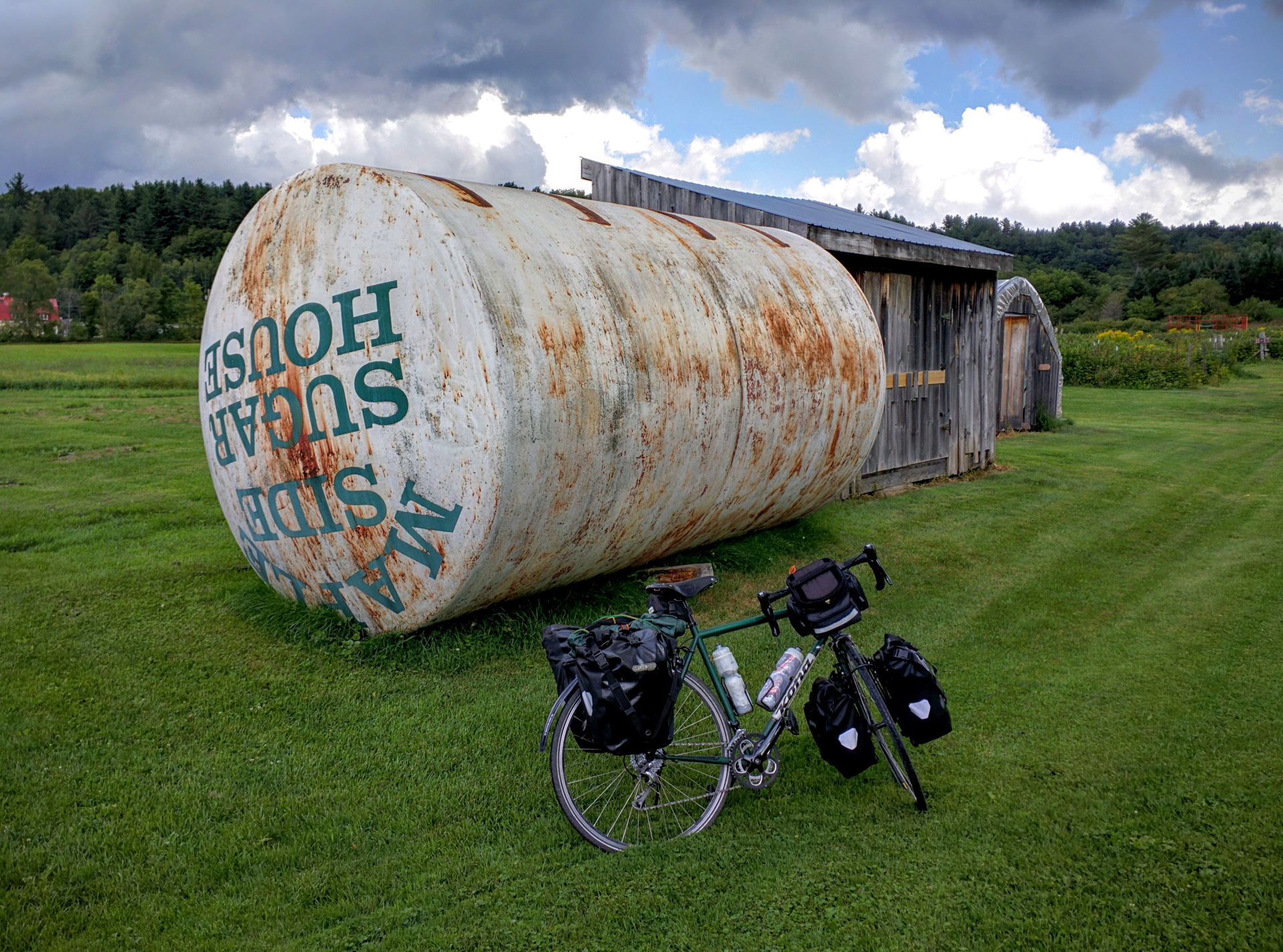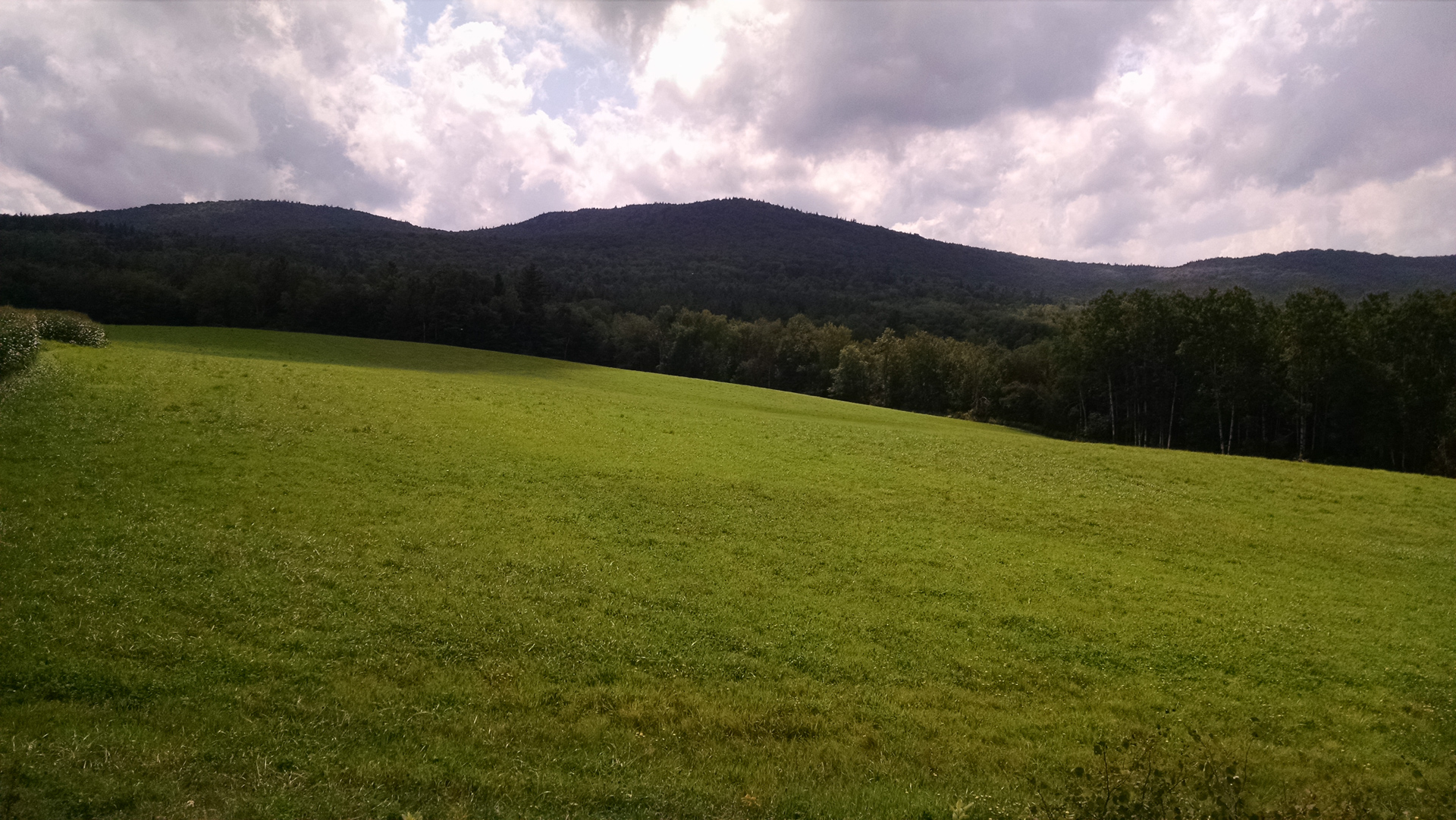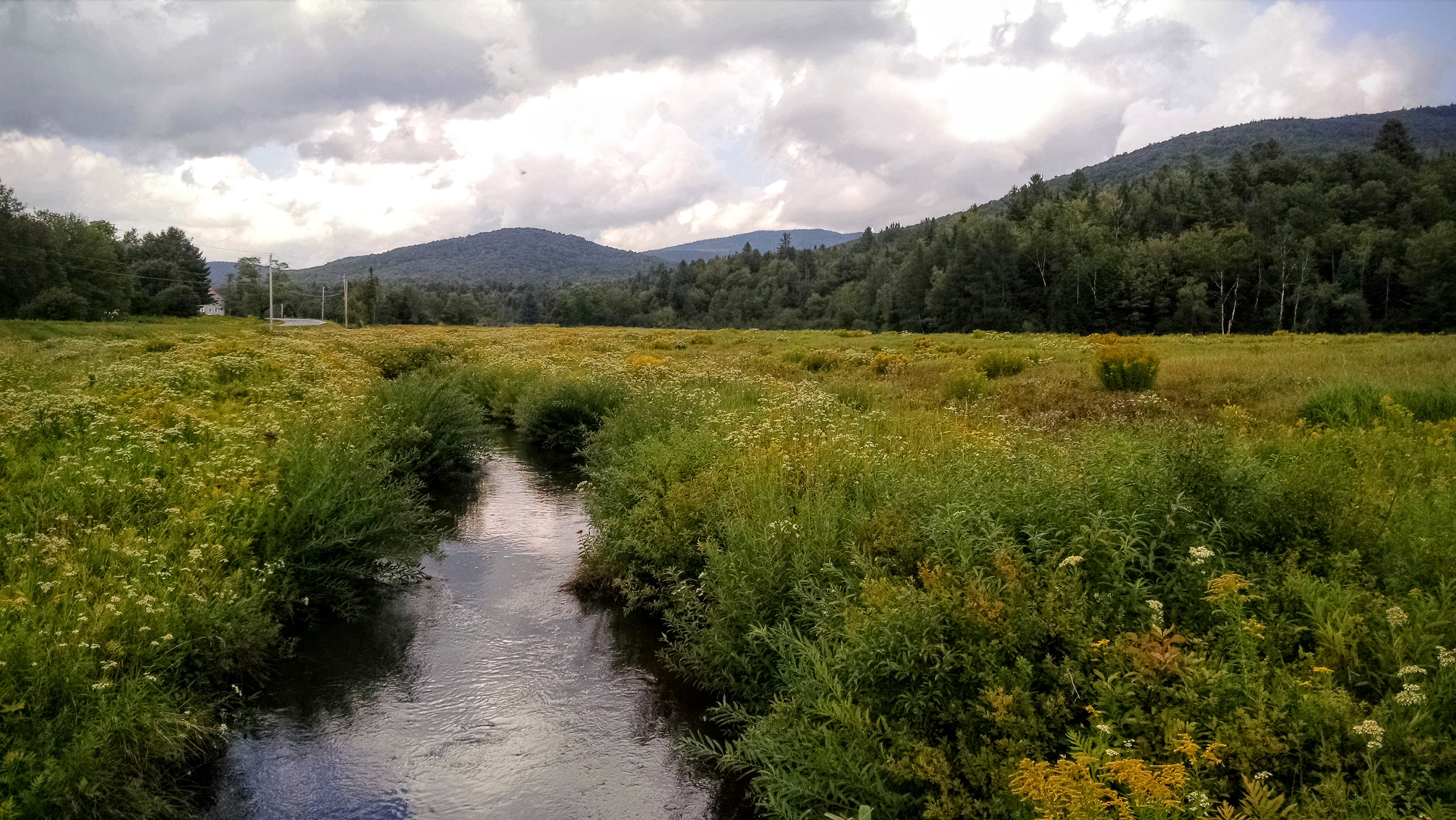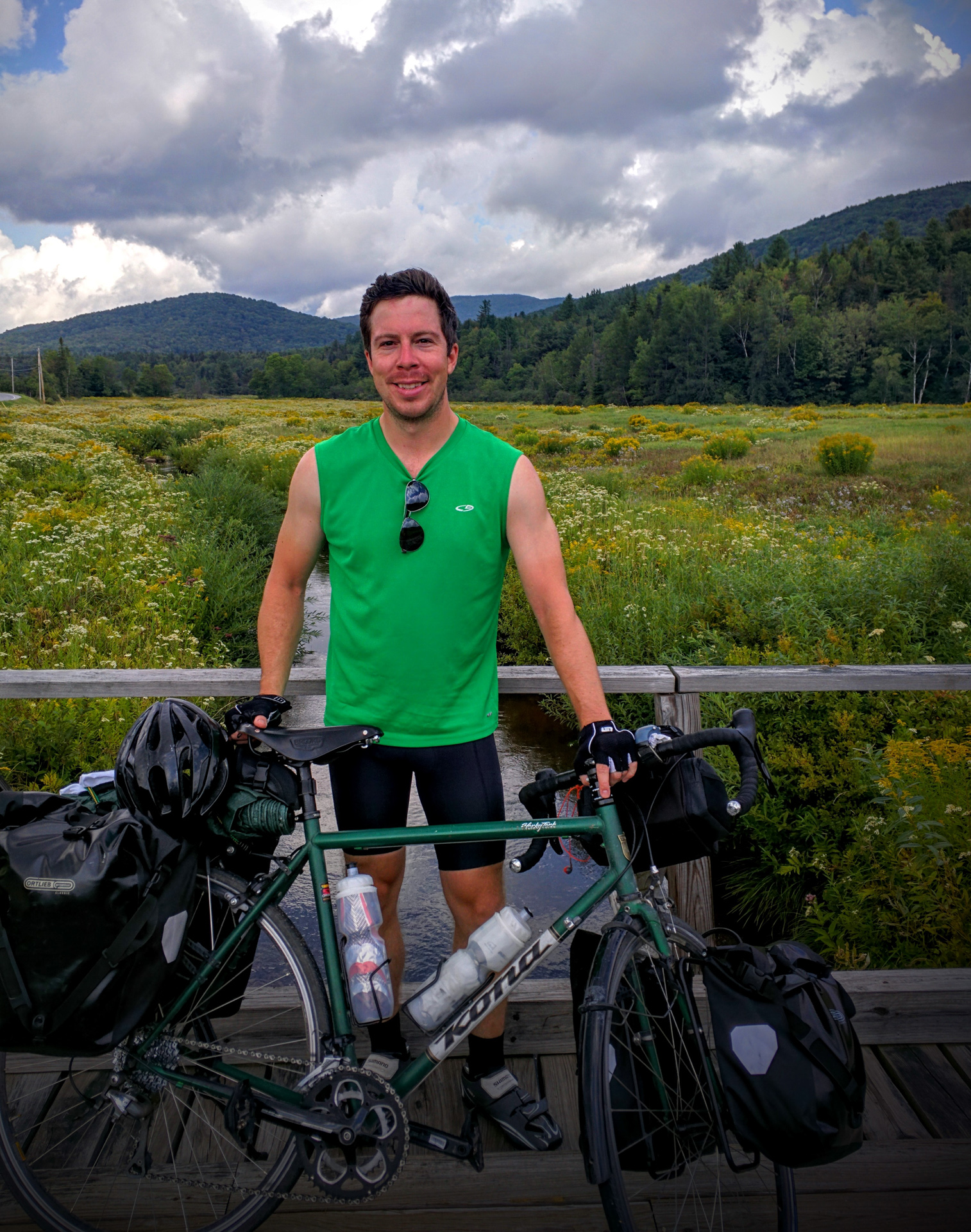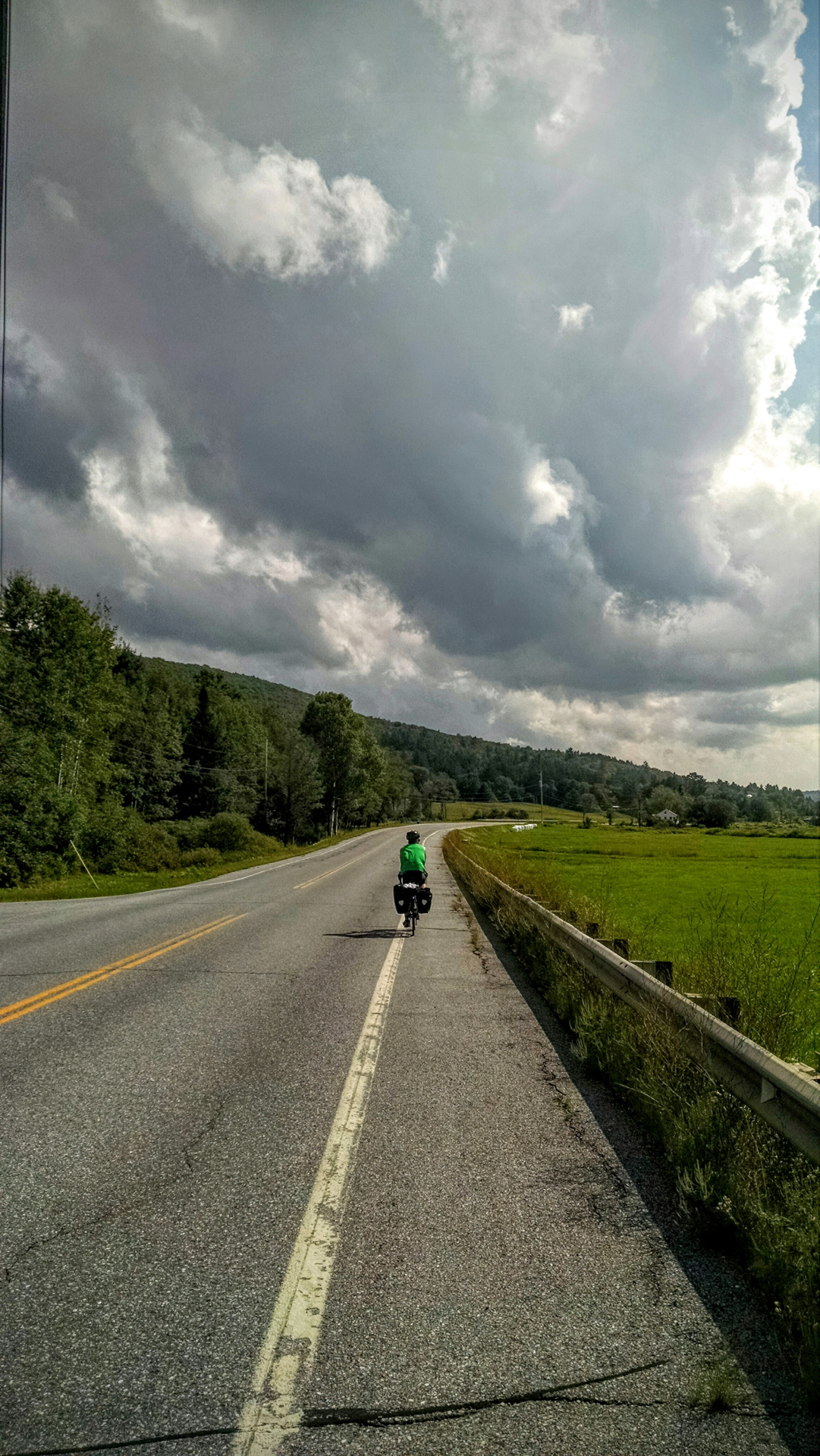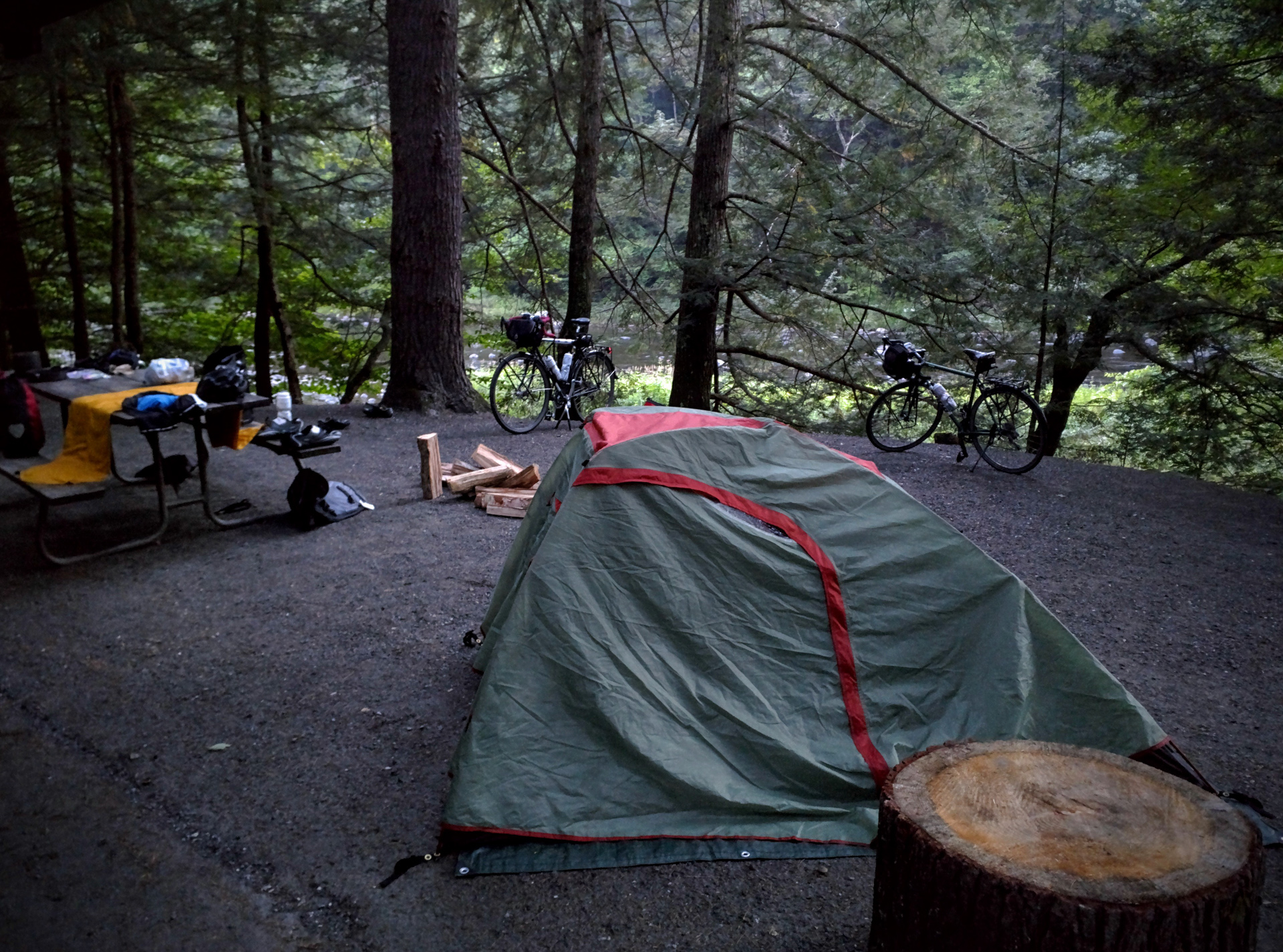 ---
Day 5 & 6 — The big climb and the long cool down
Jamaica State Park to Lake Sadawga
Wednesday, August 26th and Thursday, August 27th
Jamaica State Park was one of the nicest campsites we stayed at during the tour. We were steps away from the river, with a gorgeous swimming hole right around the corner. I knew this was going to be one of the more tough days of the tour, so I made it the shortest ride. That planning paid off, as the nearly 14 mile climb from Wardsboro to Boulder Pass was definitely no joke.
The ride through the mountains ended at Lake Sadawga, where we planned in an extra day for rest & relaxation before hitting the road again.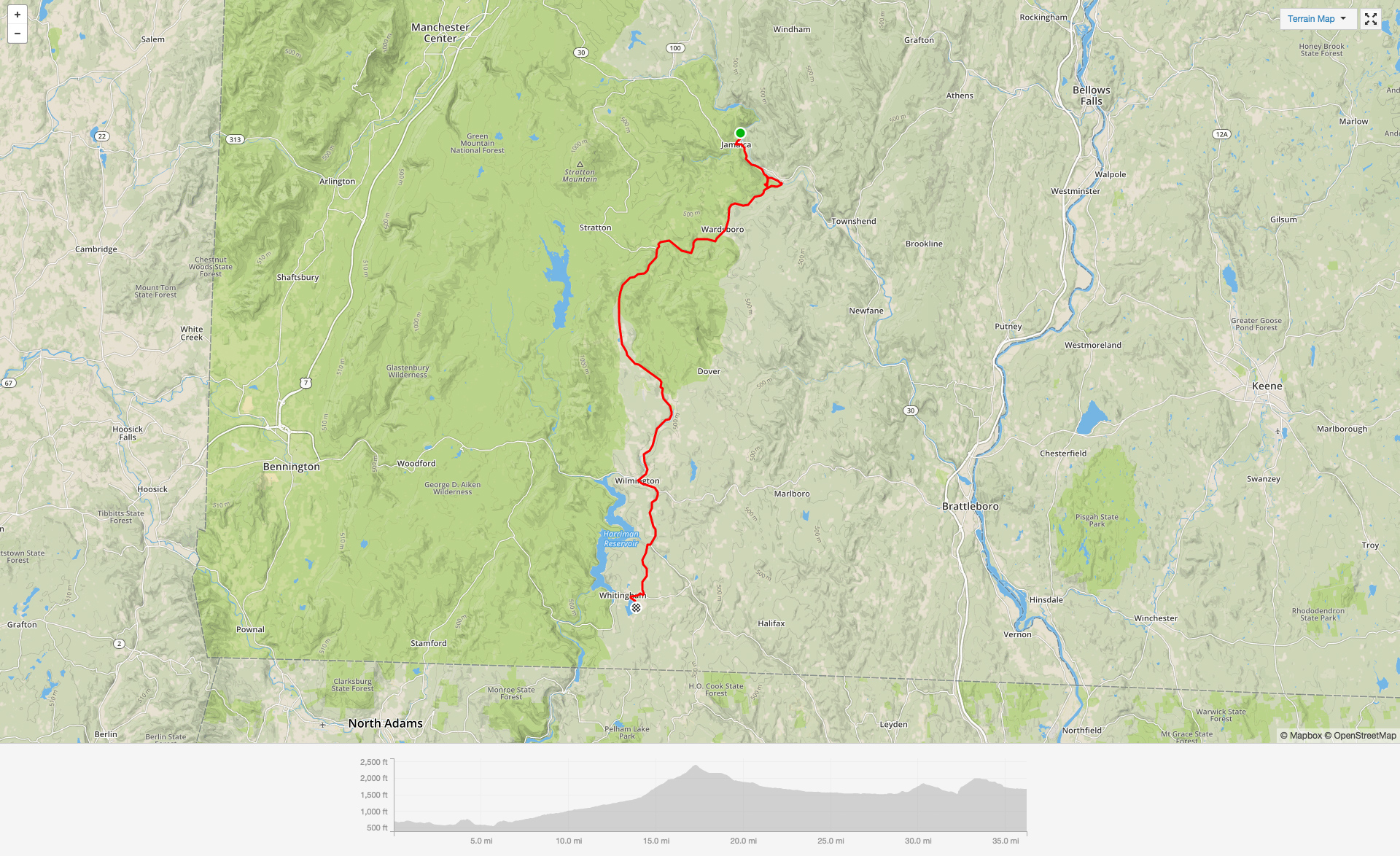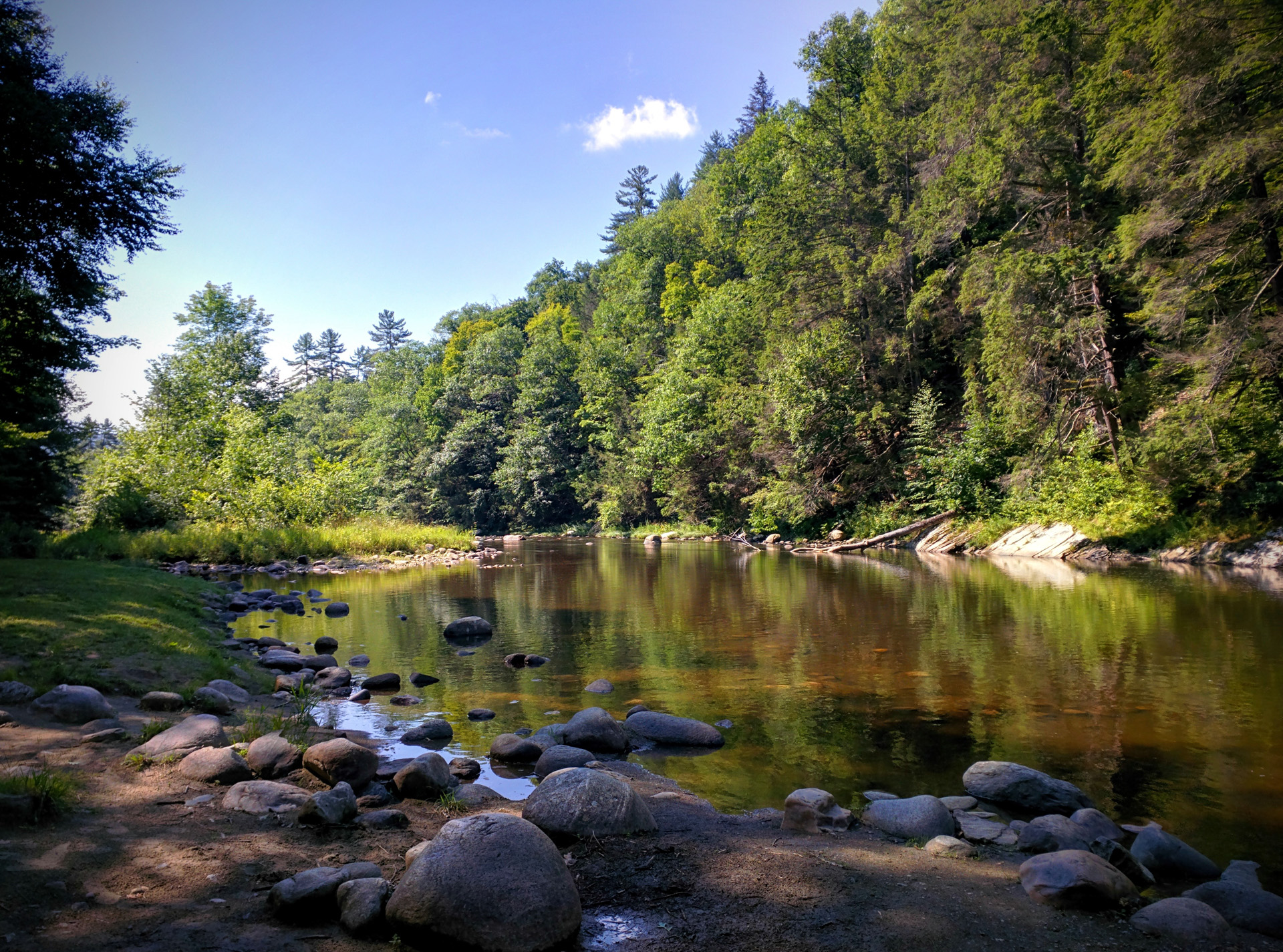 One of my favorite pieces of gear for the tour: my portable french press. Fresh coffee in the morning makes it a lot easier to pack up and get going.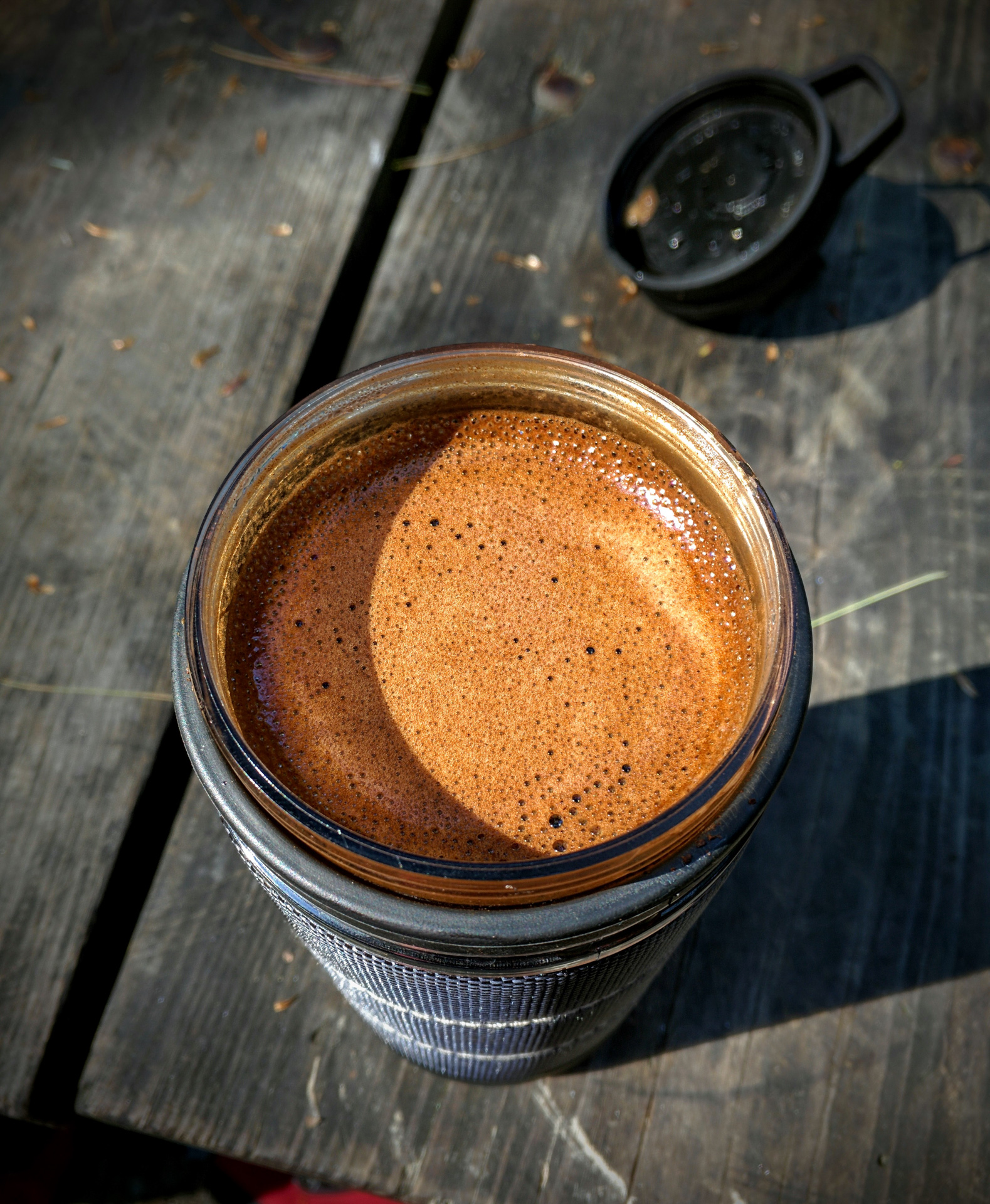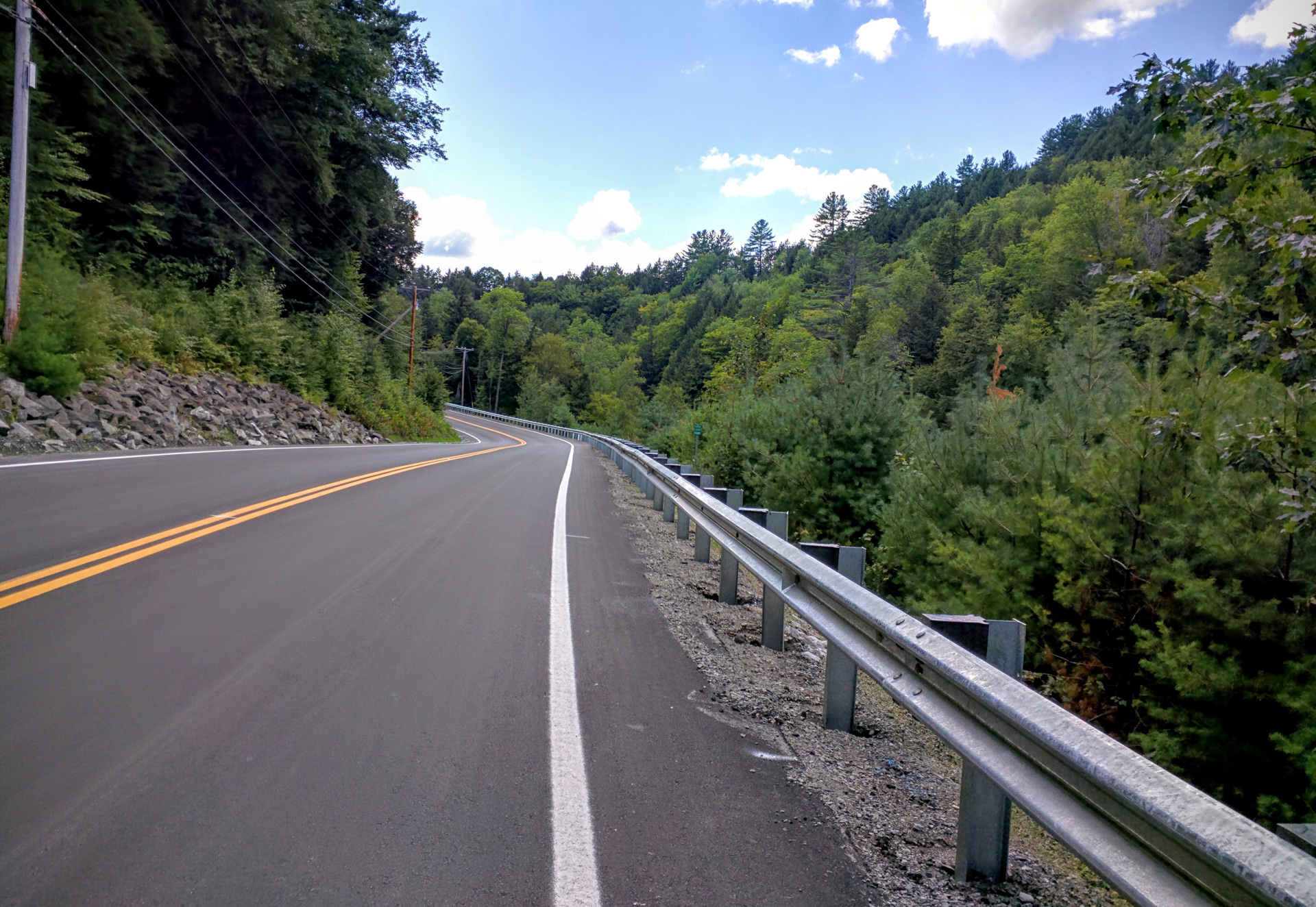 As hard as I worked on researching the routes and getting my GPS set up to make navigation as painless as possible, there were inevitably a few snags along the way. I won't go into the details of how we ended up here: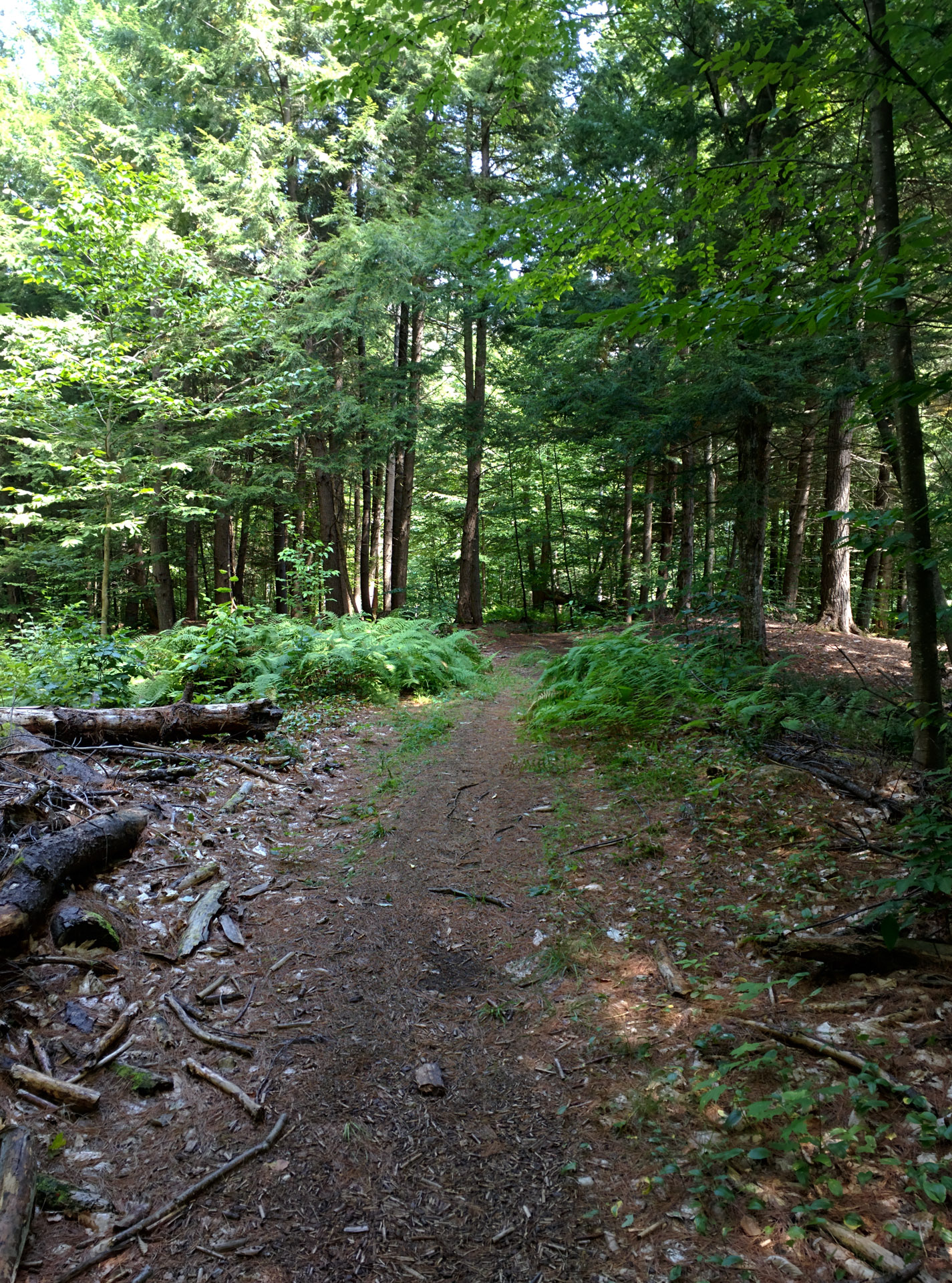 The roads going up the mountain were really nice, with a decent shoulder and not too much traffic. Matt's Long Haul Trucker's awesome granny gear makes the climb look effortless.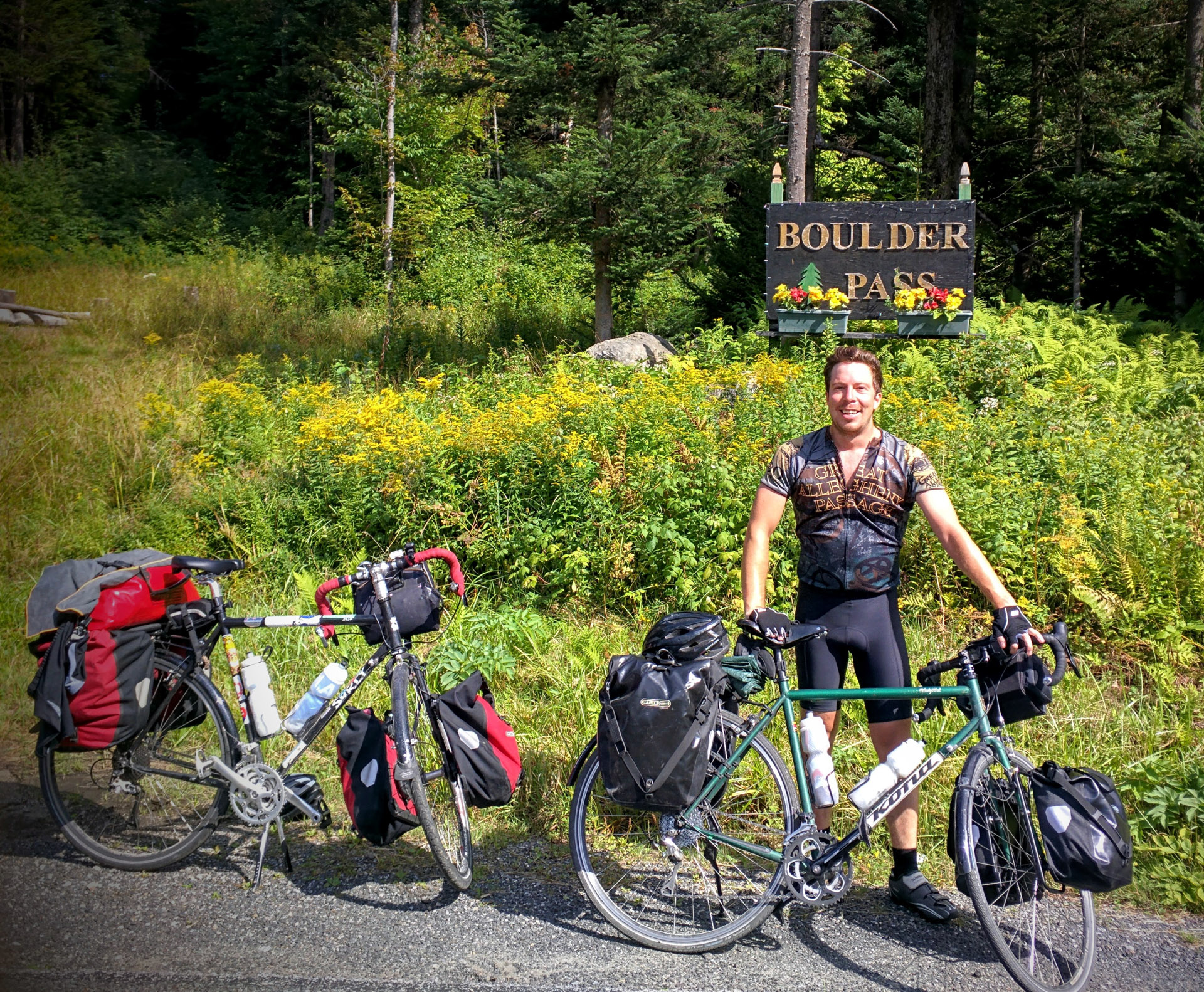 After an exhilarating descent down the other side of the mountain (seriously, that was a blast) we stopped at a roadside lobster roll shack right outside of Wilmington, then picked up some maple syrup from a nearby farm. Adding the extra weight of 3 half pint bottles of syrup (one for myself and two for my siblings back home) to my pack might not have been the best idea, but we were getting close to the end of the Vermont portion of our trip, so I went for it.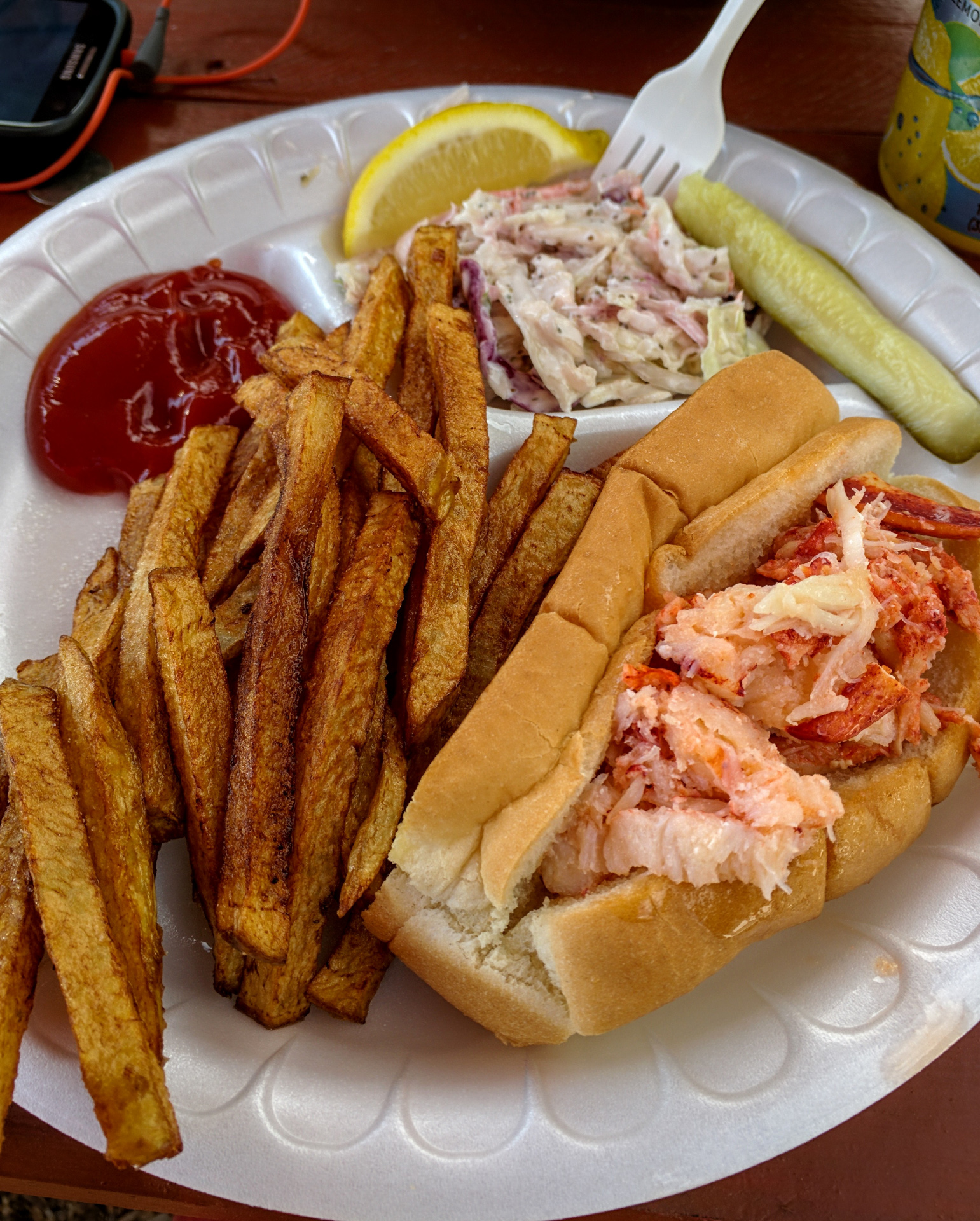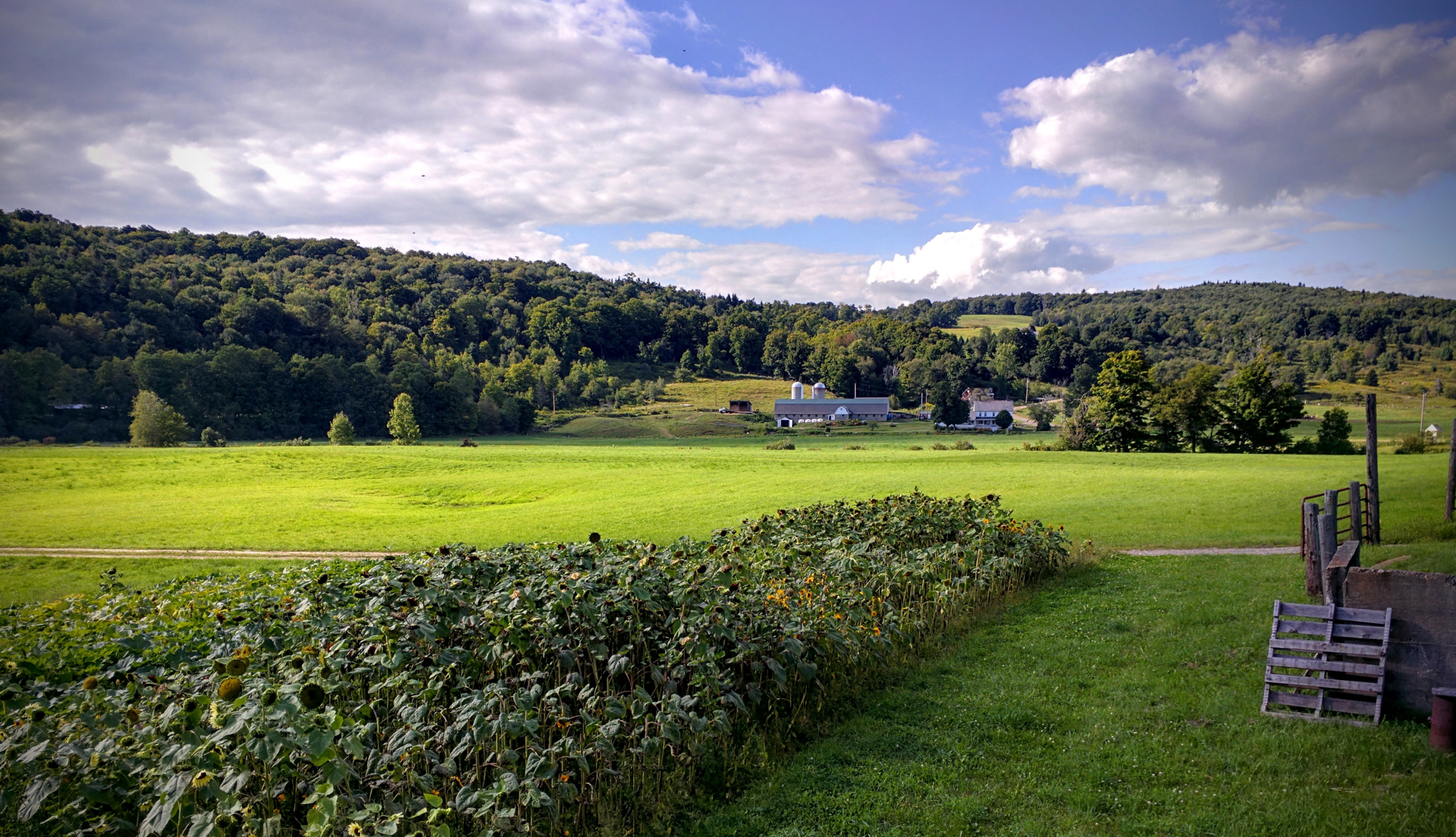 Did I mention snags along the way? With about 3 miles to go in the day's ride, we decided to take a "short cut" through a gravel road off VT-100. There's a massive climb outside of Jacksonville so we thought anything would be better than going all the way around for that. Maybe not.
This part sucked, big time. Loose gravel and a ridiculous grade meant we actually had to push our bikes up a portion of the hill because our wheels were slipping too much.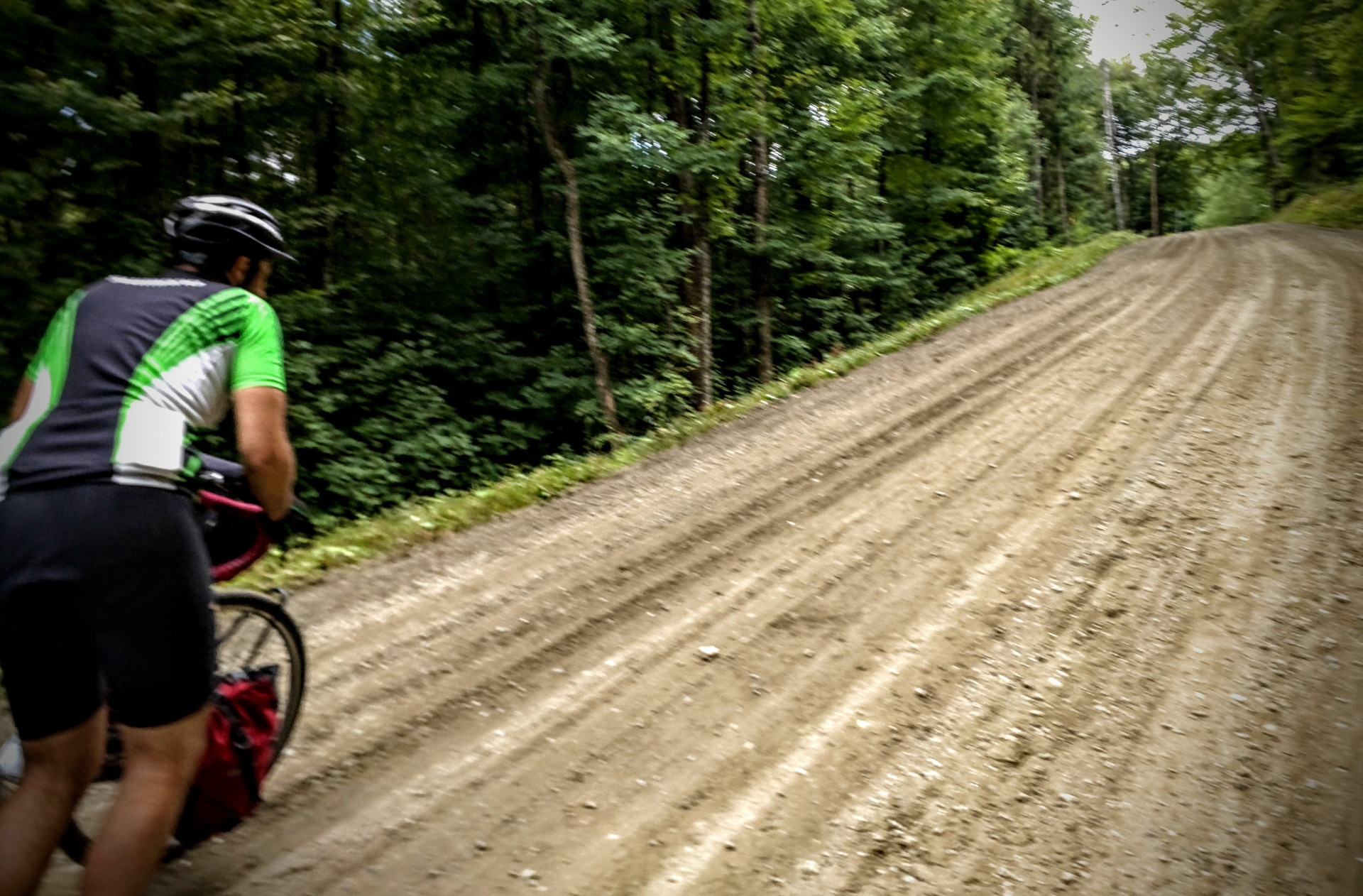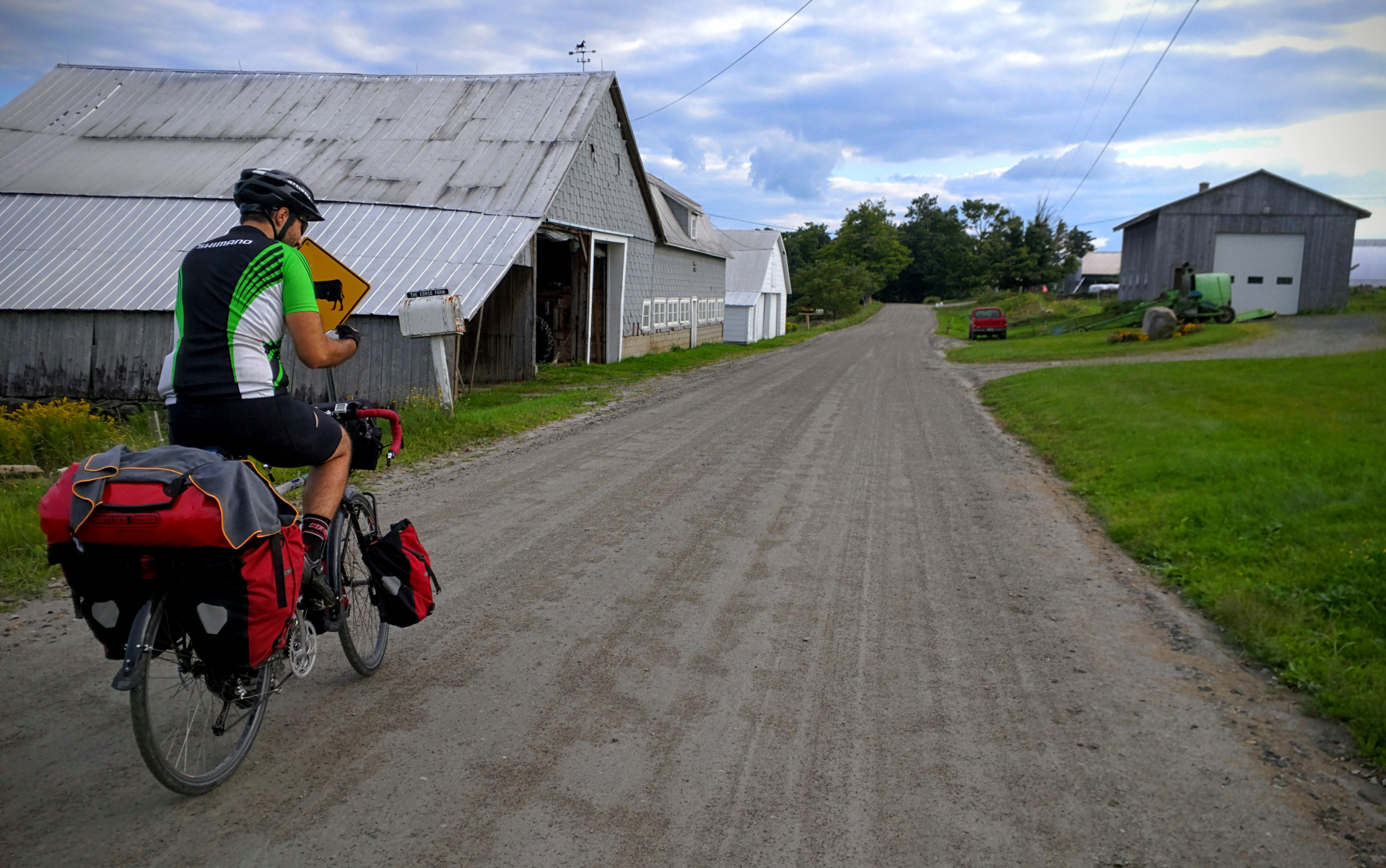 Silver linings, though. As much as that final climb hurt, the views at the top of the hill were gorgeous. Hard to capture in a photo.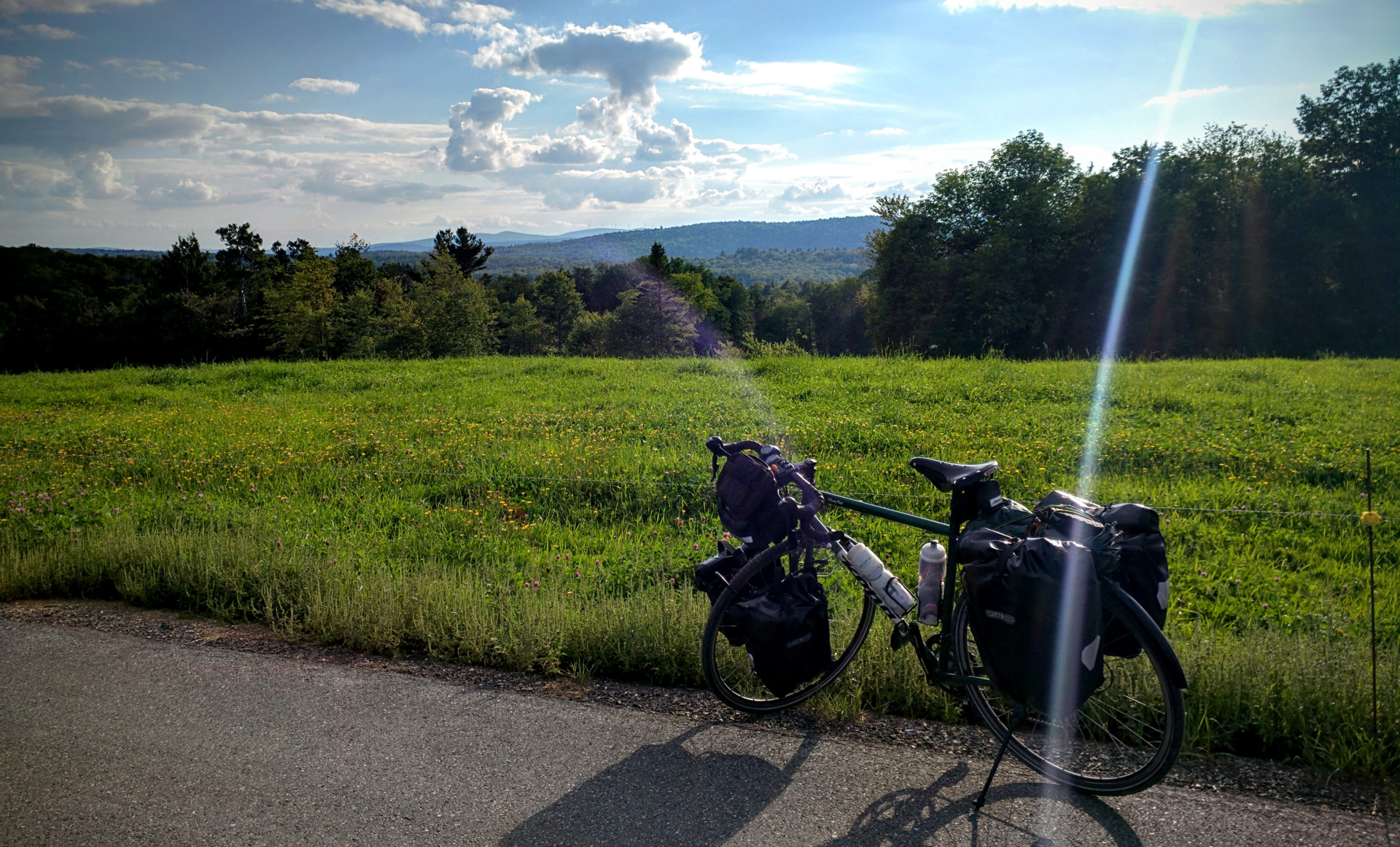 After day of touring, we finally made it to our midway destination. Seeing Lake Sadawga again for the first time in almost twenty years was something else.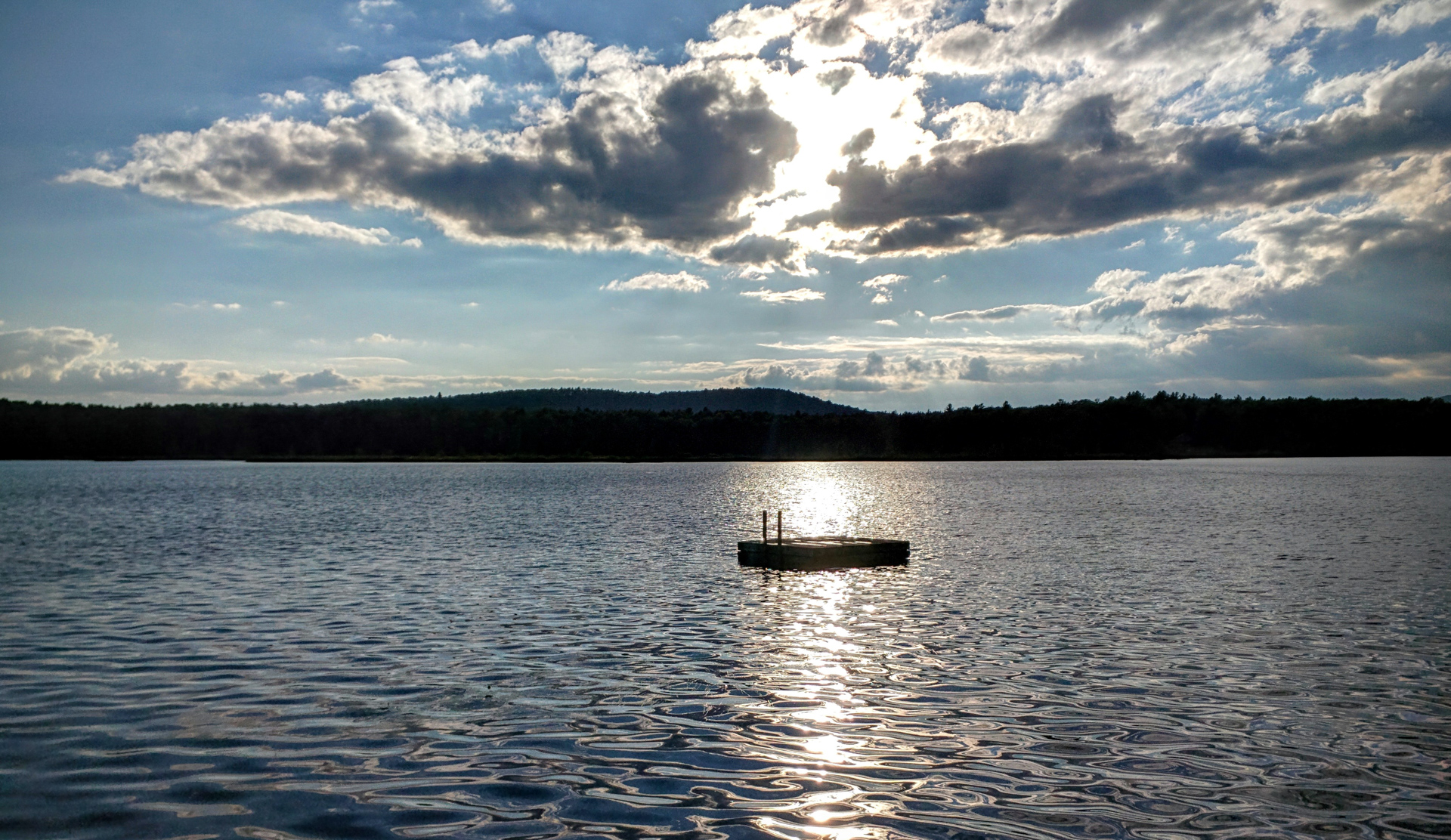 Randy was waiting for us when we got there, and he went above and beyond in welcoming is to his cabin. Hard to describe how great it was to be treated to a dinner like this after the ride we did that day.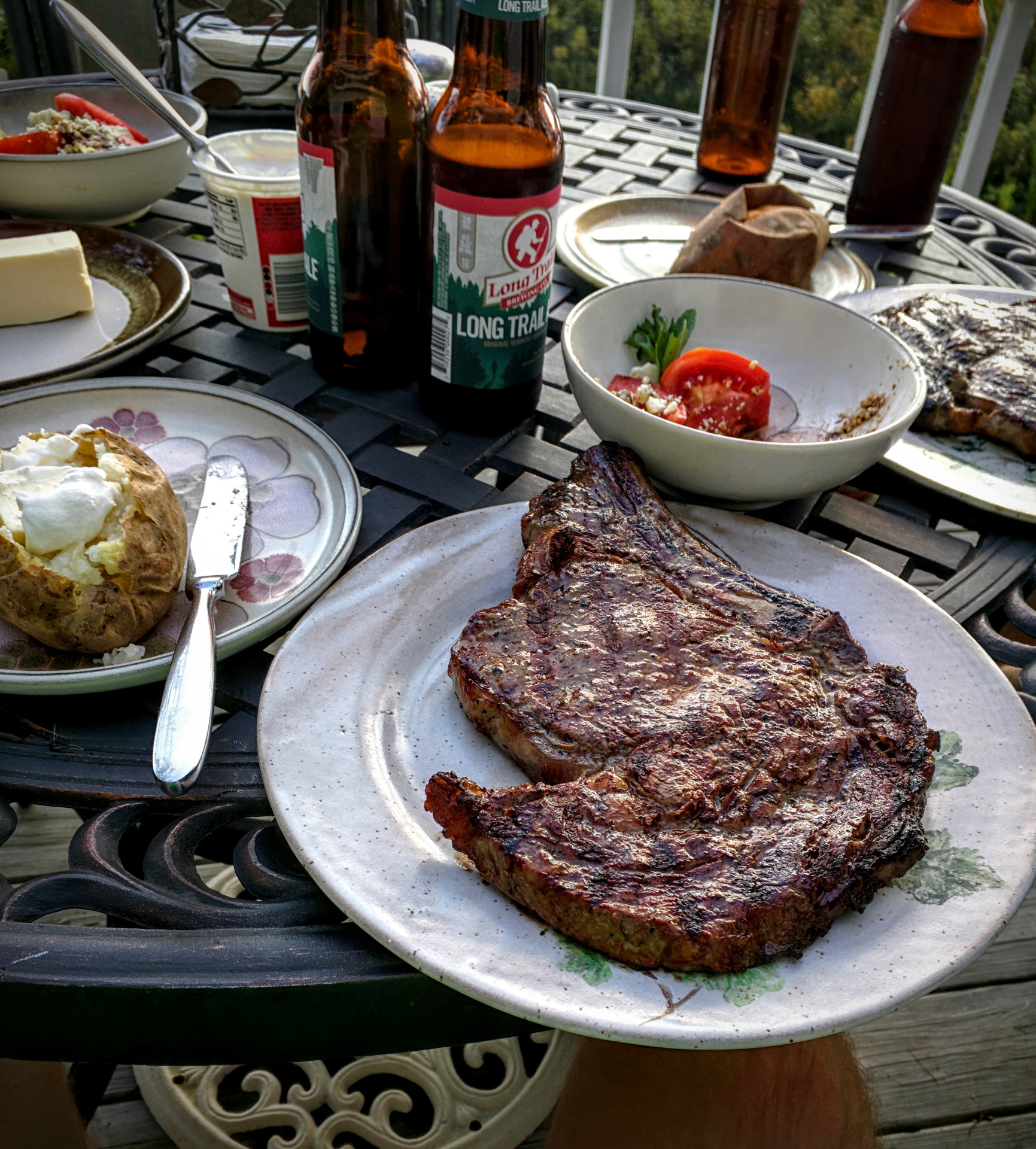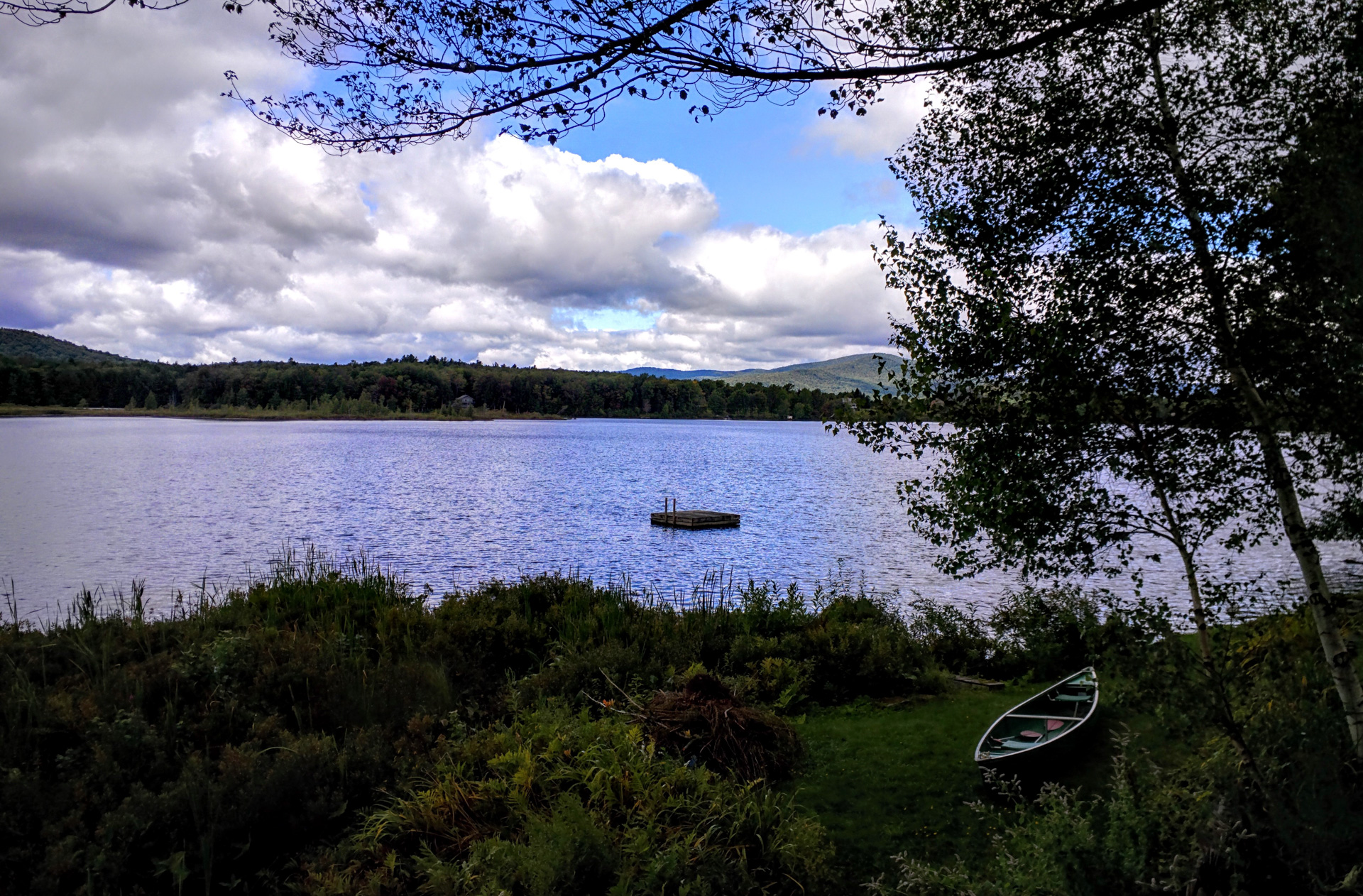 We spent the day Thursday relaxing and enjoying Lake Sadawga.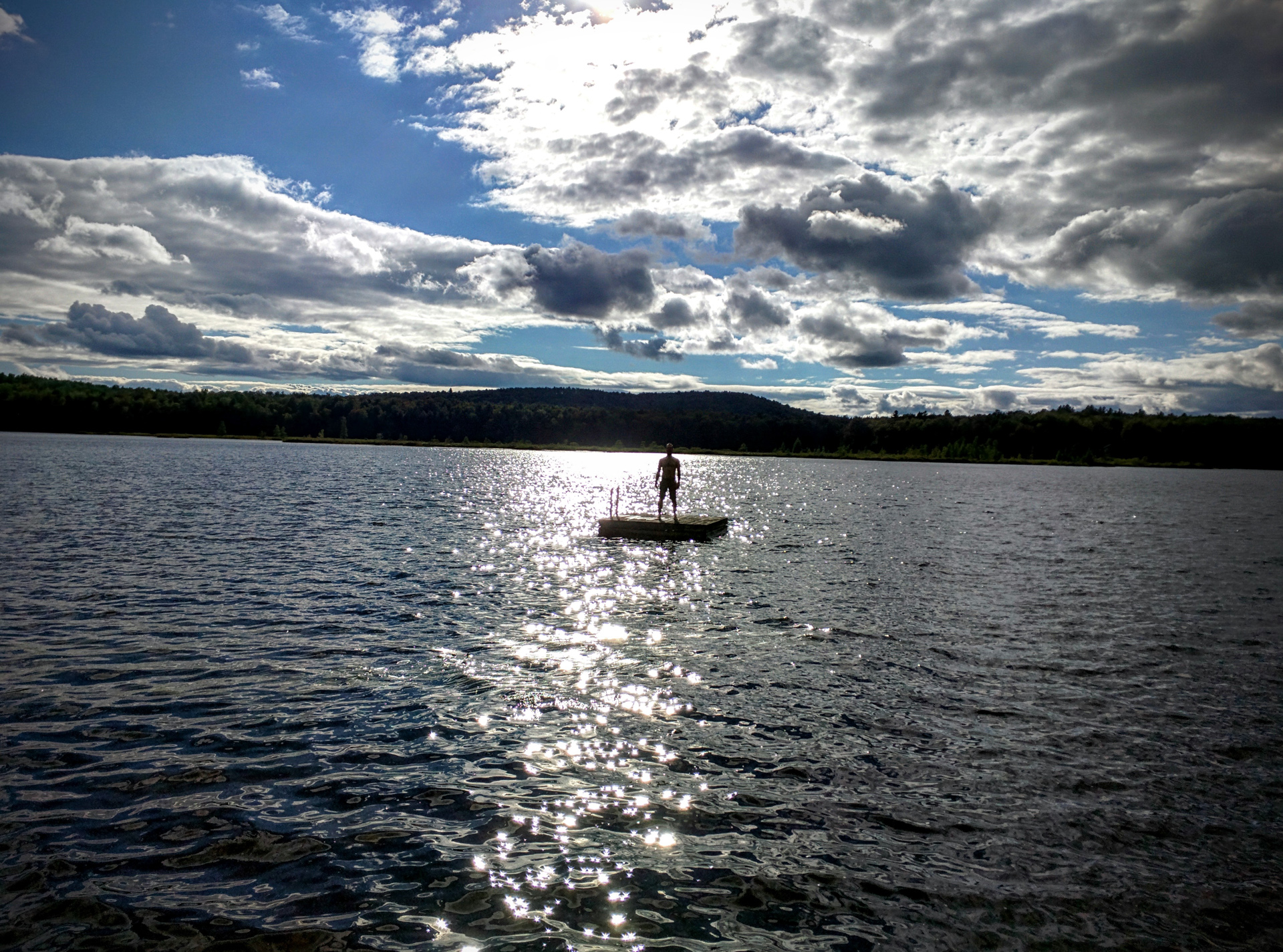 ---
Day 7 — The hard part is over, right?
Lake Sadawga to Lamb City Campground, MA
Friday, August 29th
As hard as it was to leave the comfort and hospitality of the cabin and the lake, it was time to hit the road again. We were past the mountains now, so it was presumably all downhill from here.
While that proved to be mostly correct, it turned out there were still some pretty big climbs ahead of us as we left Vermont and rolled into Massachusetts.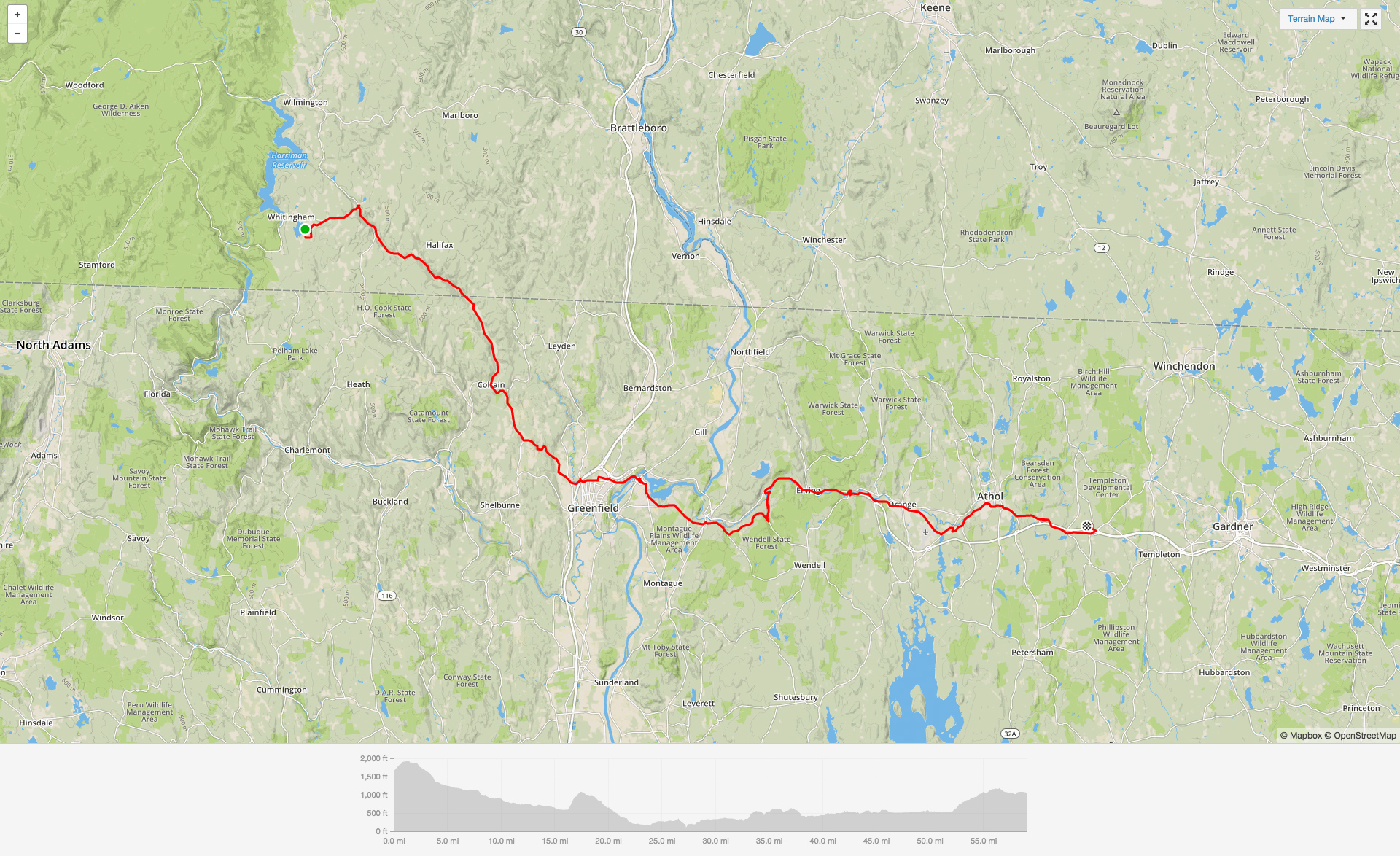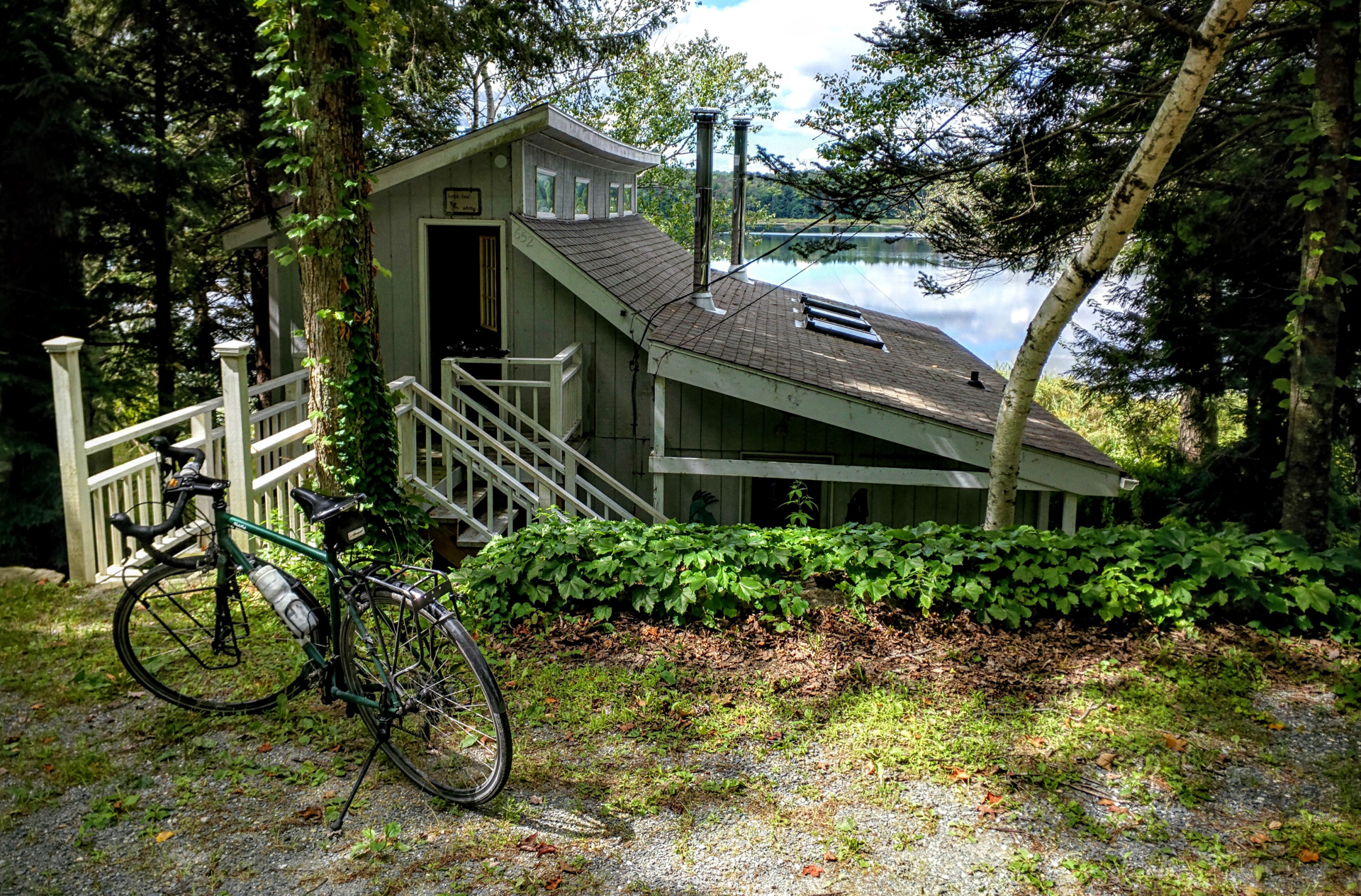 On the way out we make one quick stop at the playground a few miles from the lake. Spinning on this carousel was one of my favorite memories of my childhood vacations to to Vermont, so it was pretty cool to see that it's still doing it's thing in 2015.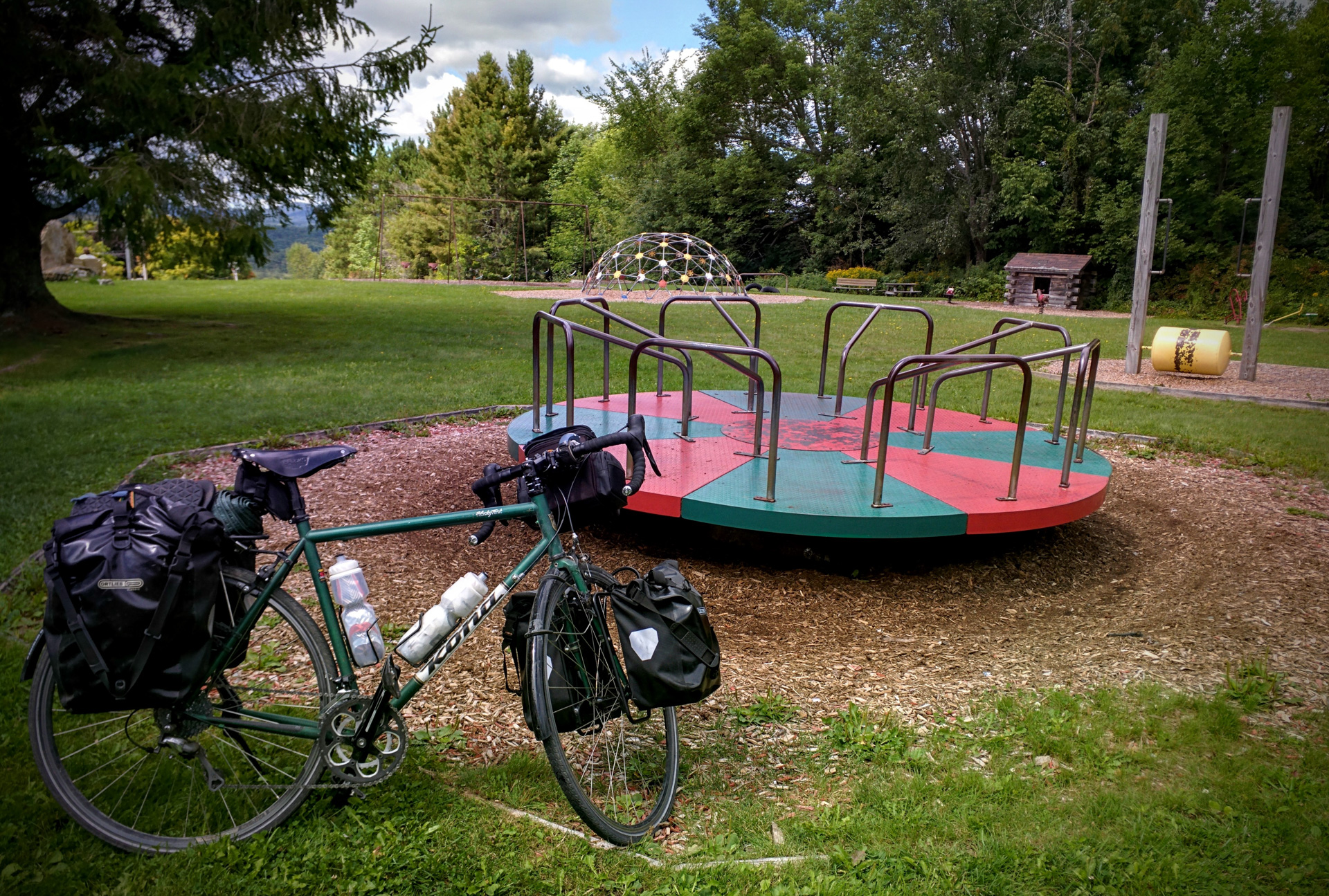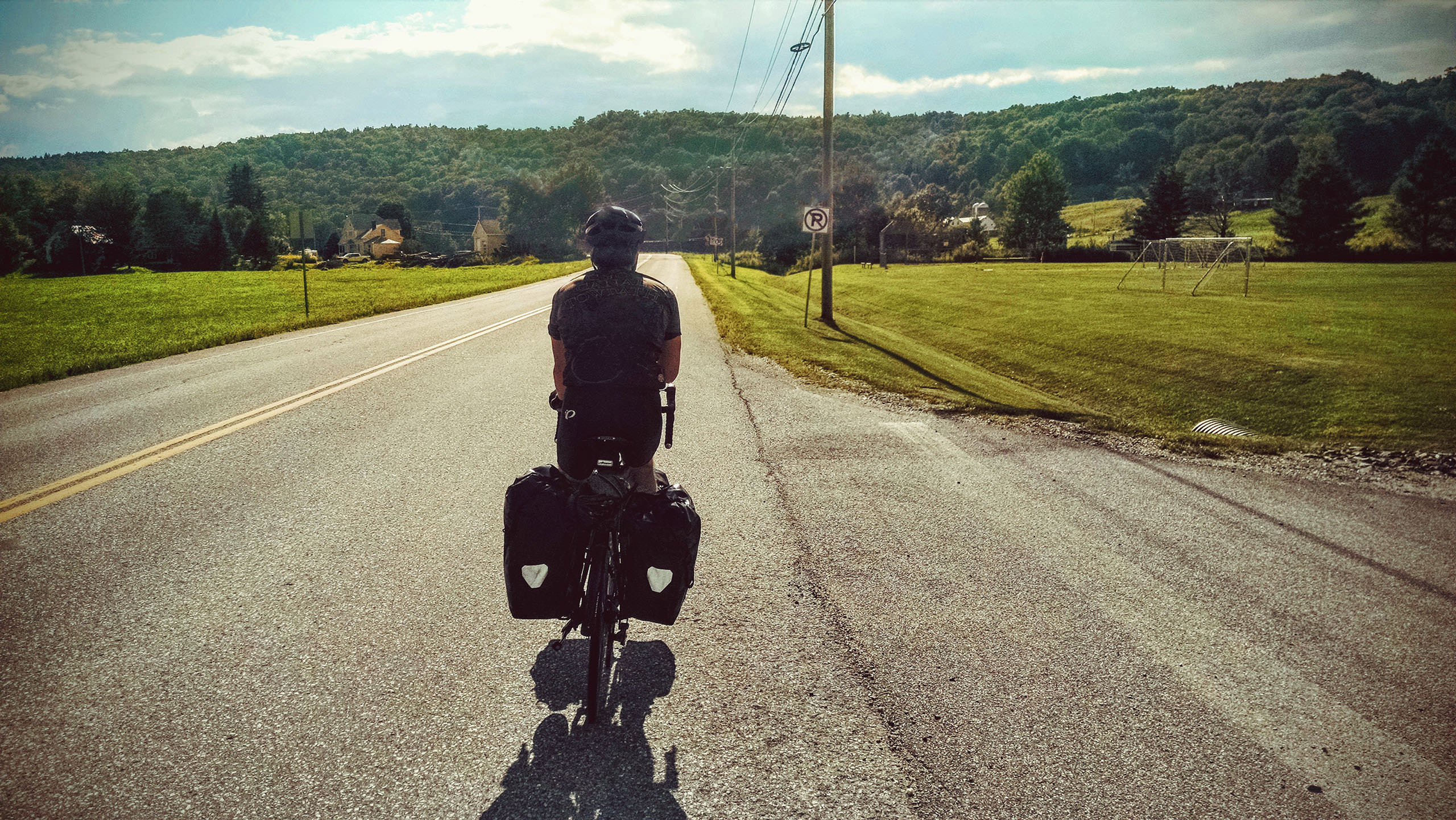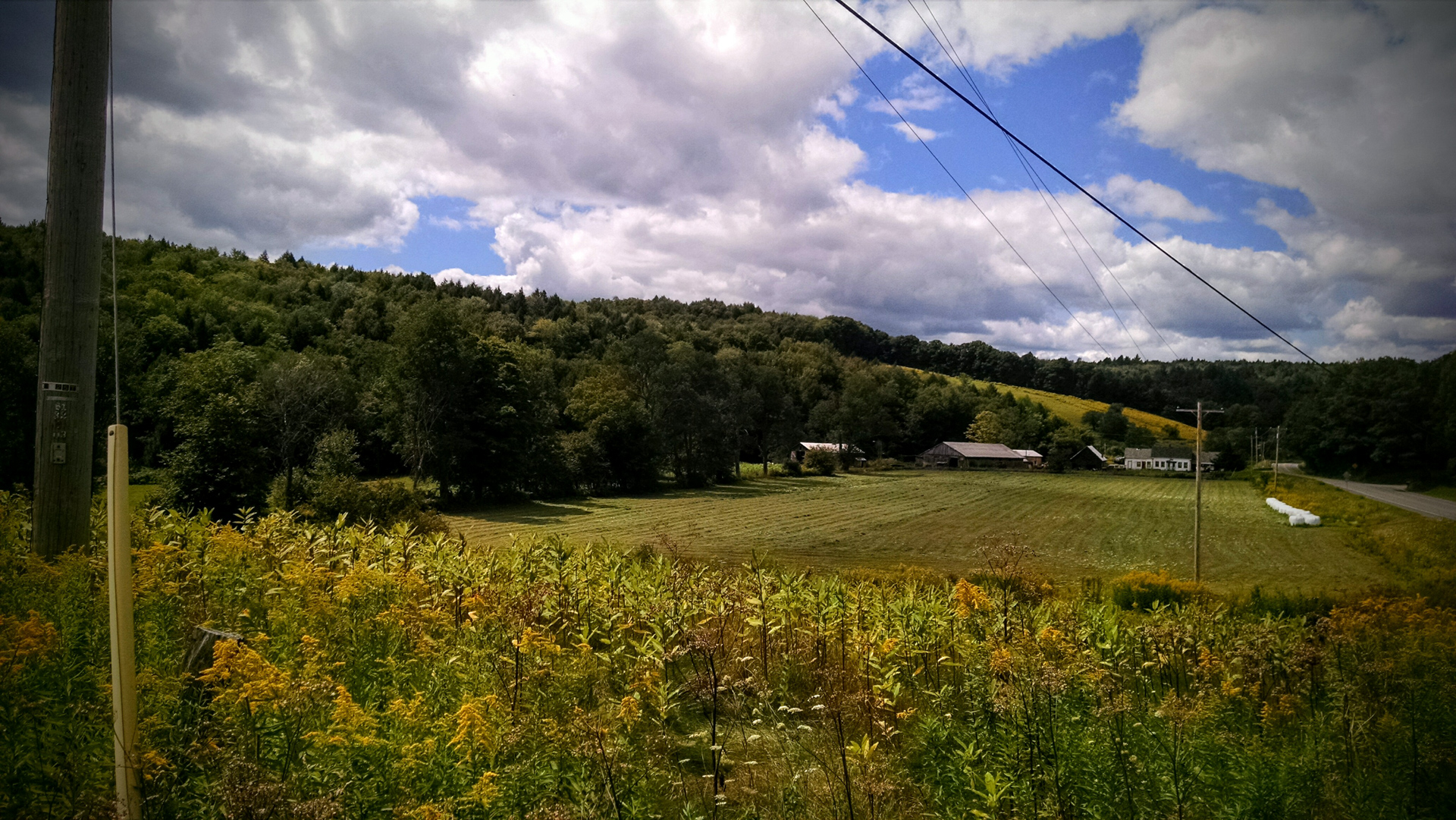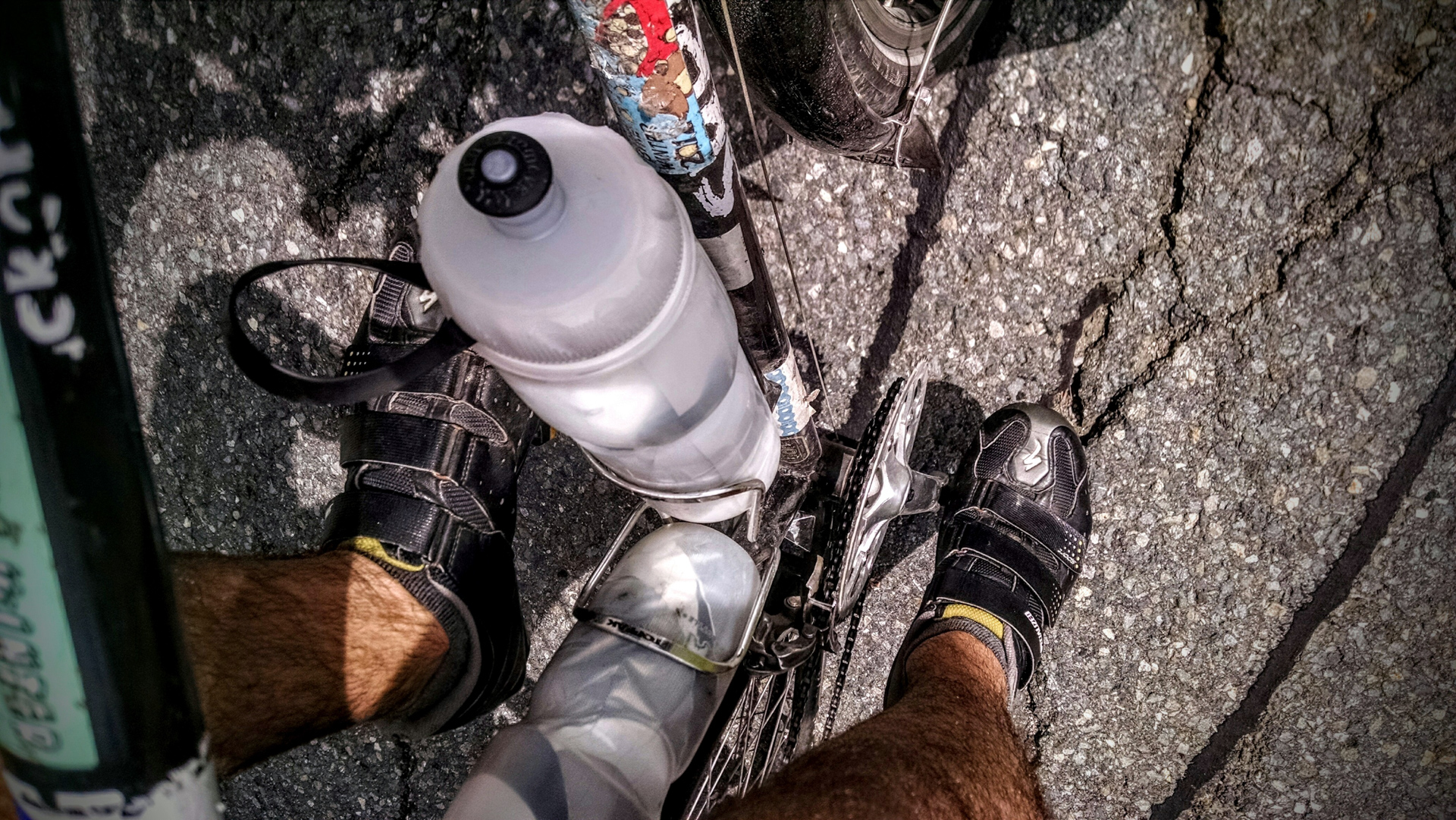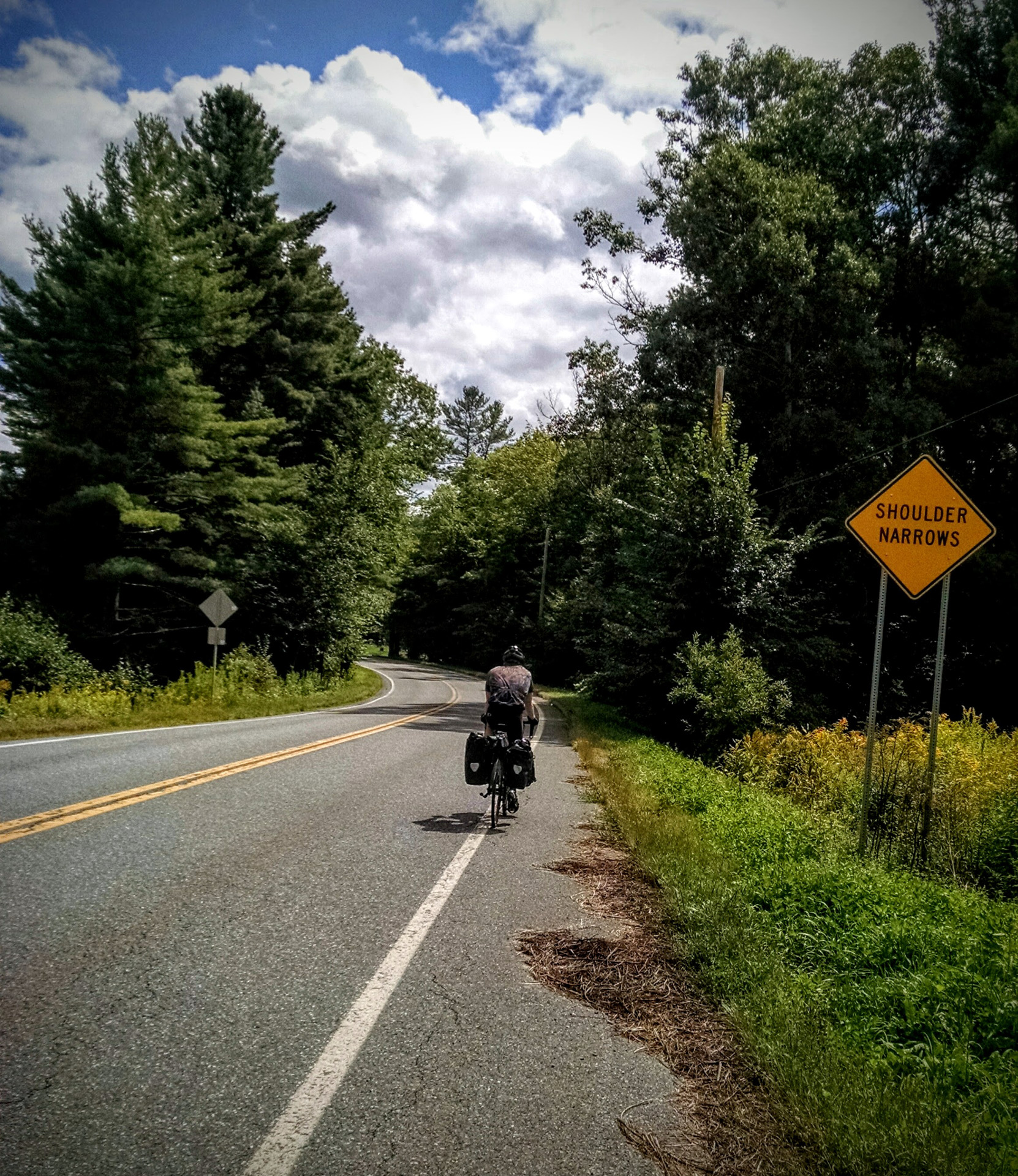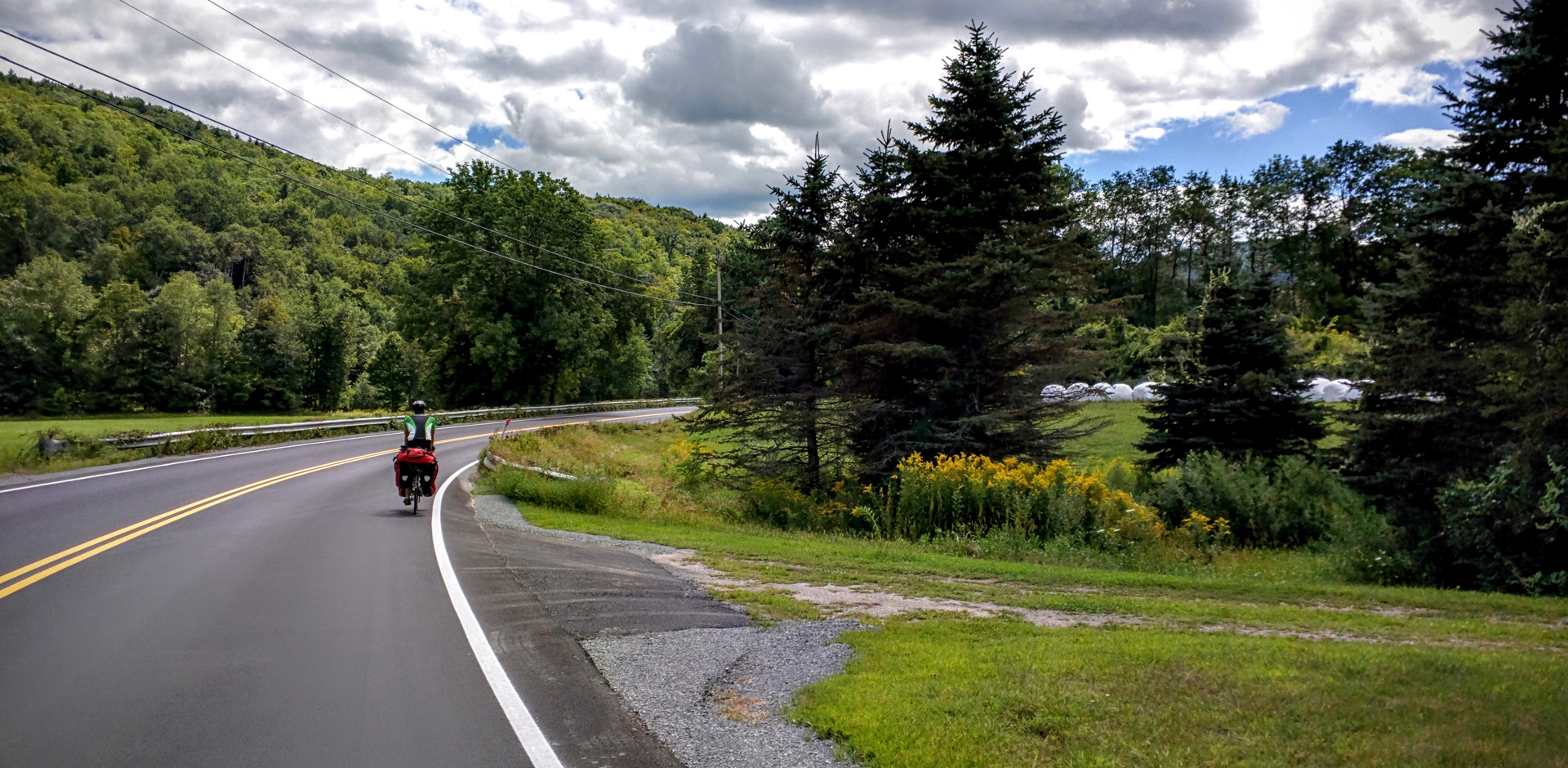 As much as we were hoping that the big climbs were behind us, Colrain, Massachusetts had one last mountain waiting for us. The photo doesn't really illustrate it, but it was an 11% grade over about 500ft of elevation. Again, Matt and I are from Chicago, where the closest thing you get to a hill is an overpass bridge. This was something else.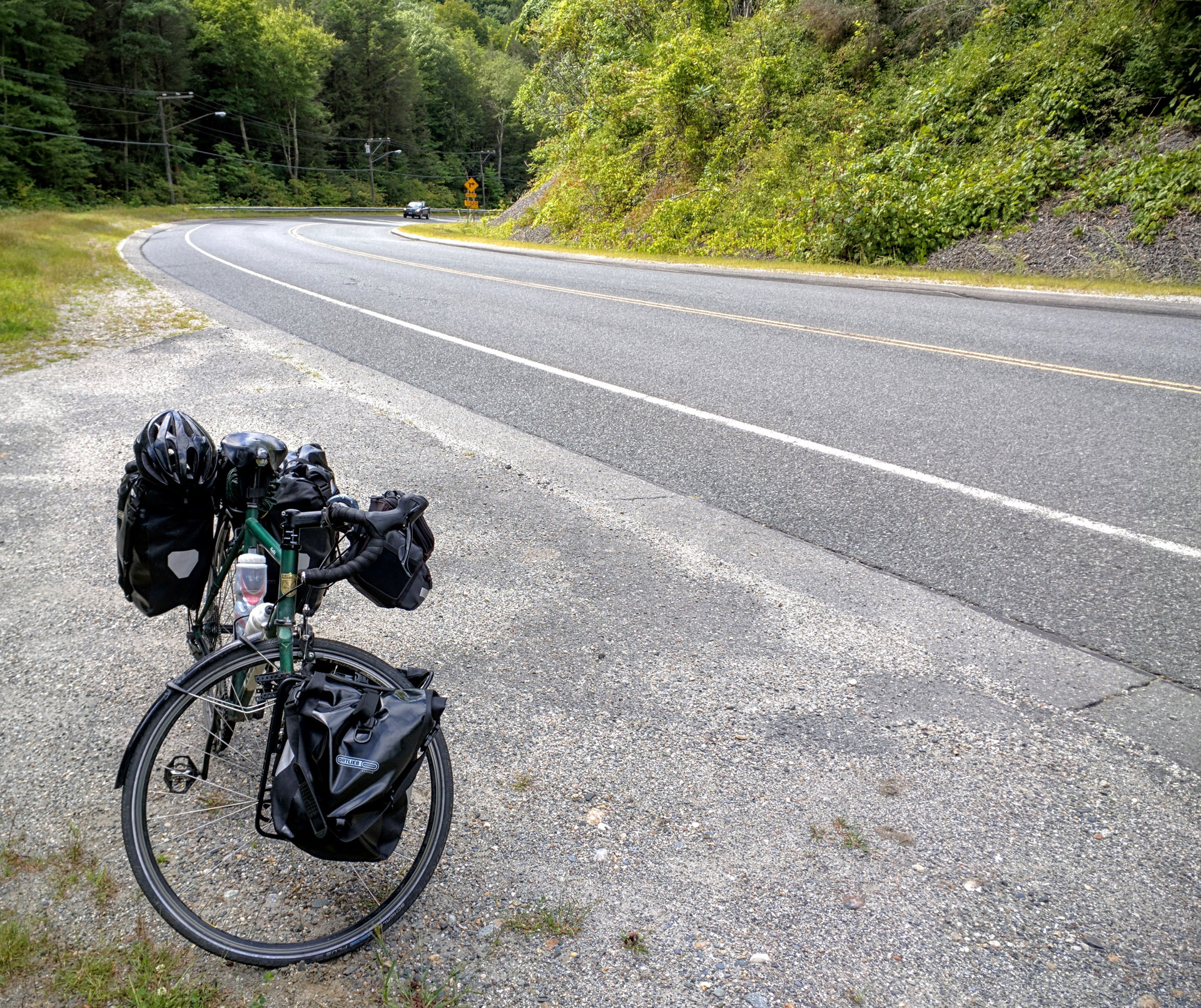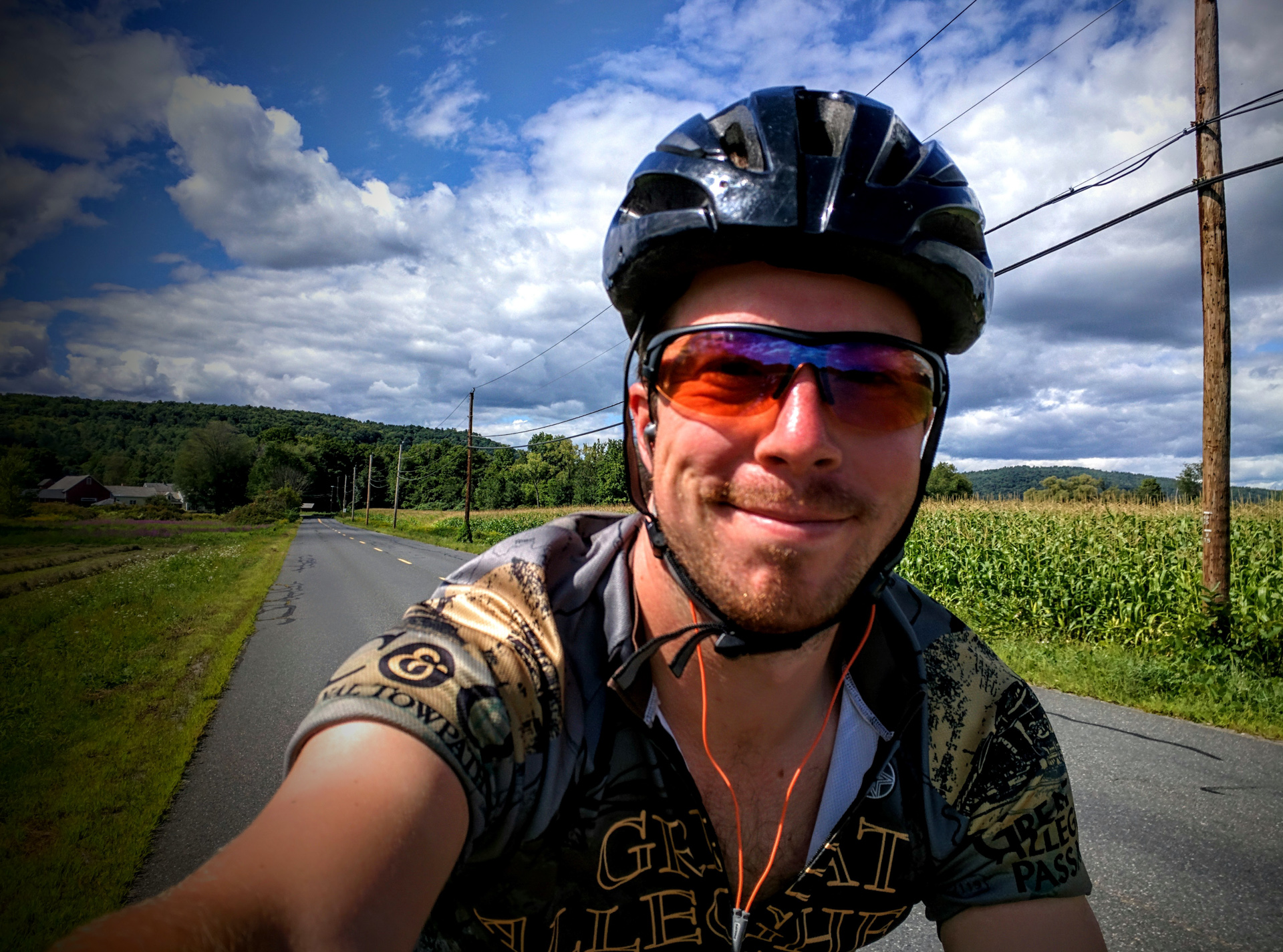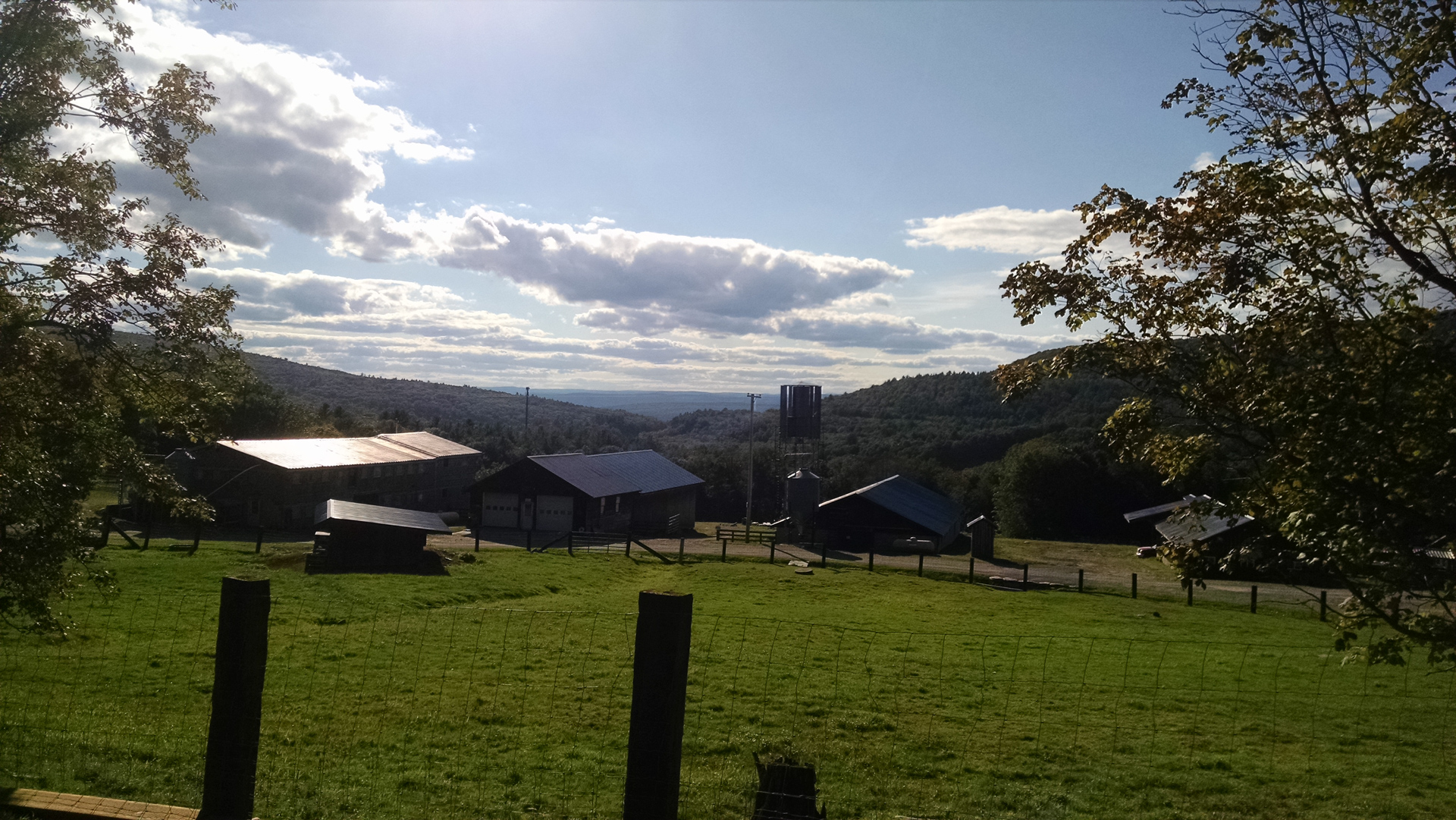 ---
Day 8 — The final stretch
Lamb City Campground to South Boston, then back to Chicago
Saturday, August 30th and Sunday, August 31st
Our final day of riding was a long one, but an easy one. With the Atlantic ocean in our sights, the hills finally gave way as the suburbs of Boston took over. This was one of our longer days at 70 miles, but the lack of hills and the great weather made it a very enjoyable ride.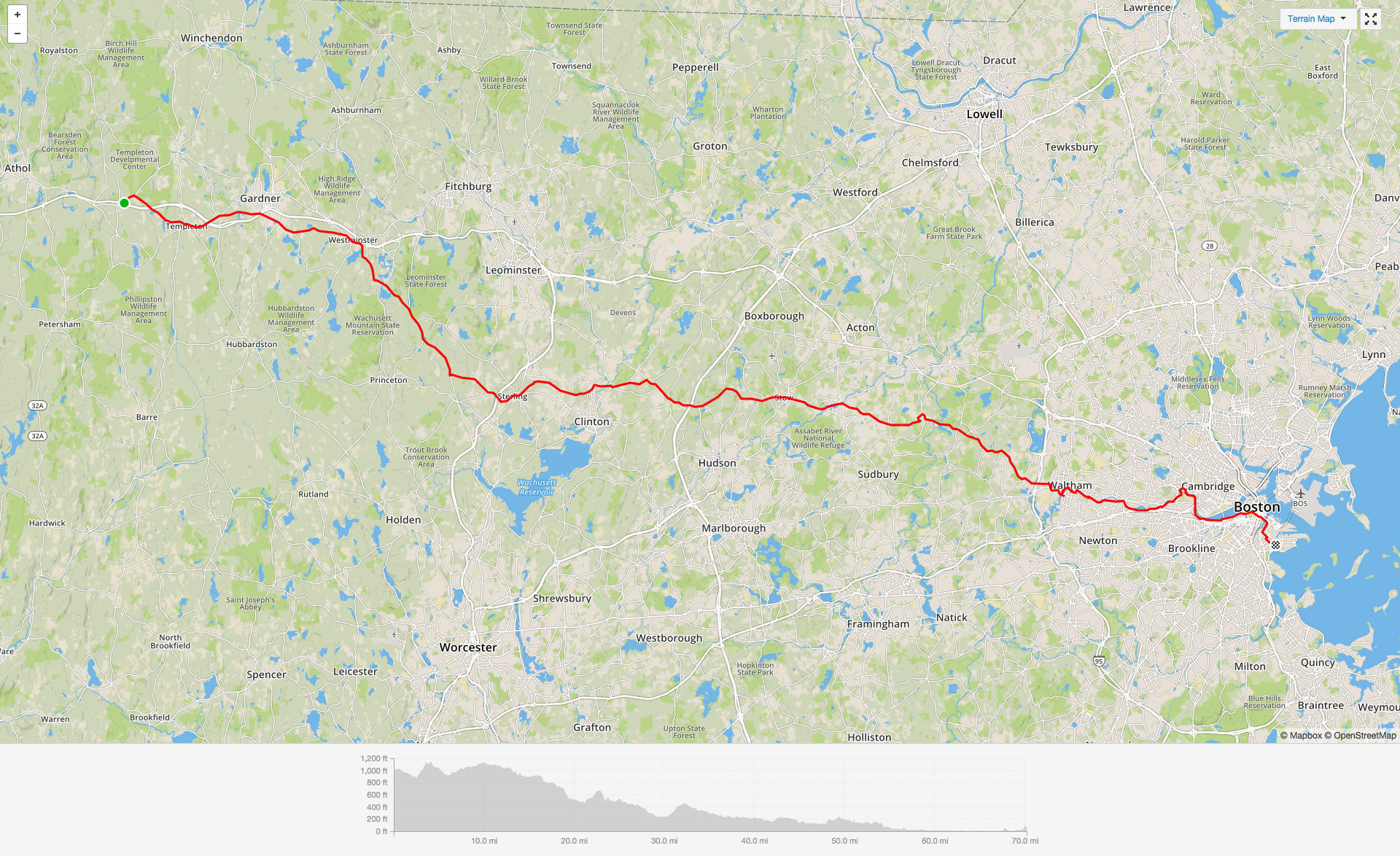 About 10 miles from downtown Boston we were able to link up with the riverwalk on the Charles River, which made for easy riding and beautiful views.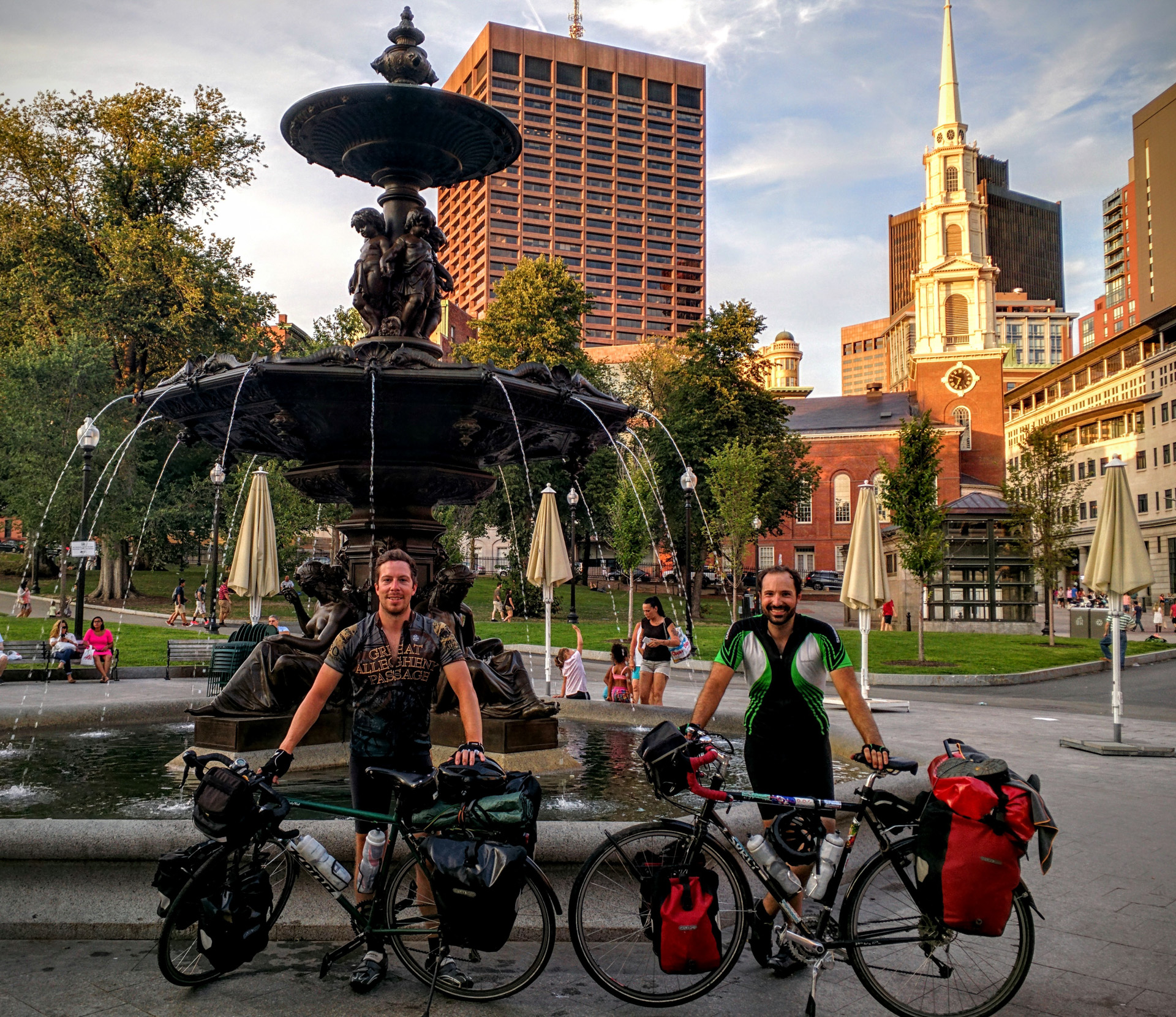 After 7 days of cycling and camping, we finally made it to our destination. We stopped for a quick photo at Brewer Fountain then headed towards our AirBnB in South Boston.
With the hills an mountains behind us, we ventured out to downtown Boston to celebrate a successful tour.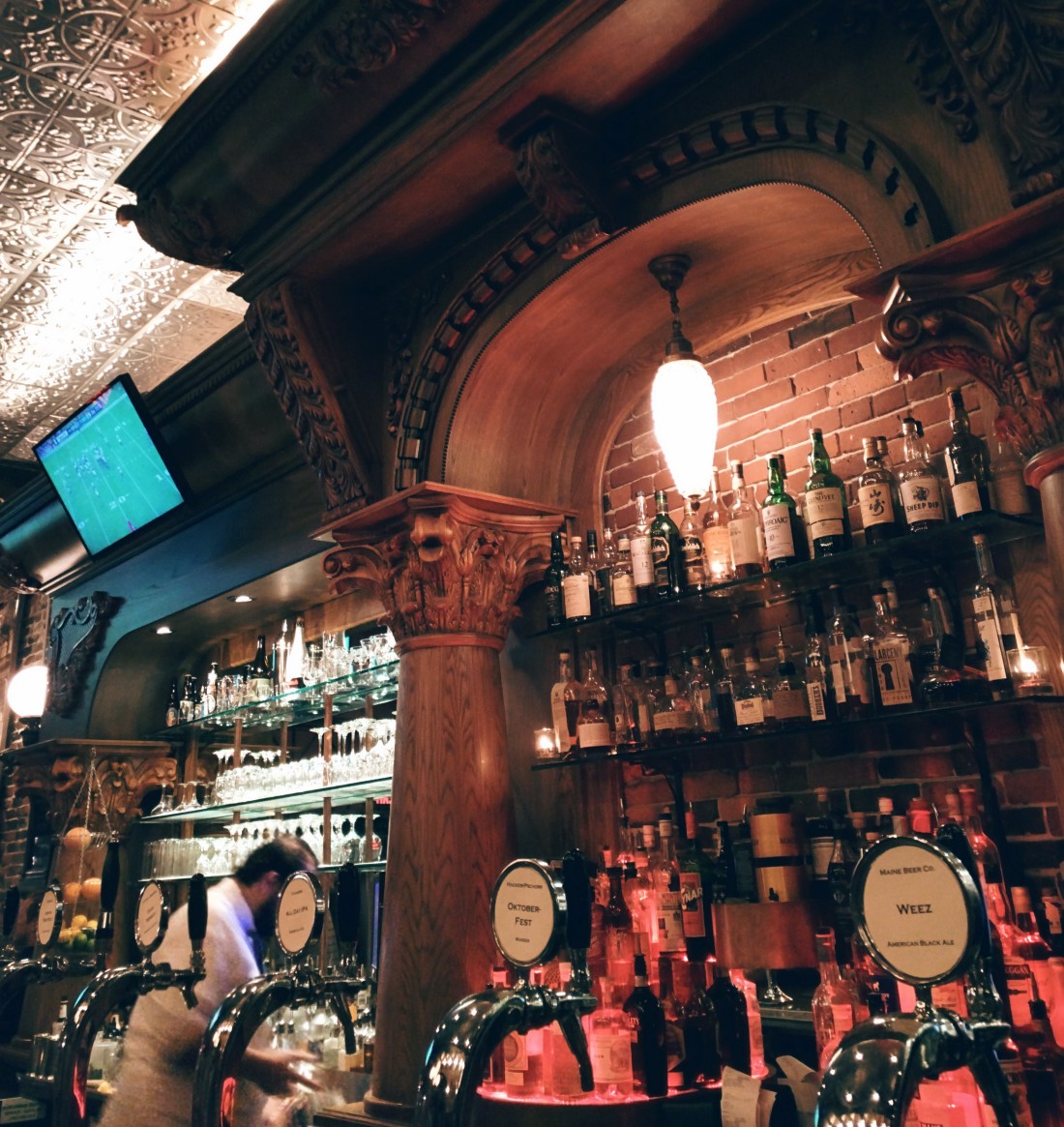 Boston's airport is on an island and not easily accessible via bike, so in the morning opted for an UberXL. The driver was happy to help, and made the whole thing a lot easier than I was expecting.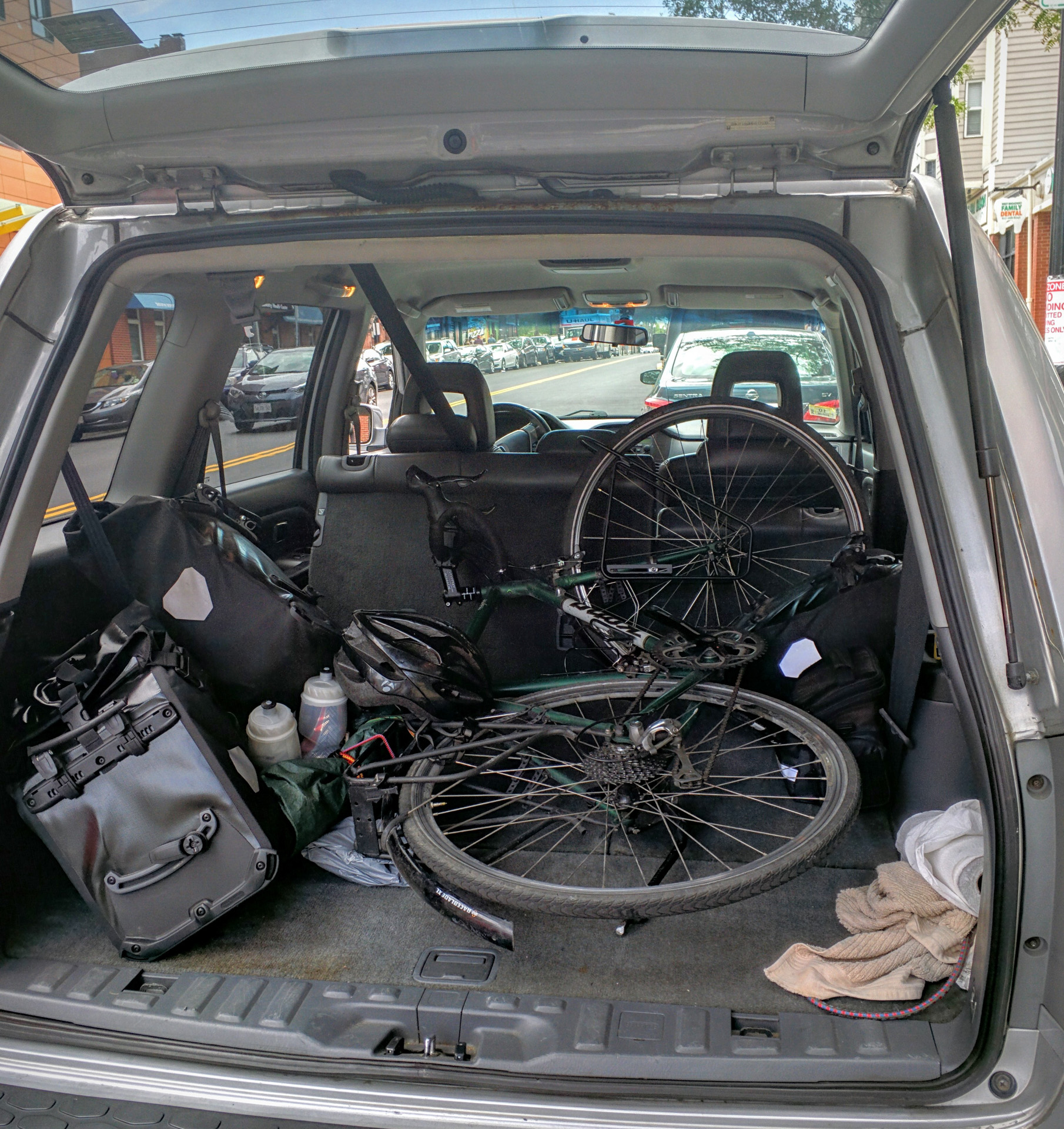 JetBlue was a little more wary than Porter was about transporting my bike in a plastic bag, and asked me to sign a waiver in case anything was damaged. It was a little concerning, but they did a good job and nothing was damaged when I picked up the bike from baggage claim in Chicago.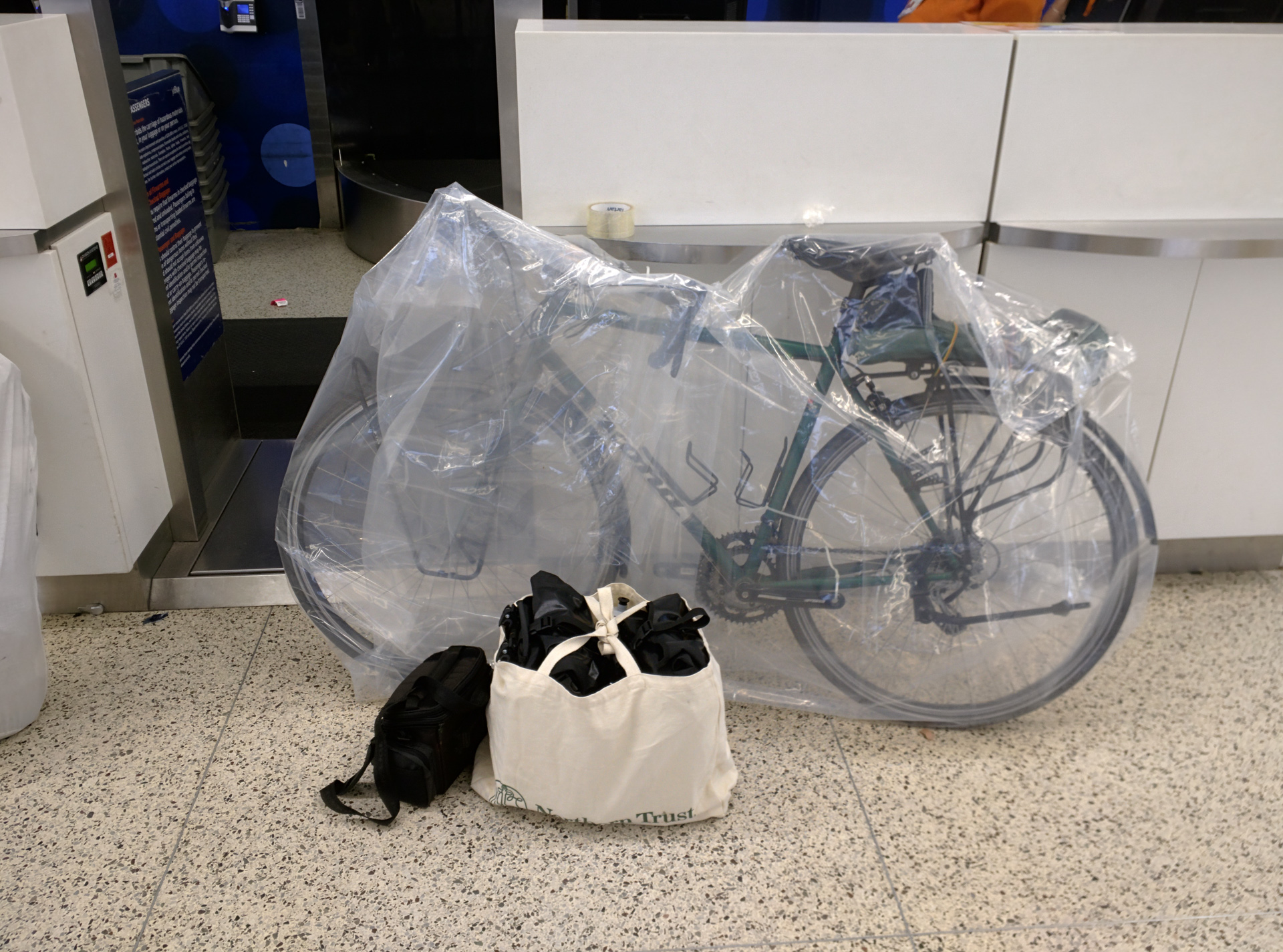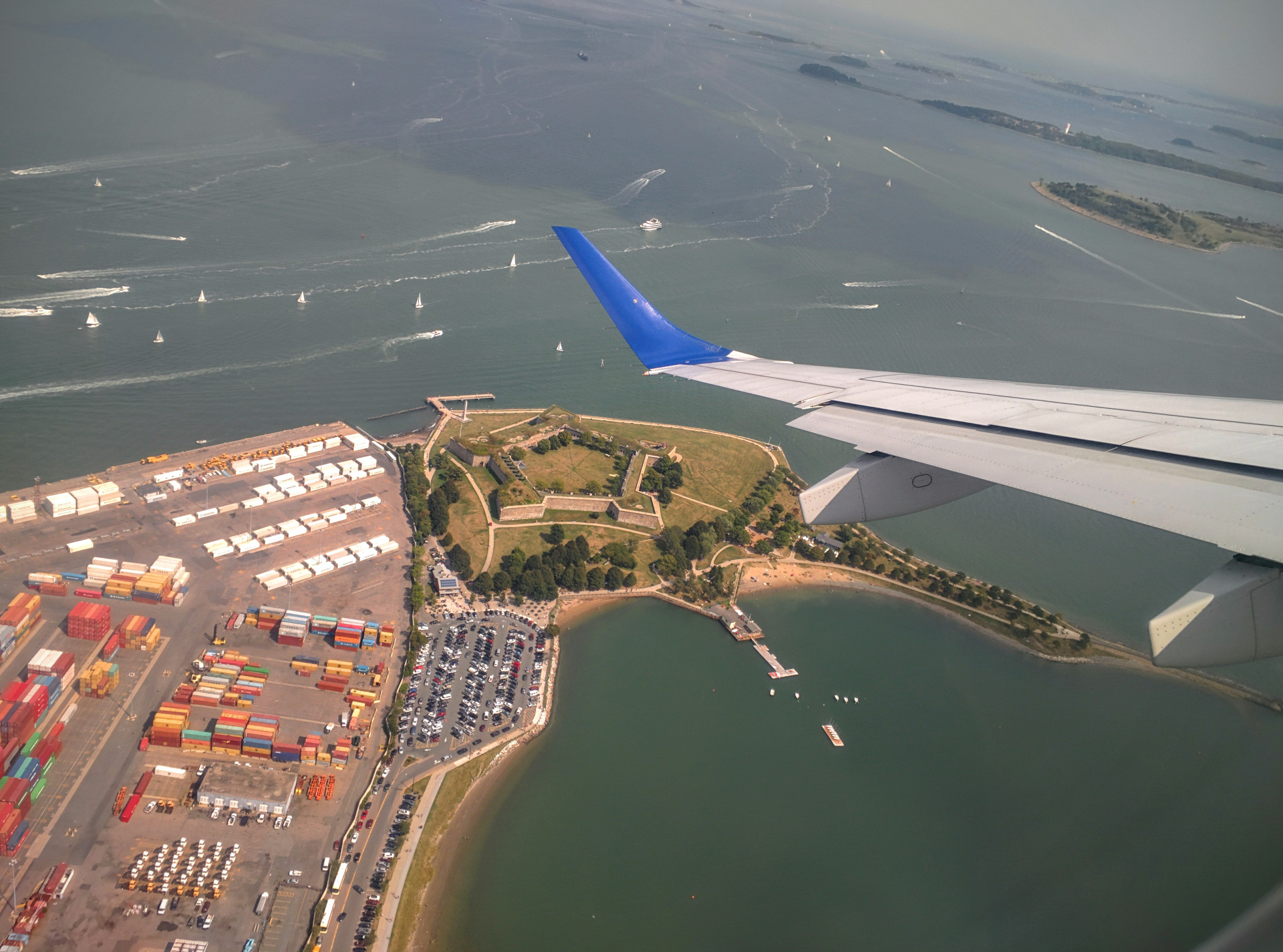 Cycling from Montreal to Boston was amazing. The people of Quebec, Vermont and Massachusetts impressed me to no end with their kindness, generosity and hospitality throughout the tour. For the amount of time I spend researching, planning, and stressing about what might go wrong on this trip, we couldn't have had it go any better. Beautiful weather the entire week. No injuries, no crashes. No mechanical failures or even flat tires. Literally everything that could go right went right on this trip.
Thanks to everyone who helped to make this happen, directly or indirectly. It was an adventure to remember. Feel free to post any questions in the comments and I'll to my best to answer them.
Written by Evan, photos by Evan and Matt